OnePlus is really easy to get behind of, since they're the optimistic startup company, with all the big eyed positivity and hope that early firms have. Xiaomi used to be like that, till they got too big for their own good. OnePlus is still cool and they're actually making a dent in severall countries on the globe. OnePlus 6 was a bit of a mixed bag, but the OnePlus 6T was actually a solid package in the second half of 2018. And here we are with a "better late than never" review for all of you fans out there. The device is priced at $549 ($20 coupon if you get it here) and it's one of the most affordable Snadpragon 845 devices on the market.
We're dealing with a smartphone that has a teardrop notch, a sexy one too, a dual back camera pretty much unchanged from the predecessor and it's first and foremost a community phone, that gets you into the whole OnePlus vibe and jam. They're selling you the community, tweaks, instant responses on forums, love for the brand, tailor made campaigns and warm relationship with the brand.
Let's get to the review though:
Design
OnePlus 6T is made of glass and metal and it has less curved sides compared to the rivals out there. It does have narrow bezels, plus a very small notch, that doesn't bother me one bit. It's of the teardrop variety and discrete. The handset provides a very good grip, it's very comfy for a 6.41 incher and has a premium feel to it.
It's solidly built, it measures 8.2 mm in thickness and weighs 185 grams. It comes with a Mirror Black Finish, or Midnight Black finish, plus the whole kickass Thunder Purple thing. I prefer the frosted glass matte version, to be honest. We also get a bundled case, in case you want to stay away from the smudges and greasing of the back side, both inevitable.
Compared to the OnePlus 6, this device has narrower bezels, plus notch and no visible fingerprint scanner (embedded in the screen). The back side is a fingerprint magnet, plus there's no IP68 certification here. Buttons are very comfy, plus we have that 3 position Mute button, something that only Apple and OnePlus are offering right now in the mainstream.
A gorgeous and very comfy phone for such a large diagonal (6.41 inches).
Display
Moving on to the screen, there's a 6.41 inch display here, an Optic AMOLED with a 2340 x 1080 pixel resolution and a 19.5:9 aspect. This is actually a diagonal increase from the 6.28 inches of the OnePlus 6. The device here has sRGB and DCI-P3 certification, plus a 2.5D panel with Gorilla Glass 6 protection. The viewing experience involved a bright and crisp image, wide view angle and perfect colors, plus deep blacks and a great contrast. It was pretty satisfying to be honest.
We also have the curved corners to make the videos more immersive. Pixels have a Pentile Matrix setup, as shown by our microscope. We also did a brightness test, achieving 575 LUX units, which is great. It beats the Samsung Galaxy Note 8 and Google Pixel 2 XL, plus the Huawei Mate 20 Pro, but scores below the ASUS ROG Phone and OnePlus 6, which scored 597 LUX. It also gets beaten by the Huawei P20 Pro.
Settings are pretty generous, with options like Adaptive Brightness, brightness, Sleep, Night Mode, Reading Mode and more. You can do a bunch of screen calibration, using options like Default, sRGB, DCI-P3, Adaptive and Custom, with a Cold/Warm slider. The notch can also be hidden using a special option for that.
I also recommend you don't forget about the Full Screen Apps option, which also fills the gaps around the notch area. There's also Ambient Display and options for font size, Display Size. Overall a solid screen.
Hardware
OnePlus 6T is very much like the OnePlus 6, employing the same Qualcomm Snapdragon 845 processor, with an Adreno 630 GPU, 6 or 8 GB of RAM. There's also 128 GB or 256 GB of storage and no microSD card slot. Everything is moving in a pretty fluid manner, one of the best Android experiences I ever had and that's courtesy of Oxygen OS.
The device runs a ton of games in an excellent manner and it's now my daily driver for Fortnite, PUBG and Free Fire. We also did benchmarks like AnTuTu 6, which shows the OP 6T beating the ASUS ROG Phone and Galaxy S9+, excellent results, by the way. It's below the iPhone X and Huawei Mate 20 Pro though. In AnTutu 7 we scored past the Xiaomi Mi Mix 2S and Galaxy Note 9 Snapdragon 845 version, plus the Xperia XZ3.
We're no match for the iPhone XR and ASUS ROG Phone though. In GeekBench 4 Multi Core we beat the Samsung Galaxy S9+ and HTC U12+, plus the LG G7 ThinQ. We scored below the PocoPhone F1 and iPhone 8 though. In Slingshot Extreme we placed first and in Vulkan second, so the GPU is where it's at. Overall, performance feels like top 5 or top 3 material for the whole of 2018.
We also tested the temperature and found it to be at 34.9 degrees Celsius in GFXBench and 30.8 degrees in Riptide GP Renegade, so it's rather cool. We also did a thermal scan using the CAT S61 handset and its FLIR camera and found the heat dissipation to be OK.
Battery
OnePlus 6T solves one of the biggest problems with the OnePlus 6: the battery. It replaces the 3300 mAh unit with a 3700 mAh one, that charges at 5V and 4A. Our video playback test showed a duration of 15 hours and 8 minutes, which is more than respectable and battery phone worthy. It beats the OnePlus 6 and its 11 hours and 4 minutes, or the Galaxy A9 (2018) and Pixel 2 XL.
It scores below the Huawei P20 Pro and Galaxy Note 9. Sadly PCMark wouldn't run, but having used the phone every day for multiple days, I'd put it at 10-12 hours or so. What's clear for me is that with 100% brightness, WiFi on, gaming and streaming on Youtube at the same time we're wasting 30% battery per each 2 hours played, which is great.
It feels better than the Galaxy S9+ and Pocophone F1 and very close to the Huawei P20 Pro experience. Charging takes 1 hour and 24 minutes, which is far from impressive nowadays, when the OnePlus 6 reached 1 hour and 8 minutes, while the Huawei Mate 20 Pro had 53 minutes. The good news is that 30 minutes of charge is 50% charge and 1 hour is 90%.
Settings include Battery Saver and Battery Optimization, plus Adaptive Battery.
Multimedia
OnePlus 6T has a single speaker at the bottom left side, which is rather easy to cover in landscape mode. We don't have an audio jack here and no bundled headphones. At least you can get a 20 euro voucher to buy free stuff with the device and get some Bullets headphones. The listening experience was fine, with very punchy bass, lots of vibration, high volume and good clarity, clear notes and no distortion.
We don't have an EQ in the Google Play Music app, but we do have an Audio Tuner and 7 custom channels in the Settings are. There's also an Enhance and Genres feature. We did a decibelmeter test and achieved 83.2 dBA with our acoustic sample (front and back), meaning we surpassed the Nokia 8 Sirocco and Xperia XZ2, but we were no match for the OnePlus 6 and LG Q7.
Riptide GP Renegade tells another story and in games we went as high as 99.2 dBA. We beat the Huawei P20 Pro and Google Pixel 2 XL, but we scored below the HTC U12+ and Pocophone F1, plus the Nokia 8.
Camera
The biggest curiosy of a OnePlus 6 owner and potential OP6T buyer is whether or not the camera is any different. First leaks pointed towards a triple camera borrowed from Oppo, but that didn't pan out. We get the same 16 MP + 20 MP main shooters as the OnePlus 6, with the Sony IMX519 with OIS and EIS, plus the Sony IMX376K with PDAF and F/1.7 aperture.
There's also a dual LED flash and PDAF, while upfront we find a 16 MP shooter with its own flavour of EIS. The camera app is very fast and the UI is minimalistic. There's 2X zoom (software only), Portrait, a Night mode, Pro, Time Lapse, Panorama and Slow Mo. Picture taking was very fast and snappy. We also put together a wholesome gallery of captures taken during the day, which felt very similr to what the LG Q7 and OnePlus 6 delivered.
Colors were very realistic and there was no extra gloss, like Apple and Samsung usually add. We achieved some great Bokeh shots, perfect dynamic range and the zoom we did on the PC was pretty impressive. Things did get a bit too white every once in a while. It's important we also pulled off some of the best closeups I've ever taken.
Selfies had a nice skin texture, realistic, detailed and all that, with pretty nice eyes. I like the Bokeh/Portrait selfie, even though I've seen better. HDR brings forth too much contrast, so use it with caution. Panorama was rather big at 12.696 x 2210 pixels. Focus was very accurate in closeups, no matter how close you got.
Selfies are close to the Pixel 2 XL level, which we hold as a standard here. They're definitely better than the Galaxy Note 8 and Note 9, plus the Galaxy S9. Nice landscape shots were also achieved and there was no flaw or mistake. The problem is that sometimes shots feel flat, lifeless, not enough colored. Also, the zoom could have been better.
Colors are better than the Huawei P20 Pro with AI On for sure. While it's all fine and dandy, it's no Huawei Mate 20 Pro and it remains the equal of the OnePlus 6. We also took pictures in low light conditions, achieving great clarity and solid brightness. The shots with flash on were a bit blue and street light halos had an OK size, albeit they were a tad yellow.
Zoom was OK detail-wise and the camera seems to face light sources in a pretty decent manner. There was no weird hue, like a pink, red or orange, luckily. I would say this phone can fight a Samsung Galaxy S9 and the lack of grain and noise is welcome. Bokeh is rather poor at night. It also feels better than the LG G7 a bit, while the day time capture was on par with it.
As far as video capture is concerned, we shot MP4 Full HD clips, at 30 FPS and 20 Mbps. Just like the OnePlus 6, the panning was too machine-like, too electronically processed and stitched. I found the exposure change to be OK when panning from light to darker areas. The microphone was OK and the colors were pretty nicely calibrated.
I also found the captures a bit darker than usual, while the sky was too white. I may have praised the mic at first, but when the first gust of wind came in, it felt rather poor. Clarity was solid, but if you really look in the distance, you'll see that the details tend to fade. Stabilization was improved from the OnePlus 6 somehow, by about 15% or so. The OP6 was very shaky when walking aroumd, but not so much this time.
Focus was fine, in accuracy, speed and even in motion. Selfie video capture was fine, with an OK way of capturing my face texture, but also some flicker behind me. Nowhere close to the iPhone XS Max debacle, plus superior to the iPhone XR for sure. It may be fine, but it's no Huawei Mate 20 Pro. Overall some improvements from the OnePlus 6 are felt.
Low light video capture wasn't as good, though. The capture was yellow, grainy, with many reflections, poor zoom, but the colors stayed OK. It was also rather dark and I noticed some flicker here and there, especially when walking around. Street light halos were big and the overall experience was rather poor for a wannabe flagship.
I would say the OnePlus 6T is inferior to at least 7-8 ther phones out there, big flagships. It gets beaten by Xperias, LGs, Samsungs and iPhones in low light video. It surely needs work.
Browser/ Keyboard
The browser of choice on this device is Chrome, which loads up sites pretty fast. We're also working with a stock keyboard, the classic one from Google, well spaced.
Connectivity
On the connectivity front we have USB Type-C 2.0, not 3.1, like other companies are using. This means we have lesser transfer speeds, but not by very much. This handset has a dual nano SIM card setup and it comes with WiFi 2×2 MIMO support, WiFi a/b/g/n/ac, LTE/LTE A with 4×4 MIMO. LTE is of the Category 16 variety here and we also have Bluetooth 5.0, NFC and GPS.
There's also Glonass, Beidou and Galileo. OnePlus put a Mute Switch on the device, like on the predecessors and it works in 3 positions: silent/vibrate/ring. Speed dial is also part of the experience. Calls were loud and clear and noise cancelling was spot on. I actually want to praise the microphone even more, because it managed to capture my voice perfectly during gaming sessions in PUBG when I was talking to other gamers.
We also did a SpeedTest, achieving north of 100 Mbps on 4G and 434 Mbps on WiFi download. Upload was at 25.9 Mbps on WiFi.
OS, UI, Apps/ Oxygen OS
I wasn't a big fan of any custom ROM over the past years, ever since HTC Sense started being boring. Oxygen OS made me fall in love with Android again. I think Google should buy it and make it the default option on Pixel devices. OnePlus 6T debuted with Android 9.0 Pie with Oxygen OS 9.0.7 on top, which is a very clean and clear experience, well aired out and spaced.
There's a system wide dark mode, the option to choose accent colors and no real Always on Display, but rather Ambient Display. OnePlus put here a Shelf on the leftmost homescreen, basically an aggregator of useful stuff. There's Weather, most used apps and contacts, a memo, Toolbox, Cards Dashboard and widgets. Speaking of cards, multitasking happens via cards and there's also split screen, but it's hard to trigger, requiring one extra step compared to the usual experience.
If you keep the homescreen pressed, you will trigger wallpapers, widgets and home settings, including the likes of icon packs, layout and drawer. The dropdown section includes a clean area with notifications and Quick Settings. Settings themselves provide gesture control for navigation, in lieu of the usual nav buttons. You can do swipes to replace those buttons.
There are also Quick Gestures and the option to draw letters to access stuff. The fingerprint scanner is embedded in the screen and just like the Huawei Mate 20 Pro, you have to press only a certain area of the screen to authenticate. It's a bit faster than the Huawei Mate 20 Pro when it comes to the unlock, but still slower than the other solutions.
It does have a cool "electron" effect when unlocking the device.
The face unlock was also very fast and has Assistive Lighting for darker conditions. Oneplus bundled as well a set of "Utilities", like the Gaming Mode, Quick Launch, Encrypt, Pocket Mode and the OnePlus Laboratory, where new features are being tested. OnePlus Switch is also here, letting you switch from another phone to this one. The preinstalled apps list has zero bloatware and only the basic stuff is here. There's Community, a File Manager, Weather, YouTube, Duo and Notes.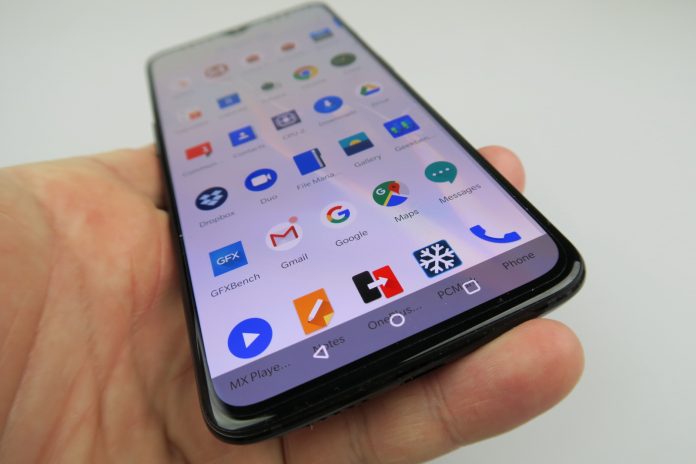 Verdict:
Pros:
gorgeous design
affordable price
bright screen
high performance
great battery
solid acoustics
tip top pictures
nice selfies
OK stabilization compared to predecessor
great gaming
Oxygen OS is perfect
Cons:
speaker is easy to cover
no IP68 certification
no wireless charging
no stereo speakers
slower charge than OnePlus 6
unimpressive zoom
clunky panning
unimpressive low light video capture
This is the second best Android phone for me in 2018, after the Huawei Mate 20 Pro. It's got the best flavour of Android for sure, thanks to Oxygen OS and some minor camera improvements from OnePlus 6. It has the best facade of a phone I've seen, better fingerprint implementation than Mate 20 Pro and it's simply crazy fluid in day to day use.
It's also comfy, bright, has a great battery and I've seen many YouTubers switch to it, something is surely positive here. You're also getting into the whole OnePlus community, which is nice. You can get the phone here with a $20 coupon.