A few days ago, on March 6th we had the opportunity to witness the debut of the Oppo Find X2 and Find X2 Pro and we did a hands on with both devices. Actually the former also got an unboxing, which you can watch below. It's priced at 999 euros and shows that Oppo really wants to snatch Huawei's crown with the whole Google problem and all.
In retrospect the unboxing isn't 100% legit, as there was no USB cable to be seen, but we do get a pair of headphones and a huge charger. The device's selling point is definitely the fact that it offers 120 Hz refresh rate on a Quad HD resolution, which Samsung can't quite deliver on the S20, at least not yet. Let's check out the hands on!
Design
Oppo Find X2 is 10 gram lighter than the Oppo Find X2 Pro, but you can really feel it's comfier and lighter. It's made of glass and metal, with a crazy 90%+ screen to body ratio. The screen is curved at 67 degrees and the back glass at a similar angle for symmetry. The grip is decent, on account of the protruding metal frame. It all depends on how you deal with so much glass, so it may be slippery for some people. Buttons are comfy and sadly the device is only IP54 certified, so it can only take splashes. Oppo kept the IP68 for the Find X2 Pro. If you want measurements, it weighs 190 grams and measures 8 mm in thickness. You can get it with a ceramic or glass back, in blue or black.
Display
The display on offer here is the same as the Find X2 Pro one: a 6.7 inch AMOLED panel with a 3168 x 1440 pixel resolution, HDR10 support and Gorilla Glass 6 protection. The screen has a punch hole for the selfie shooter and also in the screen we find the fingerprint scanner. Watching videos was immersive, but the big curve may distract you in games. At least the punch hole is small. The 120 Hz refresh rate makes everything look and feel fluid, but if I'm being honest, this doesn't look like the brightest screen around.
You can also set the device to an adaptable refresh rate, which changes depending on the app you use.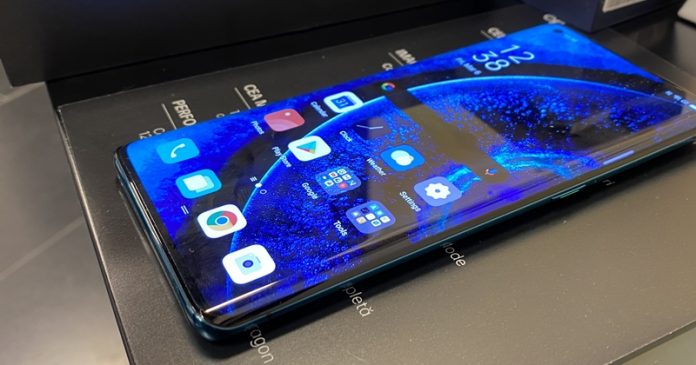 Hardware and battery
Oppo Find X2 packs a Snapdragon 865 CPU, 12 GB of RAM and 256 GB of storage, without a microSD card slot. Interestingly Oppo put 12 GB of RAM on both versions of the Find X2. There's also a 4200 mAh battery here, with a 65W SuperVOOC 2.0 fast charge. In 38 minutes it goes from zero to 100% and I actually witnessed that happening, via a demo at the launch event. We also get stereo speakers, no audio jack and 5G is also part of the package. Of course there's also an USB-C port, 4G, Bluetooth 5.0 and WiFi.
I'm baffled by the lack of wireless charging, reverse or not. The 5G is both NSA and SA and we also have antennae integrated at 360 degrees to get the best signal. There's also a proprietary Oppo Smart 5G tech, which supports 5G + 4G dual receiver tech, dual card and dual standby.
Camera
In the punch hole camera you can find a 32 MP shooter for selfies, but no trace of 4K capture here, oddly enough. S10 did offer that a year ago, for a less pricey package. At the back we find a triple camera, less impressive than the Find X2 Pro one and sans periscope. There's a main 48 MP Sony shooter with F/1.7 aperture, using large pixels and a Quad Bayer setup. There's also a brand new focus tech from Sony, 2×2 OCL, which is supposed to do battle with the Dual Pixel one from Samsung. It also offers improved autofocus in the dark.
There's also an ultrawide camera with 12 MP resolution with a major contribution to video capture, plus a telephoto 13 MP camera with 5x hybrid zoom. We also have a special Ultra Steady Pro stabilization tech, which was demoed with some hardcore action, like skying and running around, looking pretty impressive result-wise. Oppo also added AI features, an UltraNight Mode, with pretty impressive pitch black turned to crisp results, according to the presentation.
No trace of 8K capture though, even though the hardware could do it. There's also a new zoom mechanism, a circular one, comfier than the slider from the Huaweis and without any sort of delay or pauses between zoom levels. We also get a Portrait mode, a Night Mode and a special type of noise canceling tech, with a single press on the screen.
Software
Oppo Find X2 Pro runs on Android 10 with ColorOS 7.1 on top, feeling like a sort of more minimalistic MIUI. It even channels MIUI via the rectangular brightness bar. It has customizable icons, Dark Mode, an adaptive alarm that changes sounds depending on the weather, plus a Smart Assistant homescreen with useful widgets and shortcuts kept in reach. There's also a side bar used for multitasking and an app drawer, which Huawei and Xiaomi don't offer right now.
We also have a Private Safe, which transfers your secret date to a special protected zone, for private info. The gesture navigation is already activated natively, in case you don't dig virtual buttons.
Conclusion
Oppo Find X2 is not your average starter phone, a lighter flagship. It's actually got 90% of the flagships's specs, except for the camera basically and the storage. It's just as speedy in charging, has the same screen, RAM and CPU. The design is similar, albeit lighter and comfier here. ColorOS is even more minimalistic than MIUI or One UI if possible. It stands out as the only phone with 120 Hz Quad HD+ screen, one of the fastest charging speeds around and a great stabilization. The price is pretty hardcore though, at 999 euros and I'm not sure people are ready to give up on a Galaxy S20 or S20+ for this model. Especially without microSD, 8K filming, IP68, 4K selfie video, ToF sensor and wireless charging…