On Friday, March 6th, Oppo unveiled its long awaited flagship, the Oppo Find X2 Pro. It was accompanied by a lighter Oppo Find X2, which we unboxed here. At the same time we spent dozens of minutes with the Oppo Find X2 Pro and its periscope camera and we have impressions about it below. Let's check it out!
First of all, it's just about 10% better specced than the Find X2 Pro. It has the camera CPU, screen, RAM and battery, but adds more storage and better cameras. The price also goes from 999 euros to 1299 euros. The device was unveiled with a live stream, hosted among others by SuperSaf and also included a demo of the device's ability to charge from zero 100% in just 38 minutes. Let's share impressions now!
Design
In spite of being just 10 grams heavier than the Find X2, the Pro unit feels clearly heavier, about the same load as the Xiaomi Mi Note 10, let's say. It comes with a ceramic back or orange vegan leather. It weighs 207 grams in the ceramic version and 200 grams in the leather one. The waistline goes from 8 mm on the Find X2 to 8.8 mm here. There's also an upgrade in resilience to dust and water, as the device is IP68 certified, unlike the Find X2, which was only IP54 ready.
It does feel premium in the hand, well built and study. It's also a magnet for grease and fingerprints. The grip is OK, provided you grab it by the metal frame. The back and front glass are both curved at 67 degrees, which is steep, but not waterfall screen steep like the Vivo NEX 3 and Huawei Mate 30 Pro.
Display
Oppo Find X2 Pro has the exact same screen as the Oppo Find X2, with an impressive 90.9% screen to body ratio. Also impressive is the fact that it offers Quad HD resolution on a 120 Hz screen, unlike the Galaxy S20, which only offers 120 Hz on Full HD+. The panel is an AMOLED and the punch hole for the selfie camera is rather small. The screen also integrates the fingerprint scanner. There's Gorilla Glass 6 protection here, very narrow bezels and HDR10+ support, plus the promise of 800 nits of brightness.
I found the curved screen edges distracting in videogames, but immersive in video watching. There's also 240 Hz touch sensing and an adaptive option for the refresh rate, depending on the situation.
Hardware
Inside we find the Qualcomm Snapdragon 865 processor, 12 GB of RAM and 512 GB of UFS 3.0 storage, which is double compared to the Find X2. There's no microSD card slot or audio jack, or wireless charging even. The battery is a 4260 mAh unit, 60 mAh more than the Find X2 and it brings the same SuperVOOC 2.0 65W charging. That means you get from zero to 100% in just 38 minutes. We get a huge charger in order to deliver that, so it may bother people who travel often and travel light.
There are stereo speakers here, an USB-C port at the bottom, WiFi dual band, Bluetooth 5.0, 4G connectivity, but also 5G SA and NSA. The antennae available here are integrated at 360 degrees, in order to get the signal better. Oppo also implemented a technology called Oppo Smart 5G, which combines 5G and 4G dual receivers, dual card and dual standby and switches between networks when need be.
Camera
Oppo Find X2 Pro has the same 32 MP selfie camera as the Find X2, probably similar to the Huawei P30 one. At the back there are some changes from the cheaper model, especially the presence of a periscope zoom camera. We get a main Sony IMX689 sensor, apparently with the largest size from the industry. The ultra wide camera also goes to 48 megapixels, the first time I've seen such a resolution for it and also the promise of 120 degree view angle. It also has a special way of autofocusing that lets you do Macro capture at just 3 cm close.
And now for the periscope telephoto camera! It's a 13 MP shooter with a prism used to direct the light through a few lenses and create 5x optical zoom, 10x hybrid zoom and 60x digital zoom. Oppo uses a circular zoom mechanism, unlike the usual slider implemented by the likes of Huawei. It's actually comfier than expected. Oppo also offers a special Ultra Steady Video stabilization feature, which actually works wonders and I've seen a skying video that looked amazing. There's also Ultra Steady Video Pro for an extra degree of stabilization.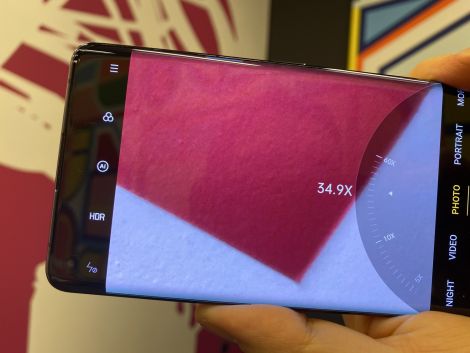 Then there's 4K 60 FPS video capture, but no love for 8K this time around, even though the hardware can probably handle it. There's also Live HDR video capture and 10 bit capture. Find X2 also inaugurates a new video editing tool called Soloop, which offers options like crop, effects, text, filters and more. I'm pretty curious about the camera versus Galaxy S20 Ultra, having tested it recently.
Software
Oppo Find X2 Pro runs on Android 10 with ColorOS 7.1 applied on top. It feels a bit like MIUI, but even more minimalistic. It has as an extra an app drawer, which is not present on Huaweis or Xiaomis. The rectangular brightness bar sure feels a lot like MIUI. The device has a Smart Assistant window that shows useful shortcuts and apps or widgets, plus a side bar triggered with a swipe on the homescreens, showing apps that can multitasking floating windows. There's also a Dark Mode and an adaptable alarm that connects to the weather app and adapts to weather conditions.
ColorOS brings oFas, oMem and oSense technologies, which preload cache and open apps and help them run faster. oMem is adapted to your habits and distributes resources depending on your activities. You can use native swipe gestures for navigation and choose a variety of icons, tweak the screen tone and there's also a Phone Manager to manage resources. Basically, a more minimal MIUI…
Conclusion
This is a pretty pricey handset, at 1299 euros, which is also a premiere for Oppo. It brings it to the level of the iPhones and Galaxy S20 Ultra, which is bold. Oppo feels it has the maturity and perks and technology to demand large sums of money. However, it doesn't have all the goodies that other companies are offering. Xiaomi is offering 8K recording with a much smaller price, Samsung offers better zoom and wireless charging. Some of these are gimmick, but for the price of an older car, you may want extras. This phone deserves to be bought for its stabilization, 120 Hz Quad HD screen and very, very fast charging. Also, the zoom seems more fluid than other flagships out there.
We'll be back with a full review.