We don't only test ultra high end phones, here at GSMDome.com, but also entry level smartphones, such as the model reviewed below. It's dubbed Orange Dive 71 and it's an entry level device, branded by the carrier Orange and in reality it's the ZTE Blade A506 under that branding. Announced in July 2016, the device is very good looking and it's priced at $144.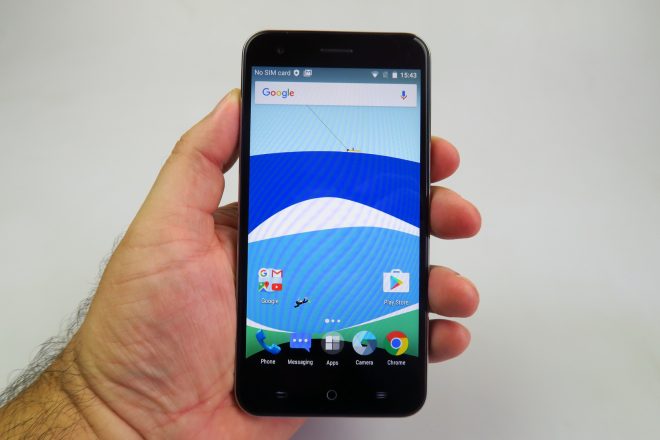 This is one of the few carrier branded phones we've tested over the past years. It has a glass panel at the back and one at the front, with the one at the front being a 2.5D one. The design is an unibody one and we've also got a metal frame covered with plastic material. The phone feels like a toy in the hand and it's quite comfy to use with a single hand.
It's not a slippery model, so grip is good and also good is the build. Buttons could be bigger and more prominent, to be honest. The handset measures 7.8 mm in thickness, so it's quite slim and it weighs 133 grams, which is quite reasonable. The back and front are fingerprint magnets and this has got to be one of the best looking phones priced below $150.
The display on board is a 5.2 inch 720p unit with a 2.5D IPS LCD panel and medium sizes bezels. There's no video player here, so we had to resort to Google Photos or the Gallery app. The viewing experience involved bright image, mediocre contrast, vivid colors and wide view angles. It was all a bit too white for my taste, though.
Pixels are of the RGB Stripes variety and when we used the luxmeter, we measured 432 LUX units, which is great for such a low priced phone. We surpassed the Xperia M5 and ASUS ZenFone 2 Deluxe, but scored below the Huawei P9 Lite. It's the equal of the LG G4 in this area. Settings include Adaptive Brightness, touch key light, sleep, pulse notification light and font.
Overall, this is an OK display and we move on to the rest of the hardware. The smartphone has a quad core Qualcomm Snapdragon 200 CPU, clocked at 1.3 GHz, an Adreno 304 GPU, 1 GB of RAM and 8 GB of storage, that run out very fast. Only 4 GB are available from the get go, but at least there's a microSD card slot. When using the device, we registered a bit of lag, especially in Dropbox uploads and some app loading, while downloading stuff in the background.
Games run OK, but start up pretty slow, Riptide GP2 included. Benchmarks, like Quadrant placed us below the entry level Xperia E4G, while in AnTuTu 6 we were at the level of Coolpad Modena, but below the iHunt X200. The 3D sub test in AnTuTu had a rather poor result. GeekBench 3 offered us results from below the 100th spot of all the phones we tested.
The temperature tests revealed to us a value of 36.7 degrees Celsius, after running GFXBench, while running the game Riptide GP2 for 15 minutes, resulted in 42.2 degrees Celsius, which is close to the concept of overheating. Performance feels a bit sacrificed here. Battery-wise, the smartphone packs a Li-Ion 2540 mAh unit, non removable one for that matter.
There's also a 5V/1000 mA charger in the mix. Our HD video playback test offered us a time of 8 hours and 5 minutes, which is quite OK and above the Huawei P9 Lite and ASUS ZenFone 2. We also scored below the Vernee Thor, while in PCMark we got to 7 hours and 41 minutes, an impressive result for a smaller phone. It beats the HTC 10 and Galaxy S6 even.
Charging is done in 2 hours and 50 minutes, which is a bit on the long side, but within expected limits. It beats the iPhone 6S Plus, but it's less fast than the Xiaomi Redmi Note 3 Pro. Settings for the battery include a Battery Saver option, Battery Optimization which is Marshmallow's Doze and overall this is a good battery for this price.
On the acoustics side of things, we've got two grilles at the bottom, but only the right one stands for a speaker. Play Music is the music player at hand and it comes with a tweaked EQ, with 5 frequencies, genre customizations, Bass Boost and Surround Sound, as well as Reverb. The acoustic experience involves high volume, OK clarity, good bass and it's not bad at all.
It can cover one person's talking in a small room. There's no distortion and the decibelmeter showed us a value of 91.8 dBA, which is huge and enters the top 3 of phone we tested, all time. It beats the Galaxy S7, LG G5 and Galaxy S6 too. The headphones are made of cheap plastic and they're quite huge. They do offer high volume, OK clarity, good isolation and a decent bass.
Thy're also very comfy and we get FM radio on this device with a recording option available. I'd say acoustics are quite good here, considering the price tag. As far as the camera goes, there's an 8 MP unit at the back and a 5 MP one at the front. The camera app starts up fast and we get a custom UI. To the left of the UI there's a timer, flash and HDR option, while the settings include 4:3/16:9 aspect and even a 13 MP shooting option with interpolation.
We've also got a shutter sound option, QR code, location and video capture is done in 720p tops, with a focus lock option and time lapse too. To the right we find the main capture modes, like Filters, Scene, Smile, Interval Capture and Panorama. There's also Multi Exposure that's basically a gimmick, blending together pics. It has the sub modes Collage, Bright, Dark and Alpha.
Orange Dive 71 also proposes the manual mode, with exposure, ISO and white balance to tweak. The camera use brought us a fluid zoom, OK focus speed and reasonably fast picture taking. The gallery of shots taken with the smartphone was done on a day of mixed sun and clouds. We registered washed out selfies, plus a good texture of a flower closeup or two.
Colors were a bit artificial and HDR was washed out. Once again closeups are excellent and zoom quality was OK. Colors were cold in most pictures and there are very few blurred shots. Panorama was OK, at 7046 x 592 pixels and details were OK in landscape shots. I like the clarity that the cam provided in the shade and then there was also multi exposure, that we tested, layering on top of each other some shots, but without it blowing our minds.
I was surprised by this camera's photo ability, since I had lower expectations. It's good for an 8 MP shooter and for the price, but too bad for the color calibration. In low light conditions, we had blurry shots and blurry street lights, as well as a bunch of moved shots. The flash was rather good and there was lots of fuzz in general in the frame.
In proper lighting and with ideal focusing, these low light capures are pretty reasonable. It doesn't surpass the classic behaviour of an 8 MP sensor though. The video capture is sadly limited to just 720p, at 29 FPS and 14 Mbps. The mic felt clogged, there was refocusing, sudden exposure changes and poor colors. The image was also shaky and the sky was poorly rendered.
It's underwhelming overall and feels more like 480p filming. In low light conditions videos drop to 14 FPS and have poor zoom, plus poor clarity. I'd even go as far as to say the first Samsung Galaxy Gear watch with a camera filmed better… which speaks for itself. Now off to the browser! The preinstalled one is Chrome and it's a bit on the slow side. It has poor benchmarks and we can do input on the device using a stock virtual keyboard.
As far as connectivity goes, there's 4G LTE here, WiFi b/g/n, Bluetooth 4.0, microUSB and NFC. We also have a nano SIM card slot in the mix, a loud and clear calling experience, plus good signal and microphone. SpeedTest gave us a value of 48 Mbps in download and 25 Mbps in upload, which could be better. 4G showed us 78 Mbps in download and 43 Mbps in upload, which is a bit better.
Orange Dive 71 runs Android 6.0.1 Marshmallow with small tweaks and stock icons mostly. Multitasking is done via the typical carousel and if you keep the homescreen pressed you'll trigger wallpapers, widgets (stock mostly) and a set of homescreen settings, like auto disable apps or switching to an easier to use homescreen.
It only has one page and lots of hints on how to use stuff. Gestures are here as well, ones that involve drawing symbols on the screen to open apps. The notifications and Quick Settings are stock here and Settings are also pretty much stock. The preinstalled apps list includes 35 items, with is 5 too many if you ask me, particularly with such low storage
There's Assistant, Deezer, some games, WPS Office and sadly the UI is not fluid all the time. Time to check out the verdict and let's start with the Pros and Cons.
Here are the Pros:
nice design
comfy phone
bright screen
OK pictures
loud volume
good battery
clean software
And the Cons:
bit of lag
too little storage
poor video capture
modest CPU and GPU
The conclusion? Orange Dive 71 is a good looking entry level smartphone, good for multimedia purposes, like audio and video consumption, as well as picture taking. You can take your dose of Facebook with it, but rely less on it for games and apps. The battery is quite good and this remains a Facebook and music phone overall, for people who also like to spend $144 on some 4G LTE action.