The Prestigio Multiphone 5044 Duo is a handset we've reviewed a few months ago and it's still a pretty decent piece of hardware. Priced at around $300 now, this product comes from the company Prestigio, that is an international brand with 32 offices in 70 countries.
This is the slimmest Multiphone model, that measures 8.4 mm in thickness and weighs 130 grams. The handset offers us good grip and it comes bundled with a flip over case in the box, that we really liked. At the back of the phone there's the camera, flash, microphone and a nice logo, plus the speaker, while at the top part there's the audio jack, micro USB port and on the sides we find the On/Off and volume buttons.
At the bottom of the handset we find a mic and upfront there's the front cam, earpiece and 3 capacitive buttons. The Prestigio Multiphone 5044 Duo features a plastic case and overall, this device has an elegant design with a metallic frame, but also some big bezels. On the hardware side, we've got a 5 inch IPS HD screen with One Glass full lamination tech and 1280 x 720 pixel resolution.
Under the hood there's a quad core Cortex A7 MediaTek MTK658 1.2 GHz CPU and a PowerVR SGX544MP GPU. A G sensor is also on board here, plus 4 GB of storage, 1 GB of DDR2 RAM and WiFi connectivity. There's an 8 MP back camera, a front 2 MP shooter and a microSD card slot with support for up to 32 GB of storage. Stereo speakers, a dual microphone with noise reduction, Bluetooth 4.0, GPS and FM radio round up the specs list. The battery is a Li-Polymer 2000 mAh unit, that on paper provides 281 hours of standby time and 15 hours of talk time.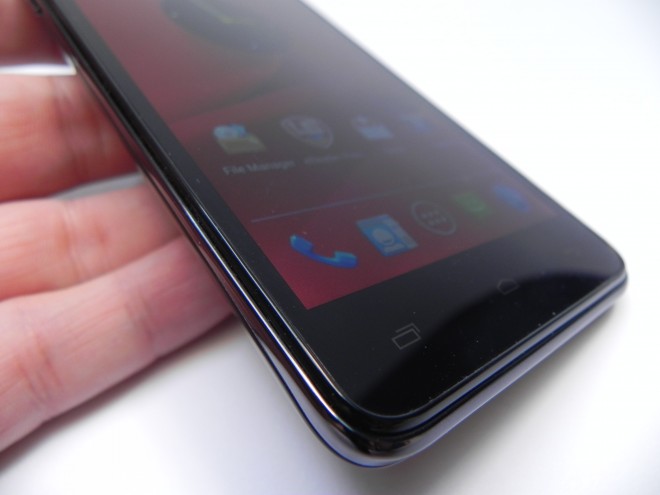 In reality we achieved 5 hours of HD video playback from it with 100% brightness and the same battery allows it to reach a little bit less than a day. On the audio side, we've got a speaker that's easy to cover, but also good bass, high volume and clear sound without distortion. The headphones are ugly and uncomfortable to use, plus they have a huge remote.
Their bass is also good and we've got some settings for the audio profile, as shown in the video below. Finally, there's FM radio here and the ability to record from it. On the video side, there's a 5 inch IPS LCD HD screen with 293 ppi density, no screen protection and good view angles. The colors are vivid, maybe even oversaturated and the screen is bright and behaves well in full sunlight. We tested the display with our tools and achieved 345 lux units on white, which beats the 200+ units of the Galaxy S4, so the display is truly bright.
Moving on to the camera, this is an 8 megapixel unit with autofocus, BSI, a LED flash and a simple UI, that also involves front camera gestures to control (and not the bug I mentioned in the video review). You can change the exposure, color effects, scenes, white balance and pull a continuous shot, if you want to. ISO goes up to 1600 and we've got a special audio mode in the video capture. HDR is here too, plus a Beauty mode, panorama and even a multi angle image, which is sort of a 3D shot.
The video capture doesn't quite impress, especially since it's very compressed, in a 3GP format. The pictures may feel slightly oversaturated, but the closeups are good and the filming is done in Full HD 30 FPS. The flash photos are OK and overall the camera is on par with the high end Allview handsets, if you really want a comparison.
The HDR is pretty decent and now we move on to the software. Prestigio Multiphone 5044 Duo runs Android 4.2.1 and features a web browser that's decent, but not exactly fast. In the benchmark area we compared this unit to the Allview P6 Quad, that has the same MediaTek quad core CPU. The Prestigio unit scored 3918 points in Quadrant, 60 less than the Allview model and hit 13k points in AnTuTu, 1000 more than its rival. In NenaMark 2 we were also better with 45.8 FPS versus 39.9 and in Vellamo we scored 1468 against 1417.
Finally, in 3DMark the Prestigio gets a 3167 score, compared to the 2976 points of the Allview P6 Quad, which means that Prestigio wins the benchmark battle. Android is pretty much stock here on this device and the dialer of the unit reveals some dual SIM action, to which we add our finding that the call quality is decent. The apps preinstalled on the smartphone include a Prestigio ereader, a file manager, a special Installer and Office Suite. There's a To Do app here and we also demoed Google Maps on this unit.
We've got Navitel for navigation purposes and it works quite fine, in spite of being a third party solution. And now to the pros and cons of the device! Here are the Pros:
nice design
extra case bundled
low price
good benchmarks
decent audio
bright screen
slim handset
stock Android
Navitel and Mcafee offered for install
And the Cons:
battery life could be better
storage is too low
camera is pretty weak
games a slightly laggy
gets hot a bit
We give this handset an 8.3 out of 10 for design, an 8 for hardware and 9 for OS and UI, for a final grade of 8.43 out of 10, making this a pretty good midrange purchase.