Samsung made some interesting announcements this week, culminating with the implementation of a new naming pattern. From now on, each segment of the Galaxy series will get its own letter of the alphabet, plus a sub-branding. The Asian company also announced a few new smartphones: Galaxy M Pro, Galaxy W, Galaxy Y and Galaxy Y Pro.
The first model to get interested in is the Galaxy M Pro (pictured above), an ideal tool for young and sociable professionals. It comes with a QWERTY keyboard, that's easy to use and precise, plus an optical trackpad, a touchscreen a very thin case at 9.97mm. It also has productivity features, thanks to solutions such as Exchange Active Sync, Sybase Afaria and Cisco Mobile and Cisco WebEx.
Here's what its specs list is all about:
Display: 2.66 inch, HVGA, 480 x 320, TFT LCD
OS: Android 2.3
CPU: 1GHz
Connectivity: HSDPA 7.2 Mbps, EDGE/GPRS, A-GPS, Bluetooth 3.0, WiFi, USB 2.0
Camera: 5MP with LED flash, WVGA 30 fps video recording, front VGA camera
Memory: 1GB user memory, 2.5 GB internal SD, microSD card slot
Battery: 1350 mAh, 375 minutes of 3G talk time, 279 hours of standby time.
Next up, there's the high end model of the newcomers, the Samsung Galaxy W (pictured above), packing a powerful CPU, great connectivity and a big touchscreen display. Samsung Hubs are also here, for socializing, music and gaming. Kies Air will give you the ability to sync via wireless and here's the specs list for this strong newcomer:
CPU: 1.4GHz
Display: 3.7 inch, WVGA, 480 x 800 pixels, TFT LCD
OS: Android 2.3
Camera: 5MP, LED flash, HD 30 fps recording, front VGA cam
Connectivity: HSDPA 14.4 Mbps, EDGE/GPRS, A-GPS, Bluetooth 3.0, WiFi, USB 2.0
Memory: 4GB internal, microSD card slot
Battery: 1500 mAh, 1100 minutes of 2G talk time, 530 hours of 2G standby
This model measures 11.55mm in thickness and weighs 111.5 grams. Moving on to the phone for youngsters, the Galaxy Y, pictured below is a compact model for people who want to socialize. This handset comes with multitasking thanks to a reasonably powerful CPU, the usual Social Hub from Samsung and the TouchWiz UI. There's also Swype typing enabled.
Here's the hardware feature list of the handset:
CPU: 832MHz
Connectivity: HSDPA 7.2 Mbps, EDGE/GPRS, A-GPS, WiFi, Bluetooth 3.0, USB 2.0
Display: 3 inch, WVGA, 320 x 240, TFT LCD
OS: Android 2.3
Camera: 2MP, QVGA 15 fps recording
Memory: 160MB internal, 2GB inbox, microSD card slot
Battery: 1200 mAh, 300 minutes of 3G talk time, 350 hours of 3G standby time
This model measures 11.5mm in thickness and weighs 97.5 grams, which is very OK for your pockets. There's also the Galaxy Y Pro model (below), a version of the Y with a QWERTY keyboard and pretty much the same specs, but a changed design. This device features a 3MP camera instead of the 2MP on the Y, Android 2.3 and replaces the 3 inch screen with a 2.6 inch TFT LCD unit. The rest of the hardware is exactly the same…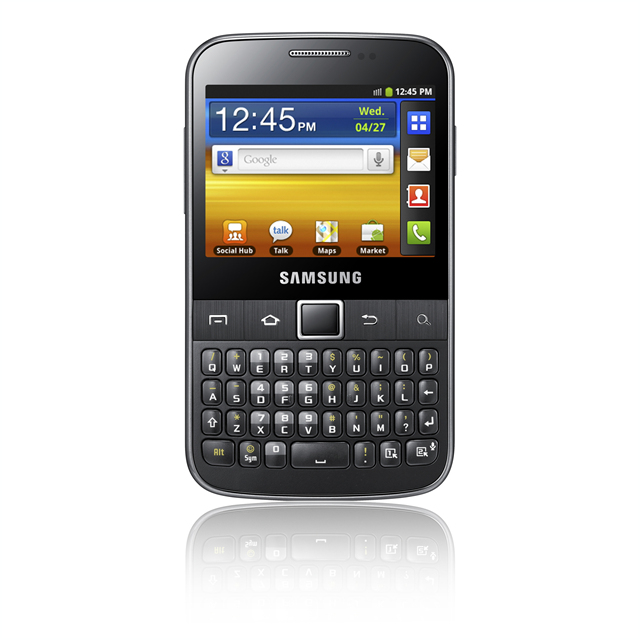 Samsung also announced a new naming pattern for its Galaxy S series smartphones, that's pretty well detailed in the following image. To keep it short, "S" stands for Super Smart and top notch handsets, while "R" stands for Royal and premium models. As for "W", it stands for Wonder, meaning high quality and a balance between design and performance. Also, "M" stands for Magical, meaning high performance and budget price, while "Y" stands for Young, basic handsets for emerging markets.
There are also device classes for these units: Pro for QWERTY units, Plus for an improved version of an already existing phone and LTE for LTE phones.