A week after we've seen the Samsung Bada OS being introduced and demoed in London, a couple of screenshots have been made available online, showing a bit of the new platform. The new OS looks pretty good, it's based on Samsung's TouchWiz UI and borrows elements from Android and a bit from Symbian.
It'll surely be a while till we get to see a Bada smartphone, but that will surely happen in 2010, in case all goes well. For now, the platform is more interesting for developers, than customers, because of the many possibilities it offers as far as software development is concerned.
The OS will allow developers to mess with important phone features like Flash UI, motion and proximity sensing, vibration control, face detection and more. Social features and navigation features will also be on board and there's a "Bada Challenge" for devs looking to get a piece of the Samsung OS. Also, expect an App Store to be launched as soon as there's a decent selection of applications to provide to the general public.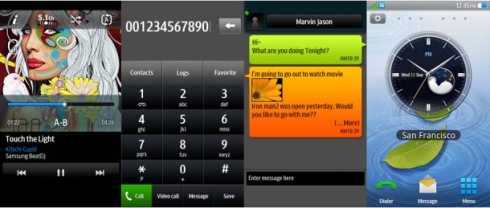 [via gsmarena blog]