Samsung Galaxy Alpha is the latest Samsung device that came to us for testing and this model had a pretty good first impression on us. It's very slim and finally implements metal in the Samsung design language… but is there more to this model? Let's find out in the following lines.
This handset is the first partially metallic Samsung phone, that was announced in August, launched in September and it's priced at $640 on Amazon. This model has a flagship price, but its specs aren't exactly flagship material. The Alpha we tested is an Exynos model and it measures 6.7 mm in thickness, being one of the thinnest Samsung phones ever. It's even thinner than the already thin iPhone 6, at 6.9 mm, but not thinner than those uber slim Gionee or Vivo phones.
It weighs 115 grams and it's quite light, almost like a dummy unit. The product sits well in the user's hand and it's well proportioned and easy to be used with one hand. The device offers good grip and it has rough edges that cut into your palm and leave off a layer of epiderma from your fingers. This model comes in black, silver, white, gold and blue and it's a good looking and elegant smartphone.
It has aluminum sides, a plastic back cover and a dotted front and back texture. It's a compact unit and it feels like a Galaxy S5 Mini. I should mention that this phone is not waterproof and that it has great build quality and it's solid, although the finishing feels rough in some areas. Upfront we've got the earpiece, sensors, front camera, physical Home button with a fingerprint scanner incorporated, a capacitive Back button and a capacitive Recents button.
At the back we find the main camera plus flash, a heart rate sensor and the removable cover, underneath which rests the battery and nano SIM card slot. You need to remove the battery in order to gain access to the nano SIM slot. At the top we find the audio jack and microphone, while at the bottom there's another microphone, a microUSB port and speaker. On the right side there's an On/Off button, that's way too small to be comfy, while on the left there are the reasonably comfy volume buttons.
Overall the feel of the phone is nice, almost premium even, in spite of the finishing not being exactly to my liking. As far as hardware goes, we've got a 4.7 inch Super AMOLED display on board, with 16 million colors, a 1280 x 720 pixel resolution and a density of 312 PPI. Inside the handset there's an octa core Exynos 5 Octa 5430 processor, with 4 cores of the Cortex A7 kind, clocked at 1.3 GHz, plus 4 cores of the Cortex A15 kind, clocked at 1.8 GHz.
The GPU here is a Mali T628 and other specs include 2 GB of RAM, 32 GB of storage and there's no microSD card slot here. The back camera is a 12 MP unit with LED flash, while the front one is a 2.1 MP shooter. As far as connectivity goes, Galaxy Alpha supports 4G LTE, ANT+ connectivity for fitness gear, microUSB 2.0, GPS, Glonass, WiFi 802.11 A/B/G/N/AC dual band (MIMO), WiFi Direct, Bluetooth 4.0, NFC and HSPA. There's no MHL or DLNA here, in case you're wondering.
Finally, other hardware includes a heart rate sensor, a proximity sensor, a geomagnetic sensor, fingerprint scanner, a hall sensor, gyroscope, accelerometer, light sensor and a Li-Ion 1860 mAh battery. Said power source is a 3.85 V and 7.17 Whr unit, that on paper provides 11 hours of WiFi browsing, 10 hours of video playback or 37 hours of music playback. In our test, that involves WiFi on, brightness at 50% (manual slider) and video playback in a loop, we achieved 7 hours of playback, which is reasonable for such a thin phone.
The device is still beaten by the iPhone 6, with a similar screen and thickness and the Apple model reaches 11 hours and a half of playback, so clearly more than the Galaxy Alpha. Still, we beat the HTC One M7 and Nexus 5 in playback time and going further, the charging takes place in one hour and 40 minutes, which is very good. We've also got the usual power saving features here, including limiting the CPU power, brightness and deactivating the GPS and vibrations.
Then there's also Ultra Power Saving, that offers you about a day of usage with 20% battery left. Overall, you should get a day, or a day and a bit of usage from this model and once again, battery is only OK for the thickness we get here. Meanwhile, the Galaxy S5 offers 11 hours of video playback. As far as audio goes, the Alpha offers the usual music player and this time the speaker is at the bottom. We've got the usual options, like Adapt Sound, Play Speed, Smart Volume or the complex equalizer known as Sound Alive, with its custom channels, 3D option, bass, clarity and instrument tweaks. There's also a Music Square that organizes tunes by their mood and the player also gives ou FLAC support.
The actual acoustic experience is clear, crisp, loud, but I've heard louder. The bass is OK, but there's also a slight distortion during songs that feature a proeminent guitar and in general the sound is metallic. The headphones bundled with the Alpha offer the usual Samsung quality and comfy experience, plus a tangle free wire, good noise canceling and loud volume. The bass is perfect and we've got a big remote with 3 buttons, in the mix. Overall, the acoustics are below the iPhone 6 and Galaxy S5, while the decibel level reaches 83.5 dBA.
This is below the iPhone 6's 85.2 dBA and the LG G3's 87 dBA. The acoustics are good, but with a less metallic sounding experience, it would be better. Moving on to the display, this one is a 4.7 inch Super AMOLED with a 720p resolution, 312 PPI and pixels of the Pentile Matrix kind. This is an older technology, so it's not exactly fresh. We've got deep blacks and the video app shows previews of the vids, offers MP4 support, as well as MKV support, but there's no love for DivX. Once you play a video options like Pop up Play appear, as well as crop, AMOLED Cinema (makes colors pop), Sound Alive, Play Speed and there's pinch to zoom to get a better view of the vid.
The colors pop, the screen is bright and crisp and we've got wide view angles, a bit of oversaturation, but that's solved through software customization, plus good contrast and OK sunlight behaviour. The brightness achieved here is 454 LUX on the manual setting of the brightness slider, while the auto one with the plus 5 setting takes us about 15 LUX higher. Overall, we get to around 470 LUX and we get beaten by the Sony Xperia Z1 Compact, with its 488 LUX, as well as the Galaxy S5 with its 480 LUX, not to mention the iPhone 6 and its 570 LUX.
In spite of the figures, the screen is bright enough and I didn't feel the lack of all those LUX units. Overall, the screen is good, but the resolution could have been Full HD, I guess and you can see that lack when reading text. In the Settings area you'll find special Display settings, like Smart Stay and Screen Mode, with sub options like Adaptive Display (adapts to the app you're using), AMOLED Cinema (oversaturated), AMOLED Photo (more realistic) and Basic. Then there's Auto Adjust Screen Tone and an option for increasing touch sensitivity when wearing gloves.
Next up is the 12 megapixel camera with its 16:9 sensor, F/2.2 aperture and 4.8 mm focal length, which is the same as the one of the Galaxy S5. We've got phase detection autofocus here, but there's no optical image stabilization. The UI is typical for a Samsung device and on the left side there's a custom area for 3 shortcuts, while the same side includes a front camera shortcut, plus the settings portion.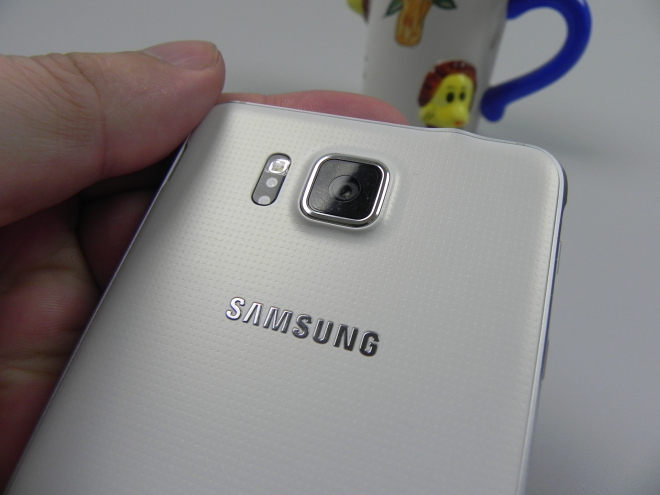 Settings include resolution (4608 x 2592 max, at 16:9), burst, picture stabilization (good for low light capture), face detection, ISO up to 800, metering modes (center, matrix, spot), tap to take pics, selective focus and video options are also included (4K, Full HD, slow motion with 3 options and fast motion with 3 options). There's also Smooth filming at 60 FPS and video stabilization, audio zoom, flash, effects, timer, HDR, location tag, remote viewfinder, white balance, grid line, volume key commands and voice control.
On the right side there's a shutter button and the Modes, that include Auto, Beauty Face, Shot and More, Panorama, Virtual Tour, Dual Camera, Animated Photo, Sports, Sound and Shot and Surround Shot. The camera does 4x zoom and the capture is fast, but the focus is slow. Moving on to the actual pictures, we get realistic colors during daylight, good details and selective focus is also demoed in the video review, allowing you to refocus after a shot, on the foreground or background. Panorama looks OK, its stitching is good and there's a slight undersaturation thing going on.
HDR looks OK, highlighting contrast and overall the shots are a bit noisier than 16 megapixel shooters. The photos with the zoomed in ducks reveal the true noisy nature of the pictures once again in comparison with a 16 megapixel handset. Macros look OK, both in the case of the cone and the flowers. This camera is about 30% less than what the Galaxy S5 offers, when it comes to imaging. It's still above the Sony Xperia Z1 Compact, but overall not impressive for its price. As far as night time capture is concerned, we've got a noisy series of shots, OK colors, plus a yellowish hue on top of the shots. The flash didn't do much good either….
I would put the low light capture on par with the Note 3, that wasn't very good in the area. As far as video is concerned, the slow mo looks nice, but the quality is poor when compared to what an iPhone can generate. 4K capture of the red bridge features stereo audio and a 48 Mbps bitrate, with the audio bitrate being 256 Kbps. Even the 4K capture feels slightly less impressive than the one of the S5, that blew us away. While filming you'll occasionally lose the proper exposure.. We also tested fast motion capture and stabilization, with the latter being poor as well, or better said inferior when compared to the iPhone 6 models.
Quality rapidly drops when zooming in and the 30 FPS Full HD video has a 17 Mbps bitrate, while the Full HD 60 FPS vid has a 28 Mbps bitrate. Continuous autofocus is a bit exaggerated and in spite of all my criticism, I'd say the audio capture is surprisingly good. As far as the night time capture goes, videos are noisy and covered by a yellow hue, which may be OK for a $300 midranger, but not for double that price. There's also a fuzz when filming with light in front.
Overall, I'd say that we're not even on par with the iPhone 5s, or with the HTC One and HTC One Mini, plus this model is 30 or 40% weaker than the Galaxy S5 in the photo/video capture area. I expected more to be honest… You can also do a bit of editing here, using the Studio feature, filled with options like crop, resize, effects, contrast, bright, saturation, temperature and hue.
Now we move forward to the performance and we find out that this model achieved 39.8 degrees Celsius in our temperature test, after playing 15 minutes of the game Riptide GP2, so there's no overheating. The web browser on the Alpha is not very fast and we've got a comfy keyboard, that's well spaced and features a numeric row at the top. As far as the phone goes, we've got a crisp and clear sound experience, as well as a loud one and Speed Dial is included in the mix. The noise reduction doesn't exactly work here, sadly.
As far as software is concerned, there's Android 4.4.4 in the mix, with TouchWiz on board, with a version somewhere between the one on the Galaxy S5 and the Note 4. And now let's check out the benchmarks:
We compared the Galaxy Alpha with the Galaxy S5, iPhone 6 and Xperia Z3 Compact and the Alpha won 4 out of the 10 duels. In spite of that, it was the equal or better than the Galaxy S5 in some tests. We have no lag and the benchmarks are good, plus we can run any new game. There's a good looking multitasking area and a My Magazine homescreen with Flipboard integration, but this is optional.
There are also Samsung widgets here and the dropdown area includes options like the S Finder, Quick Connect, notifications and Quick Settings. In the Settings section you'll be reminded that there's also a Download Booster, that combines the LTE and WiFi into a more potent download. In spite of the smaller diagonal, we did get Multi Window mode on this device and it works fine, even including the content exchange between two windows.
Toolbox is also here, as a floating widget with included apps, plus we've got the usual Easy Mode, Blocking Mode and Private Mode. The finger scanner is fast and precise and continuing with the Settings area, we find here the Motions and Gestures section, with features like Direct Call and Smart Alert. Then there's Air View, that allows you to use your finger above the screen to display previews of content.
S Voice is still no Siri, although it can do more now. As far as the preinstalled apps are concerned, Samsung Galaxy Alpha features the S Planner app, Memo, Voice Recording, Studio, My Files, Galaxy Apps and S Health. Using this app we measured the heart rate and pulse, both tracked efficiently and fast, plus easier than on the Note 4. The apps list ends with Maps, Play Suite, Flipboard and I'm happy with the lack of bloatware available here.
And now let's see the Pros and Cons of this device.
Here are the Pros:
new design approach
slim device
powerful CPU
good display
fast charge
good day time camera, but could be better
no bloatware
And the Cons:
too big price
edges cut into your palm
unimpressive finishing
speaker could be better
poor low light capture
no noise reduction for calls
Samsung Galaxy Alpha gets from us an 8.5 out of 10 for design, a 9 for hardware and a 9 for OS and UI. The final grade is 8.83 out of 10 and we drop 0.33 for the too big price, for a final grade of 8.5 out of 10. This is an experimental phone, a sacrificed model, like the Galaxy Round and LG G Flex, just the start of a new design trend. It's a good alternative for the Galaxy S5 Mini, but you're better off with the Galaxy S5 in the end…