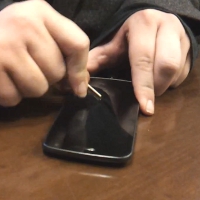 The web was abuzz when the news that Samsung Galaxy Nexus doesn't use Gorilla Glass display technology and now the worries about how frail its display is will be gone. The reason for that is the following clip, that shows the screen is protected, but not by Gorilla Glass from Corning.
It appears that Samsung Galaxy Nexus relies on ASAHI Glass Dragontrail technology, that's as good as Corning's, if not better. The keys won't scratch the screen, but I'm curious to see how this smartphone will survive a drop to the floor or concrete. As you can see, no traces of the scratches were left on the display, so Dragontrail does its job just fine.
Considering the huge amount of handsets with Gorilla Glass nowadays, it's almost a blasphemy to rely on something else, if you want to make it in 2011. However, let's not encourage monopoly and start looking for alternatives. After all, Apple is exploring options as well, with stuff such as screen airbags being taken into account.