Samsung is preparing to announce a brand new clamshell phone for the South Korean market, the SHW-A310 model that's pictured below. In case you didn't know, clamshell handsets are a big trend in Asia, especially in Japan, where they're the most appreciated, especially with a 1Seg tuner and a great camera.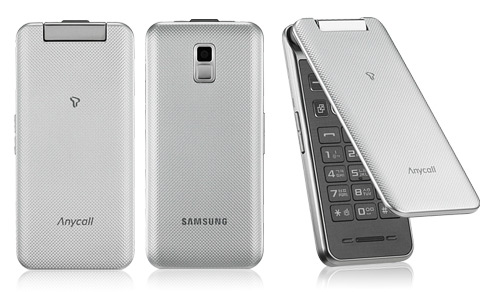 Now back to the Samsung SHW-A310, this handset will be coming to SKT soon and it serves as a follow-up to the SHW-A300. This model brings forth a slimmer design, when compared to its predecessor, it's also taller and comes with a larger display, that's 3 inches in diagonal and measures 400 x 240 pixels in resolution.
There's also a 3 megapixel camera on board, a minimalistic clamshell design to include all of this hardware and a Hyperskin body with extra grip to complete everything. The usual WiFi, Bluetooth and microSD are also included among the specs, together with T-DMB TV, a front facing VGA camera and 1000 mAh battery.