Let's clarify one aspect from the start: if you own a Sony Ericsson Xperia Arc there's absolutely no reason to get the Arc S. This is not the same story with the iPhone 4 and iPhone 4S… While the new iPhone makes some clear hardware upgrades, the Xperia Arc S only enhances the CPU a bit, brings a new flavor of Gingerbread and… that's about it. However, there's more here than meets the eye, especially if you've never used an Xperia Arc model.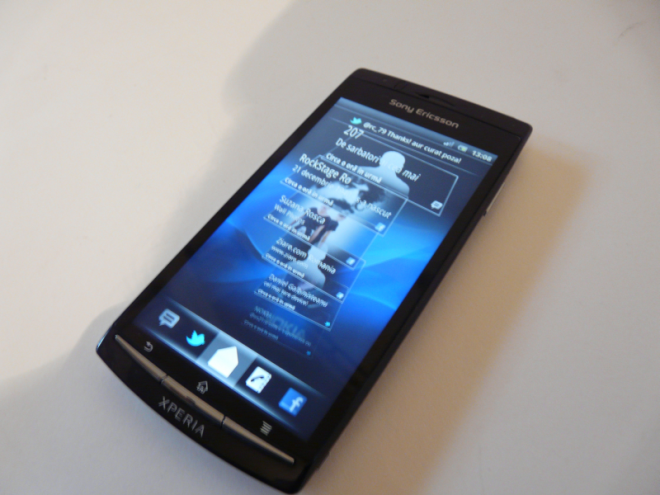 The design of the handset and its specs are unchanged from the original Arc. Sony Ericsson's smartphone measures 8.7mm in thickness, weighs 117 grams and features a 4.2 inch display with a 480 x 854 pixel resolution. This screen uses LCD and Sony Mobile Bravia technologies to show crisp images, that are both clear and bright. Under the curved shell of the device there's a Qualcomm Snapdragon single core 1.4GHz processor, a 400 MHz upgrade from the Xperia Arc's "brain".
The phone also features a microSD card slot, 1GB of internal memory (320MB usable), 512MB of RAM, HSDPA connectivity, WiFi, DLNA and Bluetooth 2.1. There's also aGPS, stereo FM radio, a HDMI port with a pretty uncomfortable cover and noise canceling technology in the mix. The battery on the Arc S is a Li-Po 1500 mAh unit with enough juice for 7 hours of talk time and about a day or two of handset usage. As far as camera goes, the sensor is the same 8 megapixel unit with autofocus, LED flash, touch focus, geotagging, image stabilizer and 720p 30 fps video capture.
Now there's also a 3D panorama feature, that came with Android 2.3.4 Gingerbread, and OS that was offered as an upgrade to previous Xperias, but on this model it comes preinstalled. Entering the multimedia section, you must know that I was very impressed with the audio volume on this smartphone. A song tuned all the way up will cover two people speaking at the same table in a restaurant for example. The video playback also looks nice, although don't go dreaming for .mkv 1080p playback. The handset doesn't offer DivX support, so you'll have to do with .MP4 files.
Sony Ericsson Xperia Arc's camera is great, as I said when I reviewed the original Arc model. You have tons of options to play with, the interface is simplistic and the sensor is extremely fast in taking pictures. You can tweak brightness, sharpness, add effects, change white balance, focus, ISO and more. The photo gallery is easily accessible with a swipe to left in the camera UI, so you'll see everything you've photographed so far. Speaking of which, SE implemented the usual MediaScape feature, to show your video and photo content as a tiny vertical carousel on the phone's screen.
They also implemented TimeScape, the function that includes Twitter and Facebook statuses, missed calls, texts and other such means of communications. Each tweet or status change is shown in a huge vertical column, that's scrollable just like a carousel. Just like other Xperias the phone gets special widgets, folders available in the lower side of the screen (dock area) and a special UI, tweaked differently from other Android phone makers.
This curved smartphone feels slow at times, especially if you use live widgets that update frequently, so you should keep an eye on what you're using. We also get a Swipe keyboard as alternative to the usual means of input, that's actually user friendly on the 4.2 inch screen. With a pinch to zoom of the home menu area you'll see all of your widgets and screens floating in a single view, which is a nifty function I've always played with on compatible Xperia models.
In the end the choice is yours, but as I said there's really no need to get an Xperia Arc S if you own an Xperia Arc, Xperia Ray or Xperia Play for that matter. The Arc/Arc S will be remembered as curved phones with a very light design and great camera, but this is where their unique aspect end and they certainly need a lot more to stand against the likes of Galaxy Nexus and Motorola Droid RAZR.