We've been playing with the Sony Xperia E4 for the past week and this low end Xperia phone gets a full video review below. Launched this Spring, the smartphone was priced at $153 in UK, last I checked. We're also inaugurating a new review format in the video below.
The handset measures 10.5 mm in thickness and weighs 144 grams. I have to say that its plasticky back feels a bit like fragile plastic was used to make it. The phone is a fingerprint magnet and it's pretty wide and massive for a 5 incher. One hand use is OK, in spite of the E4 being a bit slippery. The case is a wraparound one, so if you remove the back cover, you're also removing side protections, like on a lower end Lumia.
Under the hood we find the microSIM and microSD card slot, as well as a non removable battery. Upfront there's the notification LED place next to the camera and at the back we find the speaker and main camera. The trademark On/Off button is placed on the side, with the volume buttons close to it, all of them with good feedback. On the left there's the microUSB port.
It's very easy to get dirt into the earpiece or the lower front side microphone portion, sadly. The design is not very visually appealing, so it's rather practical. On the hardware side we meet a quad core Cortex A7 processor, a MediaTek MT6582, clocked at 1.3 GHz, with a Mali 400 MP2 GPU also in the mix. There's 1 GB of RAM here and 8 GB of storage, plus a microSD card slot.
We also did a few benchmark tests here, scoring 8445 in Quadrant, which places us above the likes of Allview V1 Viper S4G, Allview E2 Jump or the Leagoo Lead 1, plus also a bit under the Karbonn Titanium S6. Then there's the GFX and its 530.9 score in the T-Rex test, a bit over the Karbonn Titanium S6, Leagoo Lead 1 and Philips W8510.
v
BaseMark X brought a score of 4944 and surprisingly we beat the Galaxy A5 and Leagoo Lead 1 in this test. BrowserMark had a score of 982 on this model, placing it close to the HTC One M7 and above the Karbonn Sparkle V. This model doesn't suffer of lag per se, but the apps take quite a long time to open up. Its CPU dates from 2013 and the GPU is quite low end.
Still, Riptide GP2 runs fine and doesn't overheat the handset, with the temperature sticking at 34.6 degrees Celsius. The battery inside is a Li-Ion 2300 mAh unit and offers, on paper 48 hours of music playback. In our test, that involves HD video playback with WiFi on and brightness at 50%, we achieved 7 hours and 18 minutes, which is quite good. We're above the HTC Desire 820, that scores 7 hours and 13 minutes.
We even beat the HTC One M9 and its 6 hours and 9 minutes. PCMark gave us a continuous run time of 5 hours and 52 minutes, which is also good, especially since it's very similar to the result of the HTC Desire 820, which is a phablet. The charging takes a bit long, 3 hours and 45 minutes, the only downside to this battery. Overall, the Sony Xperia E4 brings a solid battery for its price and also comes with a few Power Saving features of the Stamina and Ultra Stamina kind, those that take down brightness, CPU usage and deactivate parts of the connectivity.
As far as acoustics go, we've got the trademark Walkman player here, with its good looks and cute visualizer. The actual experience brings an OK volume, a bit of a muffled sound, no bass and OK high notes. The back speaker gets muffled on a flat surface and loses some decibels. There are quite a few audio options here, including Clear Audio+, that gives a clarity boost, plus an equalizer with 5 channels, headphone surround and X Loud, plus Clear Phase, that are vital for a good audio experience.
We did a decibelmeter test and achieved 80.9 dBA at the back and 76.2 dBA at the front. Overall, we're pretty close to the Huawei Honor 6 and its 81 dBA, as well as the LG G Flex 2 and its 82 dBA. The lack of bass remains a problem, but we did like the multitude of options. The display included here is a 5 incher, with an IPS LCD panel and a 960 x 540 pixel resolution. It's reflective, behaves badly in sunlight and has a plastic layer on top of the screen.
The pixels are of the RGB Stripe kind and the viewing experience brings OK colors, wide view angles and a pretty low brightness. Contrast isn't good and the brightness we tested was 217 LUX units, which is very low. Most of the phones we test, even lower end ones go past 300 LUX. You can also tweak the settings, with an RGB slider and options for fonts and brightness.
There's also Smart Backlight Control, that keeps the screen on when you're looking at it. Overall, the display is mediocre, even for the price. The cameras are a 5 MP unit at the back, with LED flash and autofocus and a front 2 MP unit. As usual for Xperias, there are a ton of capture modes and options, including a Manual mode with Scenes, exposure, ISO, HDR, stabilization, white balance and more.
You can take a panorama, play with augmented reality and create a photo with sound. The zoom is not fluid at all and we stopped on 5 photo samples that we dissected in the video review. The panorama isn't very wide, but it has an OK color, it's taken fast and has no artefacts. The image is pretty crisp, but the panorama is rather curved.
We also took a shot of a graffiti, that has a good texture, good color and pretty nice quality and lighting. The exposure is also quite good. Then there's the macro of a flower, with good details, crisp image and a blurred background to highlight the flower. You need to have patience to focus, since about 15% of the pics we took were moved and macros were hard to pull off.
Then there's the photo with the fountain and water drops, meaning we have a pretty good shutter here. In this shot, the texture and clarity are good, as well as the brightness, but in an another shot involving a much slower moving globe, the camera had problems catching motion. Finally, we tested the landscape shooting, with the result being a clear picture, with good colors and details, but also a bit on the dark side.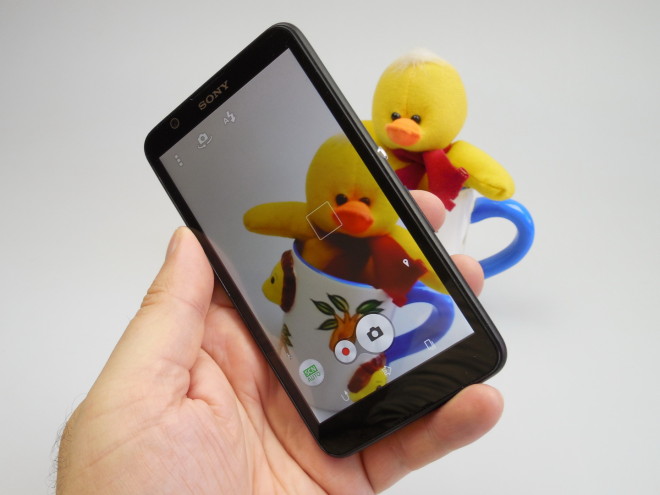 Overall, about 15 to 20% of the shots are blurry, because you really have to wait for the camera to focus here and not rush it. Colors look good, the exposure is OK and this camera isn't far from other 5 MP shooters we liked on Karbonn phones for example. As far as video goes, we've got a clip with OK focus and exposure, slightly blurry at the start and then clear. The same video shot from above has good audio and realistic colors.
The capture happens in Full HD resolution, MP4 format, 30 FPS and 17 Mbps bitrate. The second video shows us focus loss, good audio, OK clarity and somehow stabilization got to be OK. For $150, I'd say the camera handles its tasks quite well. The phone calling offered her eis crisp, we've got good signal and loud calls, but there's no voice canceling.
Web browsing is reasonably fast on Chrome and the keyboard is comfy. As far as software goes, we're running Android 4.4.4 KitKat, with the typical Xperia UI. This involves transparency, left side menus and big tiles, at least in the 3 big media apps: Album, Walkman and Video. The multitasking section offers floating apps and among the interesting preinstalled apps we find Sociallife, which is basically a sort of Flipboard or BlinkFeed, Garmin's navigation solution, the AVG antivirus and Track ID, the precursor of Shazam.
The overall UI is colorful, but flat and the themes you can install are quite nice looking. There's not much bloatware here, which is good news. And now here's the verdict!
These are the Pros:
affordable phone
OK camera
lots of camera options
good battery
OK audio
no overheating
no bloatware
runs games reasonably
And the Cons:
massive design
fingerprint magnet
plastic on top of screen
not bright screen
long charging
some blurry pictures
cheap plastic case
old CPU
We give the Xperia E4 a 7.8 out of 10 for design, an 8.6 for hardware and a 9 for OS and UI. The final grade is 8.46 out of 10 and I would recommend this model for people going on trips. Why? Well, good battery, audio and camera are what you need on a trip, especially if you're on a budget. Be wary of the weak screen and plasticky and massive design, though..