Sony Xperia M5 Dual is the follow-up to the Xperia M4 Aqua and we reviewed it a few weeks ago. The handset is a midrange cameraphone, that was announced in August and launched in September. Priced at $400 in Asia it arrived on our test table and below you can check out the conclusions.
The design of the handset feels very much like the one of the Xperia Z3 and the device comes in gold, black or white. It measures 7.6 mm in thickness and weighs 142.6 grams. The M4 Aqua before it measured 7.3 mm in thickness and weighed 135 grams, so the M5 is thicker and heavier. It's also 0.3 mm thicker than the Xperia Z5. The Omnibalance design is still here, with a glass back in the mix and the device is slim and solid enough to offer a comfy usage.
The frame is made of plastic, which does detract a bit from that solidity claim. The corners are made of stainless steel to reinforce the handset in case of drops on the floor. The Xperia M5 is quite long for a 5 incher, which means it's not easy to use with one hand. Since there's a glass plate at the back, it's also slightly slippery. We're dealing with a product that's both waterproof and dust proof, within the IP65 and IP68 ratings.
It can be kept under 1.5 meter tall water for up to 30 minutes. Upfront we find the earpiece, front camera, sensors, notification LED and a microphone, that is included probably within the fake speaker area at the bottom. The facade is a bit of a fingerprint magnet and the bezels are quite big. The back side is a fingerprint magnet too and there you can find the main camera and single flash.
At the top there's the audio jack and microphone, while at the bottom we can find the speaker and microUSB port. To the left is a lid, that's hard to remove and it protects a tray with the dual SIM slots at the top and a microSD one at the bottom. It's very hard to pry open those trays with the fingernails alone. To the right of the phone we find the Power button, volume buttons and camera button, all of them with Ok feedback.
The design is overall OK, if you like Xpeiras. The phone does remain slippery and a fingerprint magnet at the front and back, but it's still a slim Android phone with premium materials. The hardware includes a 5 inch Full HD screen (IPS LCD),  an octa core MediaTek MT6795/Helio X10 processor, a 64 bit unit clocked at 2 GHz, plus the IMG Rogue G6200 GPU. 3 GB of RAM, 16 GB of storage and a microSD card slot are also here, as well as a main 21.5 MP back camera and a front 13 MP shooter.
Connectivity is provided by LTE Category 4, NFC, GPS, Bluetooth 4.1, DLNA and Glonass, as well as microUSB 2.0 and WiFi a/b/g/n. The SIM slots are dual nano SIM ones. Sensors offered here are accelerometer, gyroscope, proximity and compass. Finally, the battery on the Xperia M5 dual is a 2600 mAh unit, that on paper should offer 11 hours and 49 minutes of talk time, or 671 hours of standby time or 62 hours of music.
Sony also promises 2 days of mixed usage for this device. In our test, the usual video playback loop with WiFi on and brightness at 200 LUX, we got only 6 hours and 34 minutes, which is not exactly impressive. It's still above the HTC One M9 (6 hours and 9 minutes), Huawei P8 Lite (5 hours and 25 minutes) and Allview X2 Xtreme (6 hours and 11 minutes). Still other models scored more: Amazon Fire Phone (7 hours and 10 minutes), Xperia E4 (7 hours and 18 minutes) and ASUS ZenFone 2 Laser (11 hours).
PCMark is another battery test we did, achieving 5 hours and 48 minutes here, a reasonably good result. We beat the ASUS ZenFone 2 (5 hours and 45 minutes), Huawei P8 (5 hours and 31 minutes) and HTC Desire 820 (5 hours and 25 minutes). There are a few devices that surpassed the M5 in PCMark, like Xperia E4 (5 hours and 52 minutes), LG AKA (6 hours and 22 minutes), Huawei Mate S (6 hours and 26 minutes) and Samsung Galaxy A5 (6 hours and 51 minutes).
Charging takes 3 hours and 4 minutes and it's quite long for a 5 inch phone to be honest. It beats the iPhone 6 Plus (3 hours and 16 minutes), ASUS ZenFone 2 Laser (3 hours and 24 minutes), or the Xperia Z3 (3 hours and 30 minutes). We scored below the HTC Desire 820 (2 hours and 57 minutes), Huawei P8 (2 hours and 47 minutes) and Huawei P8 Lite (2 hours and 41 minutes).
Overall, the battery is not impressive even for a midranger. Settings include Power Management, with a Stamina Mode (that disables WiFi when the screen is off and restricts performance) and an Ultra Stamina Mode (only access the basic features). There's also a low battery mode, with custom functionality like brightness, timeout, Bluetooth and GPS.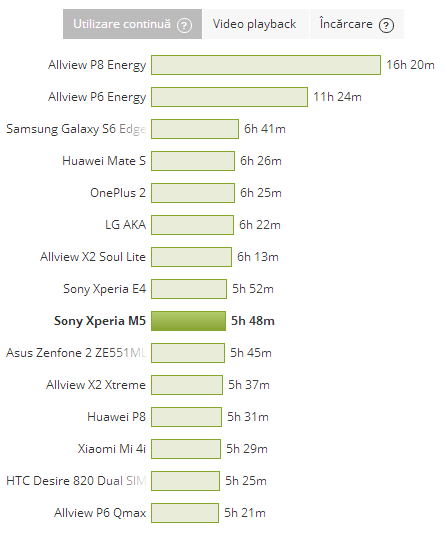 You can also queue background data. Now let's talk about acoustics! There's a speaker at the bottom and the Walkman app is now called Music. It has a gray UI and it's less transparent then before. The speaker experience is loud and clear, plus crisp and the speaker can easily cover a conversation. The bass is very good and the guitar is also top notch when it comes to acoustic rendering.
However, all the cool options from Xperias are gone from the player and have been integrated into Settings now. Headphones bundled with the Xperia M5 have a pretty standard design, nothing impressive. They come with a tangling wire, a big remote and they feel cheap and fall from the ear easily. However, the bass is very good in those buds and the experience is loud and clear. I've heard louder though…
The FM radio app doesn't find stations fast, but at least it comes with Track ID functionality and a visualizer. We used a decibelmeter to test the speaker and achieved a good 85.6 dBA at the front and 85.4 dBA at the back. We surpassed the Galaxy S6 Edge+, with its 85.5 dBA, Galaxy Note 5 (84.9 dBA) and iPhone 6 Plus (83.8 dBA). Some of the models that surpassed the Xperia M5 are the OnePlus One (90.5 dBA), Galaxy Note 4 (89.5 dBA) and ASUS ZenFone 2 (87.6 dBA). Settings we mentioned before are Clear Audio+, Sound Effects (equalizer with 5 channels), Clear Bass and headphone surround.
Dynamic normalizer is also here and we have to mention that the speaker is a bit easy to cover when using the device is landscape and gaming for example. Still, the acoustics remain very good. The screen is a 5 inch Full HD IPS LCD unit and the video player brings subtitle settings (font). When we watched a video, the display felt crisp and offered vivid and realistic colors.
It behaves OK in sunlight and offers wide view angles, as well as a good frame rate and good contrast. Pixels are of the RGB Stripe kind and we also achieved 430 LUX units when we measured the brightness. We beat the OnePlus One (404 LUX), HTC One M9 (362 LUX) and Samsung Galaxy A5 (370 LUX) in this test and we scored less than the HTC One M8 (463 LUX), Huawei Mate S (455 LUX) and LG G4 (432 LUX).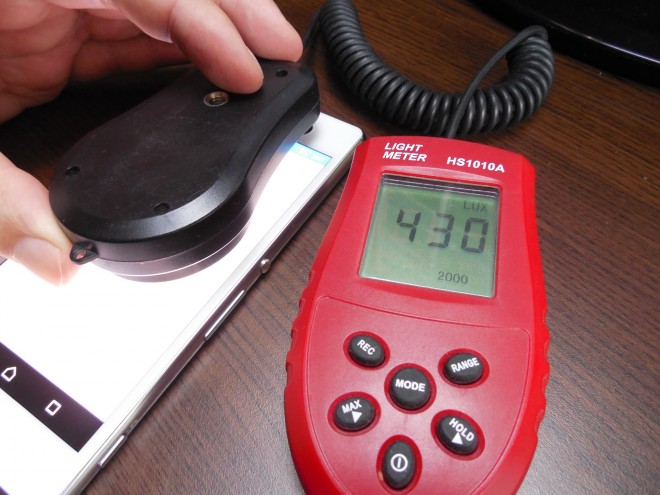 The screen registers some light bleeding on a black background, but that doesn't affect the experience. Overall, the screen is quite good and the Settings for it include Mobile Bravia Engine 2 enhancement, Super Vivid Mode, Glove Mode and white balance with an RGB slider. Then there's adaptive brightness and smart backlight control as options, as well as font size.
The camera at the back is a 21.5 unit, with Exmor RS sensor and hybrid autofocus, as well as 5X clear image zoom and 4K video capture. It also does HDR video and stabilized SteadyShot capture. The front camera has got to be the biggest resolution selfie camera tested by us, at 13 megapixels. It does Full HD video, too. The hybrid autofocus technology premiered on the Xperia M5 and it's supposed to allow the device to focus in just 250 milliseconds. It combines contrast autofocus and phase detection autofocus.
We also got a 5X clear image zoom functionality, with no quality loss when zooming in. There's a single flash here and we must mention that the camera app doesn't start up very fast. The UI is pretty much the same as the one of the Xperia Z3 and options are also similar. Touch zoom is very slow, so using the volume buttons to zoom is a must. Capture modes include Superior Auto and Manual, with the latter offering options like white balance, exposure, flash with 5 options and resolution (21.5 MP is 5312 x 3984 in 4:3 and 16 MP in 16:9).
Focus can be set up to single autofocus, face detection, touch focus or object tracking, then there's the self timer, smile shutter, HDR and ISO up to 3200. Metering can be set to center, spot or average and there's image stabilization, preview and face recognition. For video capture, the manual mode brings options like white balance, exposure, scenes, Full HD 30 or 60 FPS capture and HDR, plus focus metering and Steady Shot.
Back to the Modes, Style Portrait lets you change the pattern of your eye's iris, add blue eyes or red lips, makeup or bubbles around your face. There's also augmented reality mask, face in picture, sound photo, multi capture, 4K Video, Timeshift Video, AR Effect, creative effect and sweep panorama. You can obviously download more modes.  The selfies also get a soft skin functionality, 13 MP resolution in 4:3 and 9 MP in 16:9, plus HDR photo and video for the front camera.
The actual camera experience involves a focus that's not that fast and the picture taking is quite long, very long at times. The gallery of day time shots we've taken was done in a cloudy day of October, with a series of indoor pictures to start with. Those were slightly yellow and then we moved to the flowers outside, that looked crisp, but I've seen better.
Details are OK and colors are realistic, plus when zooming in the quality of the image remains pretty good. Landscape shots are clear and detailed and moving further through the gallery we had the on and off washed out picture. Focus was good on those captures of benches and then a series of photographs with the top portion all white followed. Something feels wrong with the camera when it can't handle the light on top of some trees.
Closeups of leaves looked nice and once again texture was spot on when aiming for walls and urban furniture. Texture of that green fruit highlighted the power of the camera's closeups. The last batch of shots felt washed out again, with some good colors and details here and there, but not what you'd expect from a 21 MP camera. Apparently, this camera can work better in the shade and can't face the light in an OK way.
Food closeups of the Gourmet kind (as Sony calls that capture mode) looked nice and the selfie was OK, but nothing more than that. We had to wipe the front camera properly to see if something had made the lens dirty, since the first selfies were awful. The second batch was more OK, but still short of expectations. The night time capture involved yellow-ish and blurry images, but everything was OK in full darkness (gallery here)
Actually that's when the camera really shined. It has a good flash, can capture some nice colors in the dark and tries to light up everything around with proper exposure. Street light halos are big and if you zoom into night time shots, details will be fine. I find that Nexus 6 was better at night and overall, the performance of the Xperia M5's camera felt a lot like the one of the Xperia Z3.
Some blurry and washed out pictures shouldn't have happened and the shots were less clear than on the Xperia Z3. Sony promised too much and delivered too little, not even making good on that 5x clear zoom and hybrid AF. They are still present, but not in 100% capacity. I'd rate this camera as somewhere in between HTC One M8 and M9, if you really want a comparison.
I would appreciate it more, if it delivered a constant capture experience. Only the night capture was top notch, especially the pictures I took during a concert. Video was shot in 30 FPS, 60 FPS, HDR and 4K. The first video we shot was in Full HD, MP4 format, 30 FPS, 17 Mbps and it was slightly washed out and shaky, as well as burnt. Colors were OK.
The second video had serious quality drop at zoom and a washed out white image at the top. It was also shaky a bit. The third video was the 4K one, with 57 Mbps bitrate and a crisp image, plus good exposure change, good clarity, colors and stabilization. Finally, the fourth video was again a Full HD one, but it didn't look the part, since it felt more like 480p than Full HD.
Then we tried a 60 FPS Full HD capture, with a cinematic vibe, crisp look and good colors, but also some exposure problems. We also tried out the camera at night, during a concert, which means bright flashing lights, but somehow the camera was able to register good colors and lighting, but it couldn't seem to handle the bass and loud volume, with the image vibrating a bit and the sound being broken.
I'd say that when it comes to low light video capture, this model is very close to the LG G4 quality, if not on par with it. Good quality during zoom in was registered at the same concert. Somehow, this handset prefers darker areas and it's better at filming during the night rather than day. During the day it's below the ASUS ZenFone 2 Laser video capture and the Galaxy A5.
Overall, this feels like a lesser Xperia Z3 camera-wise and the handset gets a bit hot after using the camera for a long while. We've also got a photo editing option on board, letting you choose between Photo Editor, Photos and Sketch with a multitude of options available such as filters, frame, crop, faces, collages and more. The temperature test revealed a temperature of 38.7 degrees Celsius, after playing 15 minutes of Riptide GP2, which means there's no overheating.
The web browser used here is Chrome, which is not very fast and the virtual keyboard in the mix is well spaced and uses Swype technology. The phone calling area offers an answering machine feature, an equalizer with options like Normal, Bright or Smooth and a Speaker Voice Enhance feature. There's also microphone noise suppression and the voice is loud and clear, plus we've got good noise canceling.
We also did a series of benchmarks, that pit the Xperia M5 Dual (Helio X10 + 3 GB of RAM) against the Allview X2 Xtreme (Helio X10 + 3 GB of RAM), ASUS ZenFone 2 Laser (Snapdragon 615, 2 GB of RAM) and Huawei Honor 6 (Kirin 920, 3 GB of RAM). Here are the results:
Compared to the Allview X2 Xtreme, this handset wins 2 out of 11 benchmarks, while versus the ZenFone 2 Laser it wins 6 out of 11 and also 6 against the Honor 6. These aren't very impressive results and the Xperia M5 is even laggy sometimes. Riptide GP2 does run fine on it, as do other games as well. The OS here is Android 5.0 Lollipop, with Sony's latest UI on top.
We're getting a glossy and shiny UI with lots of white contours on the icons, plus a pretty big PlayStation influence in the mix, as well as flat and material design. If you keep the screen pressed, you will trigger widgets, that are more 3D-like than on other Android phones, plus wallpapers and themes. Multitasking is done with a carousel area and floating apps, that are totally editable and overlap each other on the screen in order to offer an extra layer of multitasking.
The dropdown area features a notification portion and a stock Lollipop Quick Settings piece. The Settings include Throw, Mirror, Media Server options, a Simple Home/Xperia Home option, plus Tap and Pay and security features. The UI is quite clean and glossy and now let's more to the apps. There's quite a bit of bloatware here, so this is the list of preinstalled software:
Chrome
Play Store
Messaging
Phone
Music
Album
Video
PSN
PlayStation Network
Facebook
Social Life
YouTube
Email
Calendar
Calculator
Backup
Maps
Track ID
Smart Connect
Support
Gmail
Google Voice Search
Hangouts
Party Share
Spotify
AVG
Office Suite
Google Settings
Movie Creator
Sketch
Play Memories Mobile
Xperia Lounge
TV Side View
Photos
File Commander
Audio Recorder
Drive
AR Effect
And now let's see the verdict. Here are the Pros of the Xperia M5:
good looking design
great acoustics
quality display, good brightness
good low light capture, both photo and video
nice looking 4K capture
clean UI
nice widgets
waterproof
And the Cons:
expensive for what it offers
not impressive battery
light bleeding on the sides
hybrid autofocus and 5x clear zoom don't quite deliver
washed out pictures sometimes
microphone can't face the concert bass
some lag
lid hard to remove on the side
SIM trays hard to access
bloatware
This model gets from us an 8.7 out of 10 for design, an 8.3 for hardware and a 9.3 for OS and UI. The final grade is 8.76 out of 10 and I have a feeling that the Xperia Z2, priced the same as this unit is a smarter choice. We'll also do a bit of grade drop on account of the too big price, down to 8.5 out of 10 as the final grade. It's hard to tell what the selling points are here now that the camera isn't very impressive. It remains a good camera, but it's not constant in any way.
Performance of the device is also OK, but not mind blowing. There's still a bit of annoying lag and bloatware happening and the battery could be better. So it's 8.5 out of 10 from us and you're better off with a Galaxy S5, that should be cheaper and has a better camera.