Another week, another Sony Xperia phone to review. We already reviewed the Xperia XA2 Ultra and Xperia XZ2, so it's time to go smaller, with the Xperia XA2. It debuted at CES 2018 with the XA2 Ultra and it's the successor to the Xperia XA1. It's a 5.2 incher with midrange specs and 23 MP flagship camera. Available in silver, black and pink and it's priced at $300.
Design
Typical for an Xperia XA series models, it gets very narrow bezels to the side, but the top and bottom ones are pretty big. It feels like a rival for the ASUS ZenFone 4 and the Galaxy A8 (2018) a bit, as well as Nokia 6.1. The handset measures 9.7 mm in thickness and weighs 171 grams, which is beefier then the ZenFone 4 and its 7.7 mm waistline and 165 grams of weight.
By the way, it's much bigger than the XA1 (5 inch, 8 mm and 143 grams). This time we get a curvier handset, that's bigger, has a curvier back side and narrow bezels to the sides. It's got metal frames and a polycarbonate back. The curved glass upfront looks pretty premium and high end. The build is solid, but buttons feel a bit too small. Grip is good and one hand usage is not quite, on account of the device being too fat.
The back doesn't retain prints or grease, luckily. I'd say that the device is comfy if you have a big hand and the premium materials can be appreciated, like the grip.
Display
On the screen front, the Xperia XA2 comes with a 5.2 inch IPS LCD panel with Full HD resolution and the promise of 500 nits of brightness on paper. The contrast ratio is 1300:1 and the viewing experience involves OK brightness, a pretty OK contrast (but not the best). I felt that the image was a bit too white to be really well calibrated. View angles are wide and colors are just reasonable, not perfectly calibrated.
The pixel arrangement is RGB Stripes, according to our microscope. We also did a luxmeter test, achieving 478 LUX, which is just good, no record breaker. It may beat an ASUS ZenFone 4 Selfie Phone, or Xperia XA or even the iPhone 7 Plus, but it's inferior to the Huawei P9 and Galaxy A8 (2018), plus the Nexus 6P. Settings include brightness, adaptive brightness, Smart Backlight Control, Color Gamut and Contrast (can be set to Off, Standard and Super Vivid Mode).
The white balance has R/G/B sliders and you can also set up the font size, display size. I'd say that the imersivity is great and things are just OK, below the AMOLED scene, I would think.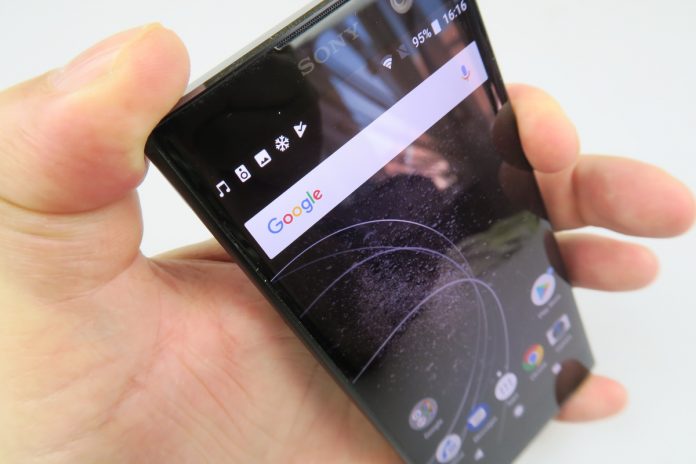 Hardware
In the hardware section, we are treated here with a Qualcomm Snapdragon 630 CPU, just like the one that the ASUS ZenFone 4 had. It's an octa core CPU, which is a progress from the Helio P10 of the Xperia XA or the Helio P20 of the Xperia XA1. There's also 3 GB of RAM in the mix, 32 GB of storage and a microSD card slot. I couldn't say there's lag here and everything feels rather smooth, no weird extended animations or anything. I have a feeling that PUBG could run on this device.
In the benchmarks department, we did AnTuTu 6 and learned that it beats the Xperia XA1 and Huawei P10 Lite by a little, but it also cores below the HTC One A9 and ASUS ZenFone 3. In AnTuTu 7 we beat the Motorola Moto X4 and scored below HTC U11 Life, while in GeekBench 4 Multi Core, we even surpassed the LG G6 and Google Pixel XL, as well as the ASUS ZenFone 4.
Still we scored below the Xiaomi Mi A1 and Motorola Moto Z2 Play. In Slingshot 3.0 we beat the Huawei Honor 8 and Samsung Galaxy A5 (2017), but scored below the LG Nexus 5X and Nexus 6P, which is not exactly high praise. Overall, the XA2 does perform reasonably well, above the Moto X4 and even the XA2 Ultra at times. There's no overheating here, as we reached 33.7 degrees Celsius in GFXBench and 39.2 degrees in Riptide GP Renegade.
Battery
Sony Xperia XA2 has a 3300 mAh battery, with Qnovo Adaptive Charging, Stamina Mode and Quick Charge 3.0. We did a video playback test at some point and achieved 14 hours and 25 minutes of playback, which is excellent, even compared to some flagships. It beats the Huawei Mate 9, Galaxy S7 and Galaxy S8. It's inferior to the Xiaomi Redmi 5 Plus and Galaxy S7 Edge, to be honest.
In PCMark we achieved 10 hours and 42 minutes, which is also rather good. That's better than the Pixel XL and Galaxy S8, or the Galaxy A8 (2018), but it scored below the Huawei Mate 9 and Xperia XZ1 Compact. Charging is done in 2 hours and 36 minutes, which is rather long, but also the equal of the Xperia XZ1 Compact and above the Xperia XZ. We also did step by step charging, reaching 5% in 5 minutes and 15% in 15 minutes, plus 31% in 30 minutes.
After one hour we were at 62%. Settings include the usual Stamina Mode, with 3 modes: Battery Time, Balance or Performance. There's also an Ultra Stamina mode, which lets you only access a bunch of basic apps. Battery care is also here, not letting the device overcharge the battery. Great battery overall.
Multimedia
Sony Xperia XA2 only has a single speaker, although we would have liked two of them to be honest. The singler speaker here is placed at the bottom and luckily it's not very easy to cover in landscape mode. The Music app remains generous in options and settings, with stuff like Clear Audio+, an EQ with genre settings, 5 custom channels and Clear Bass. There's also Surround Sound with options like Off, Studio, Club and Concert Hall.
There's also a Dynamic Normalizer and aptX HD connectivity. The experience was loud and clear, bass was solid and I'd say that the speaker can cover a conversation in a small room. There's no distortion, no vibration and good highs and lows. FM radio is in the mix, but not bundled headphones. As usual we have a decibelmeter and we put the speaker to the test.
We used a typical acoustic sample, reaching 85.6 dBA upfront and at the back, which is OK. Especially since it beats the Galaxy Note 8 and LG G6, plus Xiaomi Mi 6. It's no match for the LG G5, G4 and Xperia XA. When using Riptide GP Renegade we reached 100.4 dBA, not half bad and certainly better than the Galaxy S8, iPhone 8 and Google Pixel 2 XL. Things are solid all around, but still below the Moto X4 and XA2 Ultra in this segment.
Camera
As it usually happens with the Xperia XA models, this one has a generous resolution of the back camera, 23 MP. It's got Exmor RS technology and measures 1/2.3 inches. There's auto hybrid focus, F/2.0 aperture and Steadyshot, plus 4K video. Upfront we've got an 8 MP shooter with 120 degree lens (23 mm) and F/2.4 aperture. There's also some love for Exmor here and Steadyshot too.
The camera starts up fast, has a relatively fast focus (no records broken) and slow picture taking. The UI is typical Xperia material, with the same organization of the elements on screen. Options include color setups, brightness setups, resolution and the Manual mode lets you tweak exposure, white balance, ISO, shutter and focus. There's AR action, 4K too.
Now let's ditch this tech talk and check out the actual photos. The day time gallery includes great clarity shots and solid details, in spite of a hugely sunny day. There's lots of details here and great reds, that's what I gathered. Clarity is superb and there's lots of details even within the wide angle selfies. Panoramas are also available for selfies.
HDR solves some of the burn of the shots in the very strong sun. Clarity was perfect all around, there's no more burnt green like the predecessor had, but there's a caveat: zooming in from the device is underwhelming. If you zoom in on the PC, after the fact the result will be great, detail-wise. Back to selfies, there was some weirdness with the focus on the background, which is also a problem we had with the XA2 Ultra, but that one used two cameras.
I can't get it why these Xperias focus on the background, not my face… sometimes. When the focus is proper selfies are 10 out of 10. You can't go close to the pore level, but the texture of the skin and colors were pretty good. HDR was great and the Panorama was generous, at 21.312 x 3520 pixels. I also noticed that this Xperia struggles to focus in closeups, in those flower closeups for example.
You'll notice that we also caught a few blurry frames, sadly. When you do focus properly, closeups are majestic. I feel that somehow this phone is superior to the Xperia XA2 Ultra camera-wise, which is an odd thing to say. It's clearly above the XA1, color-wise and clarity wise. I'd say it plays in the same league as the Moto X4 and the Samsung Galaxy A8 (2018), which is not a bad league to be int. It doesn't fit with the Huawei P Lites, it's better.
In inside/indoor shots we've got softer edges and some blurry lights. They're actually blurrier than I expected. At least the clarity was spot on most of times and colors too.
In low light conditions, we had some blue hues and the flash somehow filled the frame with white and created some blur. What gives!? So much blue grain appeared here, that I have a feeling this may be a recycled camera from the Xperia X Performance or first XZ or some 2-3 year old Xperia, which produced similar blue grain.
Street light halos are huge and things are too yellow in general. Edges are soft, we've got extra reflections, but the later shots were a bit better to be honest. Details and colors were OK. It's not on par with a Moto X4 and Galaxy A8 (2018), but it can beat the Xperia XA1 by a 15% or more.
Moving on to video, we shot stuff in MP4, Full HD, 30 FPS and 20 Mbps. The colors were a bit too vivid for my liking, almost overexposed. Zoom let me down, but the clarity was OK. Some motion blur occured and I loved the exposure change that happened in the 4K clip. The microphone had some trouble with the wind when filming, but at least the focus remained OK at all times.
I'd say that the promise of flagship clarity is delivered, but the zoom and colors are a bummer sometimes. The 60 FPS clip has some refocus, but also decent colors. Stabilization was OK, but don't get me wrong, it's no Xperia XZ1 or XZ2, masters of stabilization. It's better than the XA1, which distorted the image, when it came into too much soon and movement.
The wide angle camera video shot with the front camera was perfect and ideal for an aspiring vlogger. Talking about clarity, quality, colors, everything. The non wide angle one is not that good. The 4K, stabilization and selfie video are the best aspects here. It's no XZ2, also slightly lower than the Galaxy A8 (2018), but above the Xperia XA1 and Xperia A by a bit.
In low light conditions we were disappointed by the extra yellow hue, too much blurriness, poor focus and things even look 480p at times. When you're walking and filming things will flicker and some annoying blue stuff will appear at the top of the image. Bad zoom, focus loss and things are oddly poor. In times like these I feel that maybe I got some bug poop on the lens or something…
I'd even say this device films worse than the Xperia XA1 Ultra at night.
Connectivity
Sony Xperia XA2 is a dual SIM device, with nano SIM card slots. There's support for LTE Category 4 and LTE Category 12 in some parts of the world. We've got an USB Type-C port at the bottom, Google Cast support, NFC, Glonass and GPS, plus WiFi a/b/g/n/ac. Miracast and Bluetooth 5.0 are also here. Everything is completed with FM radio and Bluetooth 5.0 aptX.
Calls were loud and clear, with good noise cancel and a deep voice. We also did a SpeedTest with great WiFi results, at 256 Mbps in download and 25.7 Mbps in upload.
OS, UI, Applications
I could easily copy/paste the experience of the Xperia XA2 Ultra or Xperia XZ2 here and it would make no difference. It's the same Android 8.0.0 Oreo with a glossy Xperia UI, that's rather typical. It's also rather close to stock, but with some trademark Sony influences. The leftmost homescreen is the Google Feed and multitasking carries the usual split screen and carousel of apps.
Keeping the screen pressed results in widgets (minimal and black/white). There's wallpapers, themes, transitions, gird and Settings here, for the Google Feed, Auto Rotate, ICon Size and Appearence, things like that. The dropdown bit is stock, with notifications and Quick Settings, plain and clean.
Settings include a One Handed Usage mode, Optimize Apps and the fingerprint scanner has a 20 setup setup and it's a bit on the slow side. Xperia Assist is an interesting part of the experience, with Tips and Actions, like presets for connectivity and settings, with modes like Night, Commute, Focus or Gaming. Stamina and Smart Cleaner will keep the device fully functional.
We also showed the notification dots, and notification snooze, among others. The preinstalled list of apps includes 40 apps, which is quite a few, about 14 more than it should be. We've got your Lounge, Facebook, Files, Amazon, News, PlayStation, Sketch and Movie Creator, typical for a Sony.
Verdict
And we've reached the Pros and cons. Here are the Pros:
comfy for gaming
OK screen
good performance
solid battery
loud
lots of details in the pics
good HDR
nice selfies
solid 4K video
great wide angle videos for selfies
Android Oreo
And the Cons:
big and fat/phat
the screen is a bit white
pretty long charge
no stereo speakers
no IP68
struggles to focus in closeups
underwhelming low light capture
burnt videos
poor zoom
The Xperia XA2 does indeed feel superior to the Xperia XA2 Ultra sometimes, at least in the photo department. For me, this feels like a phone that's great for a gamer and a vlogger. It does nice wide angle front camera videos and takes games like a champ. The future Pewdiepies may well start with this phone and graduate to RED cameras and 8K gear.
Yes, it's a heavy and fat phone, but overall it surpasses the Xperia XA1 enough to be worth a look and a buy. It's less sexy than its two predecessors for sure. The curve is rather odd, but among the midrangers of 2018 this is top 5 material.
You can get it here.