The Sony Xperia Z1 is not a new device, we know, but it's only now that we got it for a detailed review. This is a 20 megapixel cameraphone that debuted last fall, in September 2013. This model is waterproof and it's priced at $580 on Amazon.com. It's basically an upgraded Xperia Z, that keeps many of its design traits.
This model measures 8.5 mm in thickness, weighs 170 grams and it's kind of big for a 5 inch screen handset. It has a glass back, but it doesn't have glass sides like the Xperia Z did. The Sony Xperia Z1 is a dust proof device and it's water resistant at up to one meter of depth for 30 minutes. It keeps the Omnibalance design of the latest Xperias  and it has a scratch resistant glass panel on the front and back.
Its aluminum frame increases the resilience and overall this phone feels solid. Every port and slot comes with a lid, protecting it from water and this time they're actually easy to lift. Just to give you an idea on how big this device is, it's 3 mm wider than the LG G2, in spite of that model having a 0.2 inch bigger screen.
It's bigger than most 5 inch smartphones on the market, that's a fact, so the design is a bit underwhelming. On the specs side, we get a TFT LCD screen, that shows 16 million colors and a Full HD resolution on a 5 inch diagonal. The CPU inside the phone is a quad core Snapdragon 800 clocked at 2.2 GHz and other specs include an Adreno 330 GPU, 16 GB of storage, 2 GB RAM and a microSD card slot. All the connectivity options are covered, ranging from quad band GSM/GPRS/EDGe to LTE and HSPA at 42 Mbps in download. There's also WiFi, DLNA, GPS, Glonass and NFC, as well as microUSB 2.0 with MHL.
At the back there's a 20.7 megapixel camera with LED flash and Exmor RS sensor, while upfront we've got a 2 MP shooter. Extras include a proximity sensor, accelerometer, active noise canceling, gyroscope, compass, stereo FM radio with RDS and finally there's a Li-Ion 3000 mAh battery under the hood.
That battery provided us with 7 hours of HD playback with WiFi on and brightness at 50%. This may sound good, but you should keep in mind that the battery charges in 3 hours and 50 minutes and that the LG G2, with a bigger screen and also a 3000 mAh unit gets 9 hours of playback. There's also a Stamina mode available, that sets the WiFi and cellular connectivity off when the screen is off. So, the battery is better than a flagship like Nexus 5, but not better than the LG G2.
On the audio side, we've got a very nice looking Walkman player, filled with options, equalizers and goodies. We've got surround sound options, reduced crosstalk, X Loud for reduced loudness of the internal speaker and Clear Phase to adjust sound quality. In the mix we add the Dynamic Normalizer and acute Sens Me, that organizes the tunes by mood. All those fancy names aside, the actual listening experience is a letdown. The volume may be nice, but the sound is often distorted and the songs with guitar have a bad tinny sound.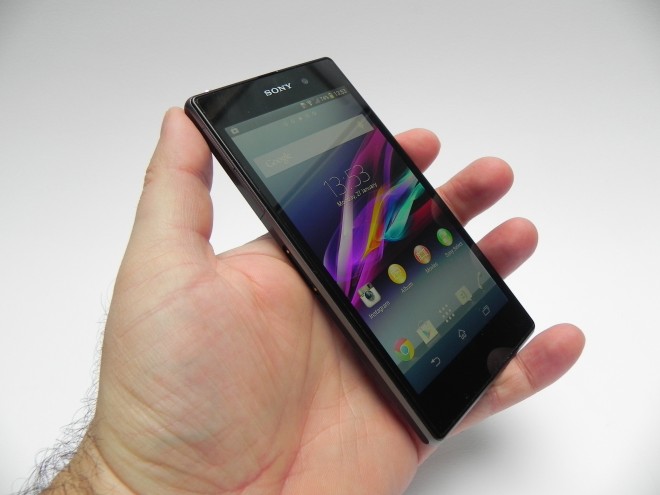 Also, the voice is not heard with all the required clarity. I'm blaming this letdown on the waterproof isolation of the speaker. As far as the video/screen experience is concerned, the Xperia Z1 has a TFT LCD Full HD unit and a special Movies app that may look nice, but it doesn't provide much codec support. Now on to the screen performance! The colors are good, but view angles are poor, since the imagine get white-ish when the device i slightly tilted.
On the brightness side we've got 373 lux units on white, meaning the screen is brighter than the one of the Galaxy S4. However, the black is the whitest one I've seen in my life, at 11 lux units. The pixels are of the RGB Stripe kind and technologies used here include Triluminous and X Reality, that offer a wide color palette and noise reduction and increased sharpness. The density is 441 ppi and overall I have to say that the screen is underwhelming, especially because of that white-ish hue that makes it tiring to the eyes.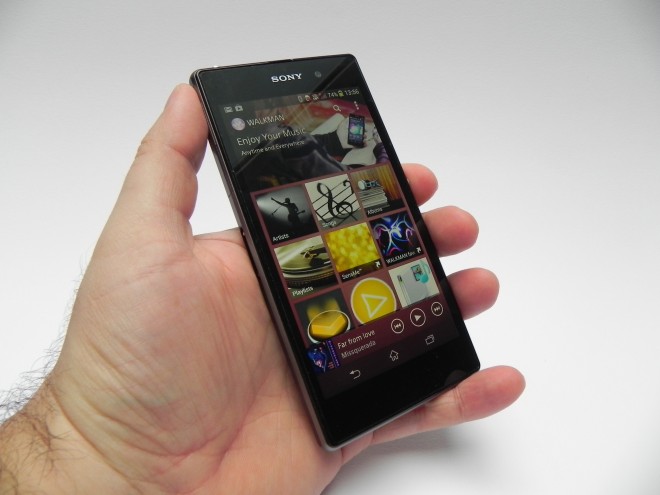 And now… the camera. This is a cameraphone with a 20.7 megapixel shooter at the back and a 27 mm wide Sony G Lens, with F/2.0 aperture. The sensor is a Sony Exmor RS and we also get stuff like BSI, LED Flash and a Sony BIONZ image processor. This sensor is actually 70% bigger than on most phone cameras, measuring 1/2.3 inches. The UI is pretty simply to figure out: on the left we've got the main options and on the right we've got the camera modes.
Said modes include Superior Auto, that figures out the scenery and takes a quick pic with the best options, then comes Manual with a huge amount of settings and then a few more. The Manual option triggers new options on the left side of the screen, like a ton of scenes, white balance, flash, resolution, focus, HDR, ISO up to 3200, stabilization and some video options.
Moving back to those Modes, the third one is Info Eye, that shows you landmarks and analyses books, wines, text and barcodes, scanning them all. Then there's Social Live, that streams live video onto your Facebook account, from what I understood. Sony included here a function called Timeshift Burst, that takes 61 pics in quick succession and lets you pick the best shot.
Finally we get AR Effect, that's an augmented reality tweak, allowing you to add dinosaurs, fish, bubbles and other moving stuff on top of the real image. The last capture mode is artistic effect, that's basically a collection of filters that you can see in the video review. Panorama is also included here and if you want to add more modes you can do that through apps, working pretty much like the Lenses system on Windows Phone.
And now to the picture taking! Once you take a shot you'll figure out that the level of detail is good, the capture is very fast and the camera UI has a very good frame rate. The Zoom is a bit too sensitive if you're pinching the screen, so I suggest you use the volume buttons. As far as the actual pictures are concerned, those deliver realistic colors, good white balance and you'll also get very good closeups. Zoom shots are nice and panoramas are detailed.
Moving objects will be caught without a touch of blur and one aspect I really liked was the focusing one. I usually complain about cameras losing focus on LG flagships for example or even the Samsung ones. Well, this one doesn't lose focus. If I were to compare this model to something I would say it fits above the Galaxy Note 3 in quality and somewhere on the same line with the Lumia 920. It's obviously below the Lumia 1020 and even a tad below the Lumia 1520.
Still, its good exposure, good colors, no noise and good sensor make it superior to HTC One, Galaxy S4 and LG G2. On the video side we've got efficient stabilization (digital), 1080p 30 FPS maximum capture, but a lot of quality is lost when zooming in. You can do HDR video and the bitrate of the resulting captures is usually around 17 or 18 Mbps. You also capture stereo sound at 132 Kbps bitrate. Since this is a flagship I would have expected to see 4K video capture here or at least Full HD at 60 FPS… Anyway, this camera is way above the norm of Android devices and this one is the phone to get if you really want a good camera and Android as the OS.
Now that we had to praise the phone just a little bit, we're back to criticism. The temperature reached by this device is huge, 46.1 degrees Celsius, after playing 15 minutes of Riptide GP2. The OS on the Xperia Z1 is Android 4.2.2 and in case you're wondering, the phone calls are loud and clear, but it's very easy to miss texts or calls because of the not so loud ringtone. On the benchmark side, we scored 20328 points in Quadrant, 34440 points in AnTuTu, 59.9 FPS in NenaMark 2.0 and 2942 in Vellamo. We also got 16k points in 3DMark and 3018 points in BrowserMark 2.0.
This means we beat the Nexus 5 in Quadrant, AnTuTu and Vellamo, plus BrowserMark 2.0, while it bet us in NenaMark 2.0 and 3DMark. On the other side, I compared the Xperia Z1 with the LG2 and the latter wins no battle here, not even the 3DMark one. Performance is excellent and lag won't be present obviously. The apps are separated from the widgets on this device and you'll trigger the widgets, together with the wallpaper, themes and such by pinching the homescreens.
Xperia Z1 brings a clean UI that's starting to feel old if compared to all the past years of Xperias. Now as far as the preinstalled apps are concerned, they include Sony Select, that's sort of an app store, Social Life, which is a bit like Flipboard, with news and social stuff. There's also Mcafee for security and anti malware features, Office Suite for productivity, Notes, Pixlr Express with a huge variety of photo editing features and Sketch for drawing funny stuff easily.
And now let's proceed to the verdict!
Here are the Pros of this model:
waterproof
dustproof
good picture quality
excellent focus
loud audio
good performance
a ton of photo options
realistic colors
solid build
And the Cons:
weak battery compared to LG G2 for example
whiteish screen
very long battery charge (almost 4 hours)
too wide and heavy for a 5 incher
UI feels old
speaker is distorted and tinny
no codec support
quality loss when zooming the camera
overheats badly
Android 4.2 even though it was launched in September
We give the Sony Xperia Z1 a 7.5 out of 10 for design, an 8 for hardware and an 8.5 for OS and UI, plus we're being very kind here, so the final grade is 8 out of 10. This is still the best Android cameraphone money can buy, although there are now two other alternatives, but they're also Sony gear: Xperia Z2 and Z1 Compact.