Sony Xperia Z3 is Sony's end of 2014 flagship phone, that was announced at IFA 2014, in Berlin, back in September. This model is priced at $600 and we played with the dual SIM 16 GB white version of the phone here. We also had a pretty solid background when it comes to Xperias, having tested the Xperia Z, Z1, Z1 Compact and the Z2.
The newcomer is available in black, white, green or brown and measures 7.3 mm in thickness, being thinner than the 8.3 mm of the Xperia Z2. It's also lighter at 152 grams, compared to the 163 grams of the predecessor. The device keeps the two glass panels of the predecessors and comes with smaller bezels than the Z2. The good thing here is that we get rounded edges, so the device won't cut into your palm, like the Z1 and Z2 did.
This increases the grip and makes the device comfier. The edges are made of aluminum and they're mate. This unit feels lighter than the previous Xperia Z and this model feels slippery because of all that glass. The phone uses the same 5.2 inch display as the Xperia Z2 and comes with an elegant design, but only if you prefer glass. This model is IP68 certified and it's dust and waterproof, with the ability to sink at up to 1.5 meters for up to 30 minutes.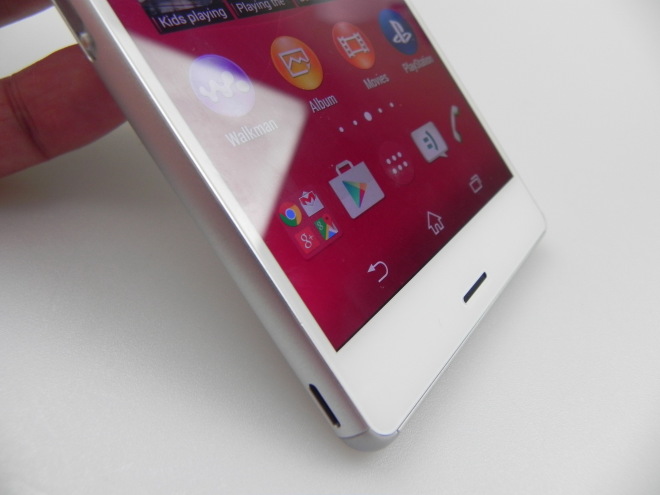 This smartphone uses nylon corners, making the Xperia Z3 less prone to chipping when dropped. At the front we find a speaker at the top and one at the bottom, but these stereo speakers aren't as close to the edge as on the Z2. These speaker holes are smaller than the ones of the Z2 and also at the front we've got a notification LED in the top left corner, plus the front camera and sensors.
At the back we've got the main camera and flash, while at the top there's the audio jack and microphone, plus a rounded edge. There's nothing at the bottom, while on the right you'll find a comfy flap hiding the dual nano SIM slots, that are very hard to access. The On/Off button is also on this side and it's made of metal, while the volume buttons and camera button are found there as well.
The left side holds the microSD and microUSB, covered by another comfy flap. Also on the left there are dock connector pins and a lanyard hole. The Xperia Z3 has overall a premium design, aside from the slippery glass and tough SIM access. As far as hardware goes, the Xperia Z3 comes with a 5.2 inch display, a Full HD one with an IPS LCD panel and Triluminous and X Reality technology. The CPU is a quad core Snapdragon 801 clocked at 2.5 GHz, a similar one to the Snapdragon 801 of the Xperia Z2, but clocked at higher than its 2.3 GHz. If you want extra details, the Z2 has a Qualcomm MSM8974AB, while the Z3 has a Qualcomm MSM8974AC processor.
The Z2 and Z3 also share an Adreno 330 GPU and 3 GB of RAM, plus 16 GB of storage, of which 12 GB are free. There's also a microSD card slot on board, with support for up to 128 GB of extra storage. The smartphone includes a 20.7 megapixel back camera with 1/2.3 inch sensor size, just like the one of the Xperia Z2. Upfront there's a 2.2 MP selfie shooter and on the connectivity side there's NFC, Bluetooth 4.0, LTE, HSPA, WiFi 802.11 A/B/G/N/AC dual band, WiFi Direct, DLNA, microUSB 2.0 with MHL, Glonass, ANT+ fitness tracker support, FM radio and USB OTG, plus Miracast.
Other specs include stereo speakers, accelerometer, gyroscope, compass and proximity sensor. The battery is a Li-Ion 3100 mAh unit, compared to the Z2's 3200 mAh and on paper it provides 16 hours of talk time, 920 hours of standby time, 130 hours of music playback or 10 hours of video. In our HD video playback test, we achieved 11 hours of playback, with WiFi on and brightness at 50%. Meanwhile, the iPhone 6 reaches 11 hours and 30 minutes, while the Xperia Z2 reached 11 hours and 3 minutes. The Galaxy S5 reaches 11 hours and 4 minutes, while the HTC One M8 gets to 10 hours and 15 minutes.
Overall, I'd say the battery is pretty good. The charging is long, taking 3 hours and 30 minutes and the charger has a capacity of 5 V and 1500 mA. On average, the Sony Xperia Z3 reaches two days of functioning, with calls, Internet, video and audio included. SO, the battery is great and let's see how the power saving features stand up. That area in the Settings shows the estimated battery time, a Stamina Mode, that can activate at a certain level and extend standby (disables data and WiFi in standby), but you can also allow certain apps to work in standby, by selecting them from a list.
There's also an option called Extended Usage, that reduces performance of the device to save juice. Then there's Stamina Clock, that saves power when you just check the time on the handset, like on a watch. There's also an Ultra Stamina Mode, that prolongs battery life by about 5 times, so you can even reach a week with 100%. This mode makes the background gray and only offers access to the basic features of the handset, without WiFi and data connectivity. Then there's  battery mode called Low Battery Mode, with options like Bluetooth, GPS and data that can be deactivated at a certain battery percentage.
Also in the same area there's a background queue of data, that only sends data at certain intervals. Moving on to the acoustics, this model has stereo speakers like the predecessor, but with a different design. The trademark Walkman player is available here, with a transparent UI and once again it's the best player on Android. The music is organized into artists, albums, songs and folders and the player supports MP3, AAC, WAV and FLAC files. If you tap on the album cover of the in play window, you can trigger a special section, where you can search for lyrics, search Google and Wikipedia for the song and also view artist info.
There are also more extensions available and YouTube is also included. There's Clear Audio+ in the Settings area, as an option that offers the best acoustic setup depending on the song and it's able to accentuate details. We've also got a visualizer with many themes and other options include Sound Effects, like an equalizer with 5 custom channels, genre presets and Clear Bass.
There's also something called DSEE, a special headphone setting that upgrades compressed tunes. This player will offer surround options as well (off, studio, club, concert hall) and S Force Front Surround, that virtually reproduces realistic surround effects. Next up is Dynamic Normalizer, that makes all the videos and songs on the device have similar volume, with minor differences.
One can also choose his/her headphones from a list to benefit from specific acoustics and there's noise cancelling in the mix, too. Finally, you can tune the microphone sensitivity to your liking, to auto, high, medium or low. The actual listening experience is loud, crisp, clear, the bass is good and all the notes are here. The back vibrates a lot during playback and the headphones bundled with the phone are stereo ones, the MH750 model. They're comfy, very loud, have a big remote and offer good noise cancelling. Finally, good bass is also offered.
FM radio has a nice UI and features like Track ID, post to Facebook and a visualizer are included. Overall, the audio experience is above the one of the Galaxy S5 and Xperia Z2, but only by a bit. The decibelmeter test makes the Xperia Z3 reach 77.9 dBA with the face down and 84.1 dBA with the face up. Meanwhile, the LG G3 goes to 87.4 dBA and the iPhone 6 to 85.2 dBA, so they're better in the volume area.
This model beats the iPhone 6 Plus 83.8 dBA. Now let's see the video and display conclusions! Sony Xperia Z3 has a 5.2 inch IPS LCD display, with Full HD resolution and 424 ppi density. It uses Triluminous and X Reality technology and relies on live color LEDs, that combine red and green with blue LEDs, for uniform lighting and a wide color range. X Reality reduces the noise and optimizes the contrast, plus reproduces the missing pixels and increases sharpness.
This screen is not a QHD one, like many people expected, but it does its job pretty well. The video playback shows a crisp, bright and vibrant experience and we can see all the details we couldn't see before. The contrast is good, we've got great viewing angles and there's no motion blur. The video app is called Movies and it comes with .MOV support and previews shown on the screen. The Settings of the playback app include subtitle options, like fonts, edges and more, plus an option called Background Play. You can also find video info courtesy of Gracenote and pinch to zoom is here as well.
The audio settings are the same as the ones of the Walkman player and the Display Settings include an Image Enhancer, that can be set to off, X Reality for clear and vibrant images and Super Vivid Mode, that tends to exaggerate a bit with oversaturation and makes colors pop. Both these two options slightly exaggerate colors and we've also got a glove mode, allowing us to use the device even with gloves on. Finally, one option is called Smart Backlight control and it keeps the screen activated, as long as you hold the phone in your hand.
The pixels are of the RGB Stripe kind and the screen achieves a brightness of 400 LUX units, beating the Xperia Z2 and its 366 LUX, but being below the Galaxy S5 and its 480 LUX, or the Xperia Z1 Compact and its 488 LUX, plus the iPhone 6 and its huge 570 LUX.
The screen could be brighter, but it's still pretty good for movie playback and games. You can adjust the white balance with RGB settings and active a double tap to wake option, too.  This model behaves well in sunlight, it has pretty deep blacks for an IPS and it's a good screen, beating past Xperias and even the LG G3, if you ask me, but clearly not the Galaxy S5. And now let's analyze the camera a bit. This one brings the same 20.7 megapixel sensor from the Xperia Z1 onwards and it supports up to 12.800 ISO this time.
The sensor is of the Exmor S variety and it measures 1/2.3 inches, plus it does 8X digital zoom. We've got SteadyShot video stabilization on board, 1.12 micron pixels and a 25 mm G Lens with F/2.0 aperture and wider than the one of the Xperia Z2. There's no optical image stabilization here, sadly. The front camera is a 2.2 MP unit, that can't hold a candle to the 5 MP cam of the HTC One M8. There's also a two stage physical camera button, that can be used to first focus then take a picture.
Moving on to the UI, the device offers a good frame rate and it is based on two capture modes essentially: Super Auto+ and Manual. When using Superior Auto+, you will get auto optimized settings and 8 megapixel shots, plus the camera has good situation sensing. On the left you can find the flash options (Auto, fill flash, red eye, off and flashlight), plus a front camera shortcut and Settings (aspect ratio, self timer, smile shutter, preview, burst with long press, face registration) and video options (self timer, smile shutter and Steadyshot). The latter includes options like Standard, Off and Intelligent Active, that will estimate movements and analyze dozens of frames for smoother and more stable videos.
Finally, the last segment of options in the Superior Auto area offers features like Quick Launch, Geotagging, touch capture, use volume keys, sound and storage. On the right side of the UI, you'll find the Modes, that are basically downloadable apps and there are a ton of them to play with. The manual mode includes a resolution setting, going up to 20.7 MP (5248 x 3936 pixels in 4:3), or 15.5 megapixels (5248 x 2952 in 16:9) or 8 megapixels (4:3 or 16:9).
Once in manual mode, you can tweak the Scenes (off, soft skin, soft snap, anti motion blur, landscape, backlight correct HDR, night portrait, night scene, ISO, pet, gourmet etc). You can play with the exposure, white balance and focus mode, face detection, touch focus, object tracking, HDR, ISO, metering, image stabilization and video options. Those include Full HD 30 FPS or 60 video capture, scenes, HDR Video and Steadyshot.
Once you flip through modes and use them for a while, the phone will overheat and the handset will let you know that this is happening, with a lot of annoying notifications, plus the app will shutdown if the temperature is too high. Now back to the modes, there's one called Sound Photo, that takes a picture and integrates a few seconds of sound, AR Fun, that allows you to draw, write or doodle on top of shots, Multi Camera (take a multi angle photo using more Xperia models) and Face In (put your face in shots taken with the back camera).
There's also 4K Video, Timeshift video (high frame rate and slow mo video), Live on YouTube, Background Defocus (background blur, choose pattern on vertical and horizontal), AR Effect, Creative Effect (filters, hue, saturation, brightness, contrast, old film, nostalgia and more), each of them with sub settings. There's also Info Eye, that we already knew from previous Xperias, with landmarks, barcodes, books or QR codes as options.
Another mode we're familiar with is Timeshift Burst, that takes a series of shots before and after you press the shutter and generates a dozen or two of shots, to pick from. Panorama and Evernote complete the list. The actual picture taking is fast and so is the focus, while the touch zoom is a bit too fragile for my liking. As far as the day time shots are concerned, I have to say from the start that it was a cloudy and dark day when the shots were taken.
We pulled an HDR shot, but one that disappointed us, through the exaggeration of the brightness. It's also very hard to take macros with this phone, no matter what cool modes you try. We've got good colors, OK details, OK brightness during day time shots and the images are crisp, while colors are realistic, but a bit cold. Panorama also looks good, but it's not very wide. Quality of the shots is below the one of the Galaxy S5 and I certainly recommend using the Superior Auto mode, that does a pretty good job.
Sometimes the quality drops even below the samples of the Xperia Z2, which is pretty disappointing. Exposure and white balance are pretty good and the capture taken inside provides good shots and a good flash, plus good details. The macro is still hard to pull off, but the 20 megapixel photos do hold a lot of details. At night, the colors are OK, but the camera isn't able to handle the light sources properly. The flash tends to spoil pics and there's a yellow-ish hue on top of the pics, so the low light capture is underwhelming. In this aspect, the Sony Xperia Z2 is much better at night capture, I have to say.
We also showed you background defocus, that we considered to be pretty much useless, since the blur doesn't exactly highlight the shots. Moving on to the videos, the 4K clip is a 2160p one with 55 Mbps bitrate and weak stabilization, plus the quality was yet again unimpressive, even for a 4K vid. Timeshit Videos offer 120 FPS frame rate and this is an area where this model is better than the Galaxy Alpha and Note 4 a bit. Slow motion looks quite hot.
The Full HD 30 FPS video has an all right exposure and white balance, as well as a focus and contrast, so there's not much to complain about. When zooming in, quality drops drastically and I have to admit that the 60 FPS Full HD sample was crisp and looked excellent, in spite of the rest of my criticism. A standard 30 FPS Full HD video of this kind taken during day time is below the Galaxy S5 and iPhone 6 Plus clearly.
Once again, keep in mind it was cold and cloudy on the day we took these shots and even with this, I had bigger expectations from the successor of the Xperia Z2. Night videos suffer from a large quantity of noise, a yellow hue and poor behaviour when meeting light sources. At least, the pictures are decently lit, even without flash, that feels a tad too powerful and I wouldn't recommend using it, unless you absolutely have to. Stabilization remains poor and as far as the Gallery (Album) app is concerned, this one is organized into Camera, Folders, Favorites, Faces, Places, Devices, Facebook and Flickr.
Overall, this camera plays in the second tier of flagships, like the HTC One M8, rather than first league, like Galaxy S5, Xperia Z2 or iPhone 6 Plus. Add the overheating when using the camera and you won't be happy with this performance at all, especially if you wanted an upgrade from the Xperia Z2. You can also do a bit of photo editing, using no less than 3 different apps: Photo Edit, Photos and Sketch.
We move on to performance, where the thermometer also confirms that we knew already: the device overheats. It reaches 44.7 degrees Celsius, after 15 minutes of playing Riptide GP2, so that's overheating for you. The stock browser here is Chrome and it's not very fast. The keyboard is well spaced, but takes up too much of the screen. We've got suggestions at the top of the keyboard.
The phone area includes smart dial, dual SIM settings and I have to say that the phone calling is not very loud due to the waterproofing. And now let's see the benchmarks. We compared this model to the Sony Xperia Z2, Galaxy S5, HTC One M8, LG G3 and iPhone 6 Plus. Here are the results:
This smartphone wins 2 out of 10 benchmark duels and even the Z2 beats it in some tests. At least there's no lag and you can easily run any 3D game you want. This model has pretty much the same UI as the predecessor, but with lots of transparency and a UI identity akin to the one of the PlayStation. The OS on the device is Android 4.4.4 and the multitasking area holds a "Close All" button, plus a series of floating windows, that offer the users multitasking on a new level.
If you pinch the homescreen you'll see widgets, apps, wallpapers and themes, most of them unique to the Sony experience. The interface is minimal and nice looking, but not very far from the stock one. In the dropdown area you'll find the notifications and quick settings and this area is shown in black and white, to keep everything even more minimalistic. Settings include Xperia Connectivity, allowing the user to connect a DualShock 3 or 4 joystick, connect to other Xperias, throw content, do screen mirroring, cast screen and more. You can also access motion settings (take phone to ear to answer a call), Tap and Pay, use a Simple Home UI, that shows everything as big tiles to the new users. Find my Device is another feature available here and we've got widgets included in the lockscreen.
The Xperia Keyboard section also offers one handed keyboard usage and skins. This phone comes with PlayStation 4 remote play, allowing you to stream games from your console straight to the smaller screen and even interact with them using a DualShock 4 joystick. The preinstalled apps list is rich here and includes the PlayStation app, with PSN connectivity, What's New, Sony Select, Lifelog, Facebook, Social Life, Calendar, Maps, Track ID, Smart Connect, Wisepilot, News and Weather and Slide Me Market, as well as AVG Antivirus, Office Suite, Evernote, Games and Movie Creator, that feels a bit like HTC's Zoe, creating clips from all your photo/video samples.
Then there's Xperia Lounge, Linkedin, File Commander and Sketch, for a pretty long list of bloatware software. One last thing to mention is the fact that pressing and holding the Power button brings up a menu that also includes a Record screen option, that will record videos of your Xperia Z3 screen. And now let's see the Pros and Cons and verdict!
Here are the Pros:
best looking Xperia launched till now
very good battery (reaches 2 days of usage on average)
many power saving features
fast picture taking
waterproof
screen recording
Walkman is an excellent audio player
most audio settings on an Android device
good display
one of the best Android UIs
PS4 remote play
And the Cons:
slippery
overheats
overpriced
camera is sometimes below the one of the Xperia Z2
long charging
no OIS
very hard to take macro shots
poor low light capture
slow browser
unimpressive benchmarks
bloatware
same UI as the last few generations
SIMs hard to access
Sony Xperia Z3 gets from us a 9.3 out of 10 for design, an 8.2 for hardware and a 9.4 for OS and UI. The final grade is 8.96 out of 10 and we penalized this model for its overheating and camera especially. I'd say you are better off buying the Sony Xperia Z2 right now, rather than the Z3, or just wait for a software update and see if at least the overheating goes away…