We have already reviewed the Sony Xperia Z5 Premium a while ago and found it to be a too experimental for our taste, although the camera was quite good. Now it's time for the Sony Xperia Z5 to get our deep analysis, as part of the Z5 trio that debuted last fall. This may be called a "fall flagship", but it's a more of a midranger with some high end qualities, like the camera. It's priced at $500 and now let's see what it's all about.
This handset is both compact and elegant and it comes in black, gold, green or white. It measures 7.3 mm in thickness and weighs 154 grams, which means it's 0.5 mm slimmer than the Z5 Premium and 26 grams lighter. Xperia Z5 adopts a rectangular format and has rounded edges and corners. Its corners stand out, probably through the nylon protection that makes sure you won't damage the phone too much during drops.
Sadly, the design has a problem, which are the edges, that are a bit too high lifted above the glass panel at the back and front. Thus, they tend to cut into the user's palm and don't feel comfy. One hand use is also a problem here and the metal frame is covered with polycarbonate from what I've heard. We've got big bezels and a matte glass panel at the back.
Volume buttons are sadly not very comfy, because they're placed too low to be easily accessible. The Power button, that integrates the fingerprint scanner is too deep and clicky for our taste. Overall, this phone is pretty, but not very comfy. It also has IP65 and IP68 certification, so it can take dust and water, but Sony advises you shouldn't go swimming with this model, but rather hope for rain and splash protection.
On the hardware front, we get a 5.2 inch display, with an IPS LCD panel and Full HD resolution. The video app features both local content playback and streaming from Sony's services. The screen viewing experience is bright and crisp, with vibrant colors and wide view angles, plus an OK contrast and no problem in the sunlight. Pixels are of the RGB Stripe variety and the luxmeter showed a level of brightness of 537 LUX.
This totally beats the 381 LUX of the Sony Xperia Z5 Premium, as well as the Samsung Galaxy S5 and HTC One A9. Settings include Image Enhance, X Reality and Super Vivid Mode, for those looking for extra clarity and boosted and more vivid colors. There's also Glove Mode and Adaptive Brightness, plus an RGB slider for the white balance option.
Smart Backlight ends the list and overall this is a great display. As far as the CPU goes, we've got an octa core Snapdragon 810, the first generation, not version 2.1 that got rid of overheating on the OnePlus 2. Other specs include 3 GB of RAM, the Adreno 430 GPU and 32 GB of storage. The microSD card slot offers support for up to 200 GB of space.
This device doesn't suffer from lag, has a fluid UI and perhaps it's even more fluid after it got the Android Marshmallow update, a few days ago. It can run games OK, from Riptide GP2 to Asphalt and from FIFA to Dead Trigger 2. In the benchmarks, we saw it beat the Lenovo Vibe X3 in Quadrant, but drop below the LG Nexus 5X in AnTuTu, while in 3DMark it surpassed the OnePlus 2.
Overall, it should beat all Snapdragon 808 models and even some Snapdragon 810 ones. When we tested the temperature we found some overheating, since after playing the game Riptide GP2 for 15 minutes we got 41 degrees Celsius. Well, this is pretty much overheating, but not on the extent of the Xperia Z5 Premium, that enters the 44 or 45 degree area.
Let's talk acoustics now. Upfront we've got a pair of speakers, discretely integrated at the top and bottom. The Music app is confusing, with a ton of options and Spotify integration, as well as very many equalizer options. There's DSEE HX, that upgrades the quality of compressed music files, closer to high resolution audio.
Then there's Clear Audio+, Clear Bass, an equalizer with custom slider channels and Surround (S Force), as well as Dynamic Normalizer. They're all fancy names and in reality the difference with them activated is minimal. When using the speakers, the experience involved a mid level volume, good clarity and good bass, as well as an OK surround.
When using the decibelmeter, we got to 83.2 dBA at the front and 79.9 dBA at the back, which is almost good. We beat the Huawei P8 Lite, but scored below the Xperia M5 for example. There's also FM radio available here and when using the headphones, we noticed a thick wire, dirt-absorbing buds and good noise isolation. The headset is loud, but I've heard louder from Samsung and HTC. At least it's comfy.
Now it's time to discuss the camera, the core of the phone basically. Xperia Z5 integrates a 23 megapixel camera with 1/2.3 inch sensor and 0.03 second autofocus. It also does up to 8x digital zoom, comes with an LED flash and packs a G Lens and F/2.0 aperture. This phone has a physical camera button and upfront there's a 5 MP selfie shooter.
The camera UI has changed from the unboxing till now, through an update. It's now based on swipe to move between capture modes and those include a series of apps (augmented reality, 4K video capture, Stickers and more). There's also Superior Auto, that auto detects the proper scene/situation and Manual mode, with a few extra options, like white balance, exposure, resolution and scenes.
There's no shutter speed, sadly. Resolution is either 23 MP in 4:3 or 20 MP in 16:9, plus a few more options. The cam UI is much more intuitive after the update. The camera experience involves a slow capture, fast focus and fluid zoom. The gallery of shots taken during the day were done on in sunny conditions and the quality was similar to the one of the Xperia Z5 Premium.
I found it very hard to focus in closeups and macros and color reproduction was great. Lighting and shadows were excellent and we also took some great landscape shots. I'd say the level of detail is above all iPhones and the Galaxy S7 Edge, easily. When zooming in not much detail is lost and those stone statues had great texture captured.
The HDR photo is too white and the selfie is rather blurry and has a strange hue, in my vision. When we did manage to focus, the closeup looked great. The capture is well lit and when we photographed posters and such, the text and colors were fantastic. The camera didn't have any problems with the sun, even with it in front of us.
Panorama had a poor resolution sadly. Low light capture (gallery here) involved a flash that tends to whiten everything too much. There's also a blue hue applied on top of the image, much like with the Sony Xperia Z5 Premium. Colors were great and the shots without flash were grainy. With flash and close up the capture was fine. Street light halos were OK and the night scene option helped with the blue hue luckily, but you need steady hands for this to work.
I'd say that overall the colors captured by the camera are superior to the ones captured with the Huawei Mate 8 and details were past the iPhones and latest Samsung models. Clarity is perfect minus the closeups. Video is captured in MP4 format, at either 30 or 60 FPS in Full HD resolution, as well as 4K. FHD clips have a 17 Mbps bitrate and usually, the video capture has OK exposure, good clarity and vivid and realistic colors.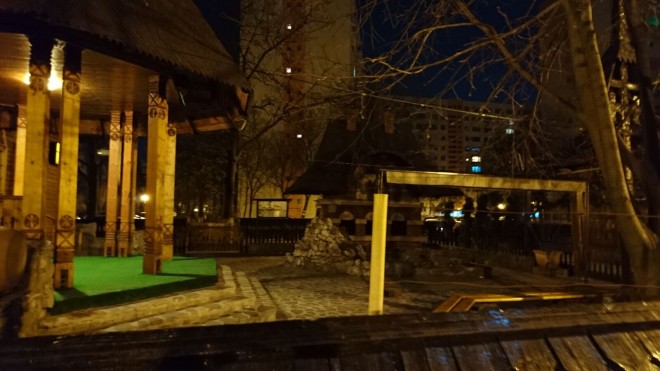 Stabilization was rather poor, especially in the 4K mode and videos were rather shaky. There was problems with the wind and microphones and the 60 FPS clip looked cinematic and nice. There was no focus problem and the camera handles moving objects quite well. Night time video capture is blue-ish and grainy and the colors are OK.
I'd say the video capture is quite fine, except for poor low light capture and lack of stabilization. I'd say this type of capture is 10% inferior compared to the iPhones.
If you want to talk about the browser, well you need to know we used Chrome, that has an OK speed and registered good benchmark results, in Vellamo, BrowserMark and Sunspider. As far as connectivity goes, there's 4G LTE support here with up to 300 Mbps download speed, NFC, Bluetooth 4.1, WiFi 802.11 a/b/g//n/ac dual band and GPS. We've got active noise cancelling here, Speed Dial and Smart Dial.
Calls are loud, the signal is OK and sound quality is quite fine. We tested the WiFi speed and got to 26 Mbps in download and 27 Mbps in upload. Sony Xperia Z5 packs a 2900 mAh battery, that reaches 8 hours and 14 minutes of video playback according to our test. That's a weak result and even below the Sony Xperia E4G entry level unit.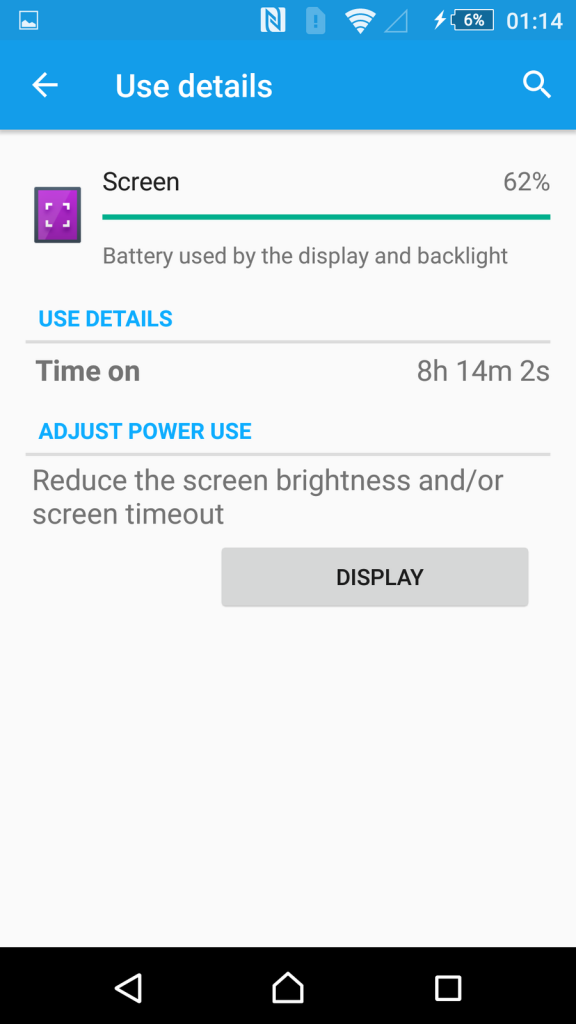 We also did a PCMark test, that showed us a 5 hour and 45 minute result, which is weak and below entry level phones like the Coolpad Modena and Xperia E4. Charging takes 2 hours and 2 minutes, which is reasonable. Settings don't include the Stamina Modes anymore, since they were gone after the Android Marshmallow update came through.
Now it's time to talk about the OS and UI. When we unboxed the phone, it had Lollipop preinstalled and then it got to Android 6.0 Marshmallow. The UI is now more fluid and better organized, especially in the Settings area. Multitasking is still done via a carousel, combined with those floating apps you already know.  Widgets are beautiful and the icons are glossy and nice looking. There's the usual transparency and nice gloss of this interface, coherent with the PlayStation interface.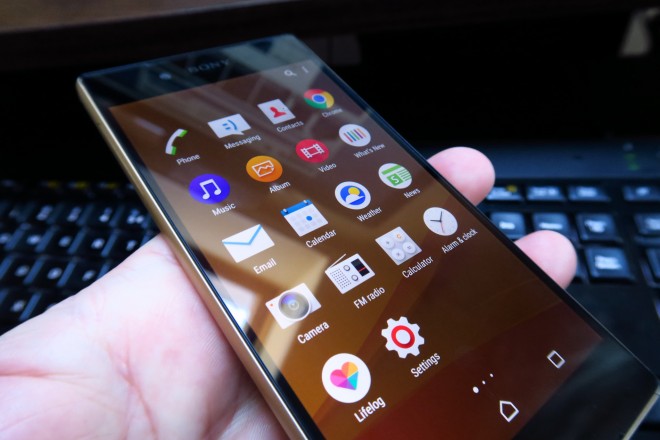 The dropdown area is the stock one from Marshmallow and the Settings only interesting bits are maybe the Themes and Security. In the latter area we tested the fingerprint scanner integrated within the Power button and found it unsatisfying. It's hard to find the button and press it and the setup is long. The preinstalled apps list includes 49 apps, which is close to bloatware level.
We've got Lifelog, that monitors all the activities you do, then there's Movie Creator, Sketch, Track ID, AVG and PlayStation apps. Now let's see the verdict!
Here are the Pros:
elegant and compact design
bright and crisp screen
OK performance
OK audio
great picture and video capture
nice OS, UI and fluidity
And the Cons:
cutting edges on the sides
overheating
uncomfy buttons
focus problems in closeup
poor low light capture
no OIS
poor battery
bloatware
I'd say this is not a smartphone or a cameraphone… this ia a camera that has a good display attached and then a bunch of irrelevant hardware, all of that bundled up nicely and sold by Sony under its brand. Only Sony could move such a phone and still make it appealing, even with those flaws. Ergonomics and battery are a problem, but the camera is very solid and the UI is great. The updated price is here.