Vernee seems to have taken the world by storm over the past two months. The startup from China appeared out of nowhere and launched two phones, one dubbed Apollo with 6 GB of RAM and one dubbed Thor and priced at a very affordable rate. The latter gets reviewed below and you can find it on Gearbest, usually for around $119.
There are many things to say about Vernee Thor, but one thing's for sure: it's the cheapest 3 GB RAM phone on the market! Launched in April 2016, the device got over 20k preorders when it was first made available. It comes with an elegant design, that involves a 2.5D glass panel upfront and a soft touch back. Said back gets dirty pretty easily and it's a bit of a grease magnet.
Vernee Thor is comfy, offers a good grip and provides easy one hand usage. It measures 7.9 mm in thickness, weighs 140 grams, both OK measurements considering the price and segment where the device operates. It has rounded corners, it's made of plastic material and comes in black or gray. The back cover is not exactly easy to remove and overall, this smartphone feels like a combo of the Nexus 4 and OnePlus X, which is high praise for it.
The screen is a 5 incher with a 1280 x 720 pixel resolution and an IPS LCD LTPS panel in the mix. It's a 5 point touch screen, with On Cell Touch technology and Gorilla Glass 3 protection. The video player used here is the Gallery and the viewing experience involves an OK brightness and contrast, good colors, wide view angles and a crisp and clear image.
Pixels are of the RGB Stripes variety and the luxmeter showed us a value of 377 LUX. That's OK, considering the price and it beats the HTC One M9, Huawei G8 and LG G3 at least, but it doesn't break records. Settings for the screen include Miravision, with a ton of sub options used to tweak contrast, saturation, brightness, sharpness and temperature.
There's also dynamic contrast and adaptive brightness, plus font options. Overall, it's an OK display, especially when it's used indoors and also not too shabby outdoors. Now, the hardware of the Vernee Thor also includes an octa core 64 bit processor, the MediaTek MT6753, clocked at 1.3 GHz. There's also a Mali T720 MP3 GPU, clocked at 450 MHz, 3 GB of RAM and 16 GB of storage, plus a microSD card slot involved.
The device doesn't suffer from lag and has a pretty fluid functioning. The games run OK, including the likes of Riptide GP2, with all details to the max level. In benchmarks we scored past the ASUS ZenFone Zoom and Sony Xperia Z3, at least in Quadrant, while in AnTuTu 6.0 we were above the Huawei Honor 5X and Huawei P8 Max. Shockingly, in GeekBench 3, in the multi core test, we even beat the iPhone 6 Plus, so that's an excellent result.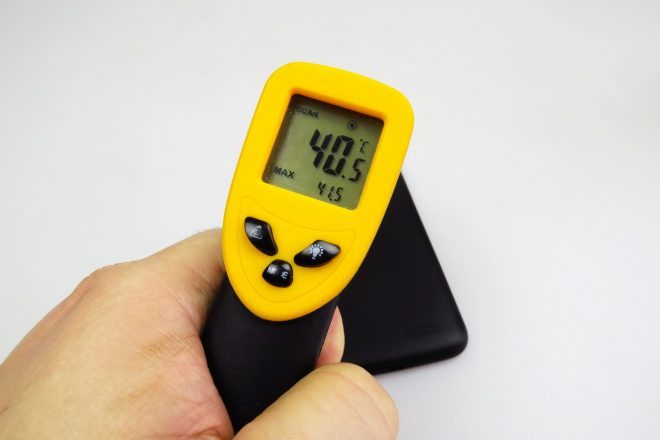 Performance is great and after playing the game Riptide GP2 for 15 minutes we reached 41.2 degrees Celsius, so there's a bit of overheating going on here. After running the GFXBench benchmark, we got to 36.8 degrees Celsius, so at least in that section there was no overheating. Now, as far as acoustics go, there are no headphones in the mix here and the Music player feels a bit dated, UI-wise, with a KitKat-like styling.
The equalizer is a stock one, with 5 channels to customize, Bass boost and Surround Sound. The actual listening experience involved a loud and clear sound, good piano rendering, no distortion, good bass and a slight muffling. The liked the experience and registered some good results in the decibelmeter test. We got to 85 dBA at the back and 83.4 dBA at the front, which means we surpass the Galaxy Note 5, Galaxy S7 and Huawei P8, so that's great.
In the Settings section we uncovered some more options like BES Audio Enhance, Loudness and Surround, for an extra acoustics boost. Now you're probably wondering about the camera… Well, there's a 13 megapixel back shooter on the Thor, with F/2.0 aperture, LED flash and BSI sensor. The front camera has a 5 MP resolution.
The camera app has a mid level startup speed and the device's zoom isn't exactly fluid up to 4X. Focus was fast and picture taking a bit on the slow side. The interface is minimalistic, too minimalistic even, since it doesn't even bother to include capture modes. All we get are filters, HDR, panorama, flash options, white balance and scenes.
There's Full HD video as the top resolution to shoot videos in and electronic image stabilization. I'd say that there are too few modes here. And now let's dissect the gallery. One has low expectations from a $119 phone, in the camera area, but some models do deliver. This is one of them. On a sunny day of May we took some shots, that brought us realistic colors, great flower closeups and a very, very nice texture of the very same flowers.
Lighting was good, but HDR tends to make objects too white, like that church we photographed. Once you zoom in all the way to the max, you'll find that the details loss is not that big. Closeups were great, but sadly the selfies felt a bit washed out. Panorama was burnt and had a modest resolution, of 5488 x 560 pixels. Landscape shots look good even on the PC, no matter the zoom level, so at least that's nice.
The camera handles shade quite OK and I'd say it's a nice surprise overall, on par with the level of capture offered by the pricier Huawei Honor 4X and Huawei P8 Lite even. In low light shots the quality is rather neglectable, especially with the flash off. With flash on everything is good, colors and lighting included, but generally it feels that the camera takes to long to shoot during the night time.
As far as videos go, I was underwhelmed to see that the Vernee Thor films in my least favourite format, 3GPP. It films in Full HD, with 17 Mbps bitrate and 30 FPS frame rate. The exposure change was OK and stabilization and clarity were surprisingly good. There was a pretty bad quality loss when zooming in and the microphone was quite good.
We did have some burnt portions of the image, but nothing major. Low light video capture was unimpressive, but during the day I was quite surprised by this 3GPP capture. It's actually better than many ASUS ZenFones and some Huawei Honor units. It's a very good camera overall, but too bad for the lack of options.
The web browser is a bit on the slow side and we've got a stock keyboard here, which is quite comfy. The browser benchmarks were rather poor, in case you're wondering. On the connectivity front, there's a strange aspect: WiFi keeps dropping connection, at least when I used the device for a long time. Having used it in other people's houses, I found that it only had that problem with my router. Anyway, we also get 4G LTE connectivity, dual SIM dual standby action and there's a download speed of up to 150 Mbps via 4G here.
We've got FDD LTE and the two slots are a micro SIM and a nano SIM. Vernee offers WiFi 802.11 b/g/n 2.4 GHz, so no trace of 5 GHz or a/ac WiFi. Bluetooth 4.0 and GPS round up the connectivity specs list. Thor also provides a Turbo Download feature, that combines WiFi and 4G at the same time for ultra fast download. When it comes to calls, they were clear, we had a good signal, but the calls weren't very loud.
Now as far as battery goes, this model gets a 2800 mAh Li-Po unit, which is not bad at all for a 5 inch device. It also comes with a solid 5V/2A charger and on paper we are supposed to get 2 days of medium usage and juice up the battery with 1.5 hours of charging. In our video playback test we reached 8 hours and 33 minutes, which is quite a good result and it beats the Galaxy Note 4 by 3 minutes, plus the HTC One A9, Sony Xperia Z5 and Huawei Mate S, so very good
In PCMark we scored 7 hours and 31 minutes, a fantastic result for such an affordable phone. Keep in mind we surpassed both the huge Huawei P8 Max and Galaxy S6. Charging is done in 2 hours and 52 minutes, which may feel like a long time, but in the end it's quite OK. Settings for the battery include Standby Intelligent power saving, Battery Saver and an Optimization feature, basically Doze.
Now it's time to discuss software. We're running Android 6.0 Marshmallow, with KitKat-age icons for some reason. The dropdown bit includes Quick Settings and notifications, while multitasking is offered in carousel form. Widgets are the stock ones and the usual array of Marshmallow features is here: Doze, Google Now on Tap, Permission Management and RAM Manager.
The microSD can also be used as internal storage. Settings let us tweak the functioning of the fingerprint scanner, which is fast and precise and works with the screen off, but not exactly at all degrees we'd like it to, so it's best to keep your finger fixed in a certain position. The preinstalled apps list includes 30 names, which means there's no bloatware here.
The standout name is the Uber app, that comes with a discount code included. All of the apps are stock, so there's clearly no useless software here. Interestingly, there's no Play Music and some other Play apps are lacking. And now it's time for the verdict.
Here are the Pros:
good looking facade
comfy
Android Marshmallow on board
great price
good camera
good performance
nice multimedia
bright enough screen
And the Cons:
too few camera options
slight overheating in games
old looking UI bits
poor selfies and night capture
loses WiFi signal at times
calls aren't loud
long charging
Overall, Vernee Thor is a solid buy, since it has great performance, good camera and battery, plus it's also nice looking. Pair that up with a sub $150 price and you've got a sure hit. It simply feels like the kind of phone that's price too low for what it offers, which is good for you, the consumer. It's a very solid Galaxy A5 2015 rival, as well as a rival for Huawei Honor 5X and Wiko midrange units.  The updated price of the device is here.