HTC Butterfly was the OG 5 inch 1080p phablet unveiled more than a month ago and starting the entire trend of 5 inch Full HD handsets. It came to Japan first and then it was converted to HTC Droid DNA for Verizon. Originally dubbed HTC J Butterfly in Japan, the device is already selling in China as the HTC Butterfly, but today a new color appears.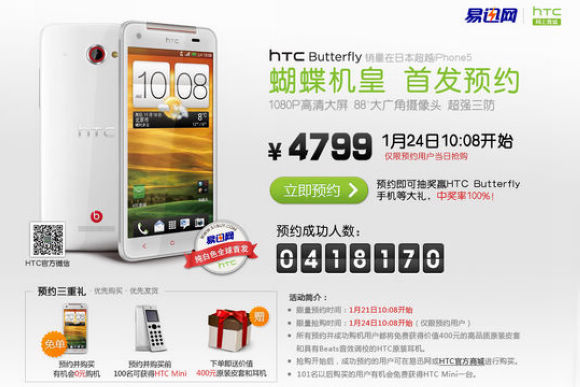 There's apparently some hype around this model, since people could only buy it in black or red till now. It also comes in white right now, so if you're looking for a more pure aspect and a fancier alure, this one is for you… you and 400k other people, apparently. There are already 400k preorders for the white phone that debuts in just a couple of hours. The pricing of the white version is the same as the other colors: 4,700 yuan , translated to $772, which is not cheap at all.
We are still dealing with a high end 5 inch smartphone with a waterproof screen, quad core CPU, 2 GB of RAM and an 8 megapixel camera, plus disappointing 2020 mAh battery. Unlike the Japanese model, the Chinese version has no LTE and no wireless charging. HTC wants to bundle a special Bluetooth remote with the Butterfly in China, one that will be called HTC Mini and it gets pictured below. This toy allows you to make calls, send texts, take pics and more remotely.