We've played with a few Xiaomi devices this year, but one stuck with me: Xiaomi Redmi 4. We tested the Redmi 4 Prime version of the machine, priced at just $173 on TomTop.com and for a sub $200 handset, it has some crazy good attributes, particularly the battery. It's a compact 5 incher with a big battery and midrange specs, launched in November 2016.
Available in gold or gray, the handset uses the classic metal unibody approach and is a pretty compact unit, even for a 5 incher. It provides a great one hand usage and has some comfy buttons. The build is solid and we've got some nice shiny accents on the sides. Bezels are big-ish and overall this approach reminds me of the Huawei Nova a bit. If you want to talk measurements, this model has an 8.9 mm waistline and it weighs 156 grams.
In the meantime, the Huawei Nova weighs 146 grams and measures 7.1 mm in thickness, so things could be even more compact. Yes, the Redmi 4 Prime is a bit heavy, but it's also reassuring when gaming. It's got a generic design, but it's comfy and well built for sure. It's got a big top and bottom bezel, but that comes associated with a badass battery, as you'll see later on.
Let's talk about the display now: a 2.5D 5 inch IPS LCD Full HD screen is in the mix. There's no video player on this baby, but we used the Gallery, so worry not. The viewing experience involved a good brightness, crisp image and the colors were very vivid. Wide angles are also here, plus the contrast is rather OK, even in full sunlight. Pixels have an RGB Stripes arrangement and we also did a luxmeter test, reaching 363 LUX, which is reasonable for a midranger.
It beats the Huawei Honor 7 and HTC U Ultra, but it doesn't have anything on an UMi Max or LG Nexus 5X even. Settings include brightness level and a Reading Mode, with the option to remove glare. Colors and saturation are tweakable, with options like Warm and Cool and Brilliant or Standard respectively. The text size goes from XS and S to XXL. I'd say things are pretty good for a midranger, although not quite at the 400 LUX level.
Xiaomi Redmi 4 Prime comes with a Qualcomm Snapdragon 625 CPU, which has excellent pedigree, being spotted on the Huawei Nova, ZenFone 3 and Moto Z Play over the past year. The GPU is an Adreno 306 and we also get 3 GB of RAM, 32 GB of storage (24.63 GB free), a microSD card slot and I didn't notice any lag. Things were kept pretty fluid and apps started fast. Riptide GP Renegade and other games we tested also ran fine, with no frame rate drop.
When it comes to benchmarks, we did Quadrant and had a great placement on the 13th place, back in June. It beats the Huawei Nova and UMi Plus E, but scores below the LG G5. In AnTuTu 6 we surpassed the Galaxy A5 (2017), but placed below the ZenFone 3. In 3DMark Ice Storm Unlimited Huawei Nova was beaten again, as well as the Redmi Note 4X. ZenFone 3 defeated it again.
Not bad at all and I'd place this between Huawei Nova and ASUS ZenFone 3. It beats the Galaxy A5 (2017) for sure. When it comes to temperature tests, we achieved 32.5 degrees Celsius in GFXBench and 36.5 degrees in Riptide GP Renegade, so there's no overheating. Let's talk battery now. Xiaomi Redmi 4 Prime comes with a 4100 mAh Li-Ion battery, which is certainly its strong point.
On paper we are promised 217 hours of 4G standby, 48 hours of talk time and 14 hours of gaming, or maybe 16 hours of video playback. We did a HD video playback test and achieved 14 hours and 59 minutes of playback, which is great and beats flagships like the Galaxy S8 and Huawei P10. Still there are other record makers out there beating this device, like the Galaxy A3 (2017) and the Ulefone Power.
In PCMark we achieved 12 hours and 33 minutes, which is excellent and placed the phone on 6th place from all the hundreds of phones we tested. It does beat some battery phones, like Allview P6 Energy and Allview P8 Energy Pro, plus Redmi Note 4X. Once again Galaxy A3 (2017) beats this Xiaomi phone and so does the Moto Z Play. The device charges in 2 hours and 36 minutes, which is OK for what we get in usage.
After 5 minutes of charging we got to 5% and after 15 minutes to 23%. Half an hour is 25% and after one hour we're at 51% charge, which are OK results. There are Settings for the Battery here, letting you turn off mobile data, analyze usage and there's also Battery Saver, that lets you turn sync off. Then there's App Battery Save, that restricts background activity.
System animations can also be hidden or shown, by choice of options. Great battery overall.
We didn't forget about acoustics, so let's discuss those. There's Google Play Music in action here and while we do have two grilles at the bottom, only the one on the right actually hides the speaker. The equalizer includes a Mi Sound Enhance option, but those tweaks are just for headphones. The experience was fun, with a pretty OK loudness, clear sound and nice keyboards to be heard.
There's a bit too much bass, drowning the other sounds a bit. We didn't have headphones bundled here, so no impressions on that. FM radio is here, in case you were wondering. As usual we did a decibelmeter test and reached 84.7 dBA at the front and back, with our typical acoustic sample. This result made us surpass the Huawei P10 and Moto M, so not bad.
When we played Riptide GP Renegade we reached 96 dBA, which is great, even beating the Galaxy S8. Overall good acoustics. Time to see if the camera is on par with the rest of the quality hardware. There's a 13 MP back shooter with PDAF and a dual tone flash, plus F/2.2 aperture, which is odd because the Redmi 3 had a F/2.0 aperture. Upfront we've got a 5 MP F/2.2 cam for selfies.
The camera app starts up fast, the focus speed was pretty reasonable, but picture taking was a bit sluggish. Don't expect an abundance of options, since we get stuff like filters, HDR, age detection and modes like Audio, Beautify, Tilt Shift, Timer, Straighten, Scene, Panorama, Manual and HTT. The Manual mode lets you tweak ISO, white balance, exposure, contrast, sharpness and more.
Let's leave behind theories and options and go real. It was a crazy hot summer, at the end of June and we took some photos in the mountain area of Romania, Brasov. Zoom was OK at level one, but more than that and there's grain and lack of clarity. Colors aren't half bad and I especially loved the greens. The level of details is medium I'd say and we've got a good exposure and focus. HDR is discrete and works quite fine and efficiently.
I loved the flower macros we took and also liked the focus play, which was efficient. Brightness is good, but the sun also helped. Selfies are OK and the backgrounds are surprisingly good, in conditions were most phones would have burned the backgrounds on account of the sun. The sky gets weird with HDR on and I liked the texture of monuments, like the famous Black Church.
Panorama is modest, at 6880 x 1856 pixels. The camera is good, but it's midrange good, like the Nubia Z11 Mini, Huawei P9 Lite (2017) and Huawei P10 Lite level. Still, it doesn't got as high as ZenFone 3 or Huawei Nova, but it's close enough. Low light photo capture isn't going to win any awards, I'll tell you that. It's blurry, lots of moved shots happened, it's not bright and it's inferior to the Huawei Lite models.
Street light halos are big, there's some violet and yellow hues messing up the shots. If you're patient enough and do some manual calibration you'll MAYBE get Facebook worthy shots. I'd say that only 1 out of 10 pics are OK, which is certainly not good. Videos? Yes we did! We shot things in MP4, 29 FPS and Full HD at 20 Mbps. Things are a bit burnt, but the zoom was quite solid.
Colors are oversaturated, but the exposure and focus are OK. Clarity is nice, but the mic can't seem to cope with wind. There's good exposure change and zoom, even when in motion. I actually tested the microphone with a band and things were way off, so this ain't a concert goer. Videos looked decent even with the sun in front, so the summer torrid sun wasn't a problem.
Electronic stabilization was a bit of a problem and it didn't quite impress me, since things were shaky. I would call things reasonable, minus the microphone and minor oversaturation. If you really want a comparison, I'd put in on par with the Huawei P9 Lite from 2016, which by the way we tested in the same city last summer. Low light videos are shaky, yellow and halos are big.
We've got a poor zoom of course and things are yellow and blue-ish. Object tracking was OK and colors let's say there were OK calibrated. Things dropped to 19 FPS and 14 Mbps, so forgettable overall. I wouldn't use this for concert filming, unless an UFO descends or something. We also tested the web browser and found it to be kind of slow, so stick with Chrome.
Stock keyboard is in the mix, with Swype. Benchmarks were mixed. Let's see if the connectivity holds up. Xiaomi Redmi 4 Prime is a dual SIM phone, with a micro SIM and nano SIM, Bluetooth 4.2 support and WiFi a/b/g/n/ac, plus WiFi Direct and FM radio. There's GPS, Glonass, Beidou support, infrared too and Xiaomi offers support for 7 LTE Bands here.
microUSB 2.0 with USB OTG is here and I feel the need to go back to the infrared and the preinstalled Mi Remote app. That one lets you control a TV set, DVD player and air conditioner, plus more. The phone calls were clear, but the volume was medium. We also did a SpeedTest and reached 84 Mbps in download and 45 Mbps in upload on 4G. On WiFi we got to 113 Mbps in download and 25 Mbps in upload.
We're well within limits here.
Xiaomi Redmi 4 Prime runs on MIUI 8.2, which is based on Android 6.0.1, feeling mighty old right now. The UI is flat, there's no app drawer and multitasking hasppens via a horizontally scrolling list of thumbnails. Pinch the homescreen and you'll access widgets (typical MIUI ones), effects, wallpaper and everything feels like LG and ASUS UIs from the past year.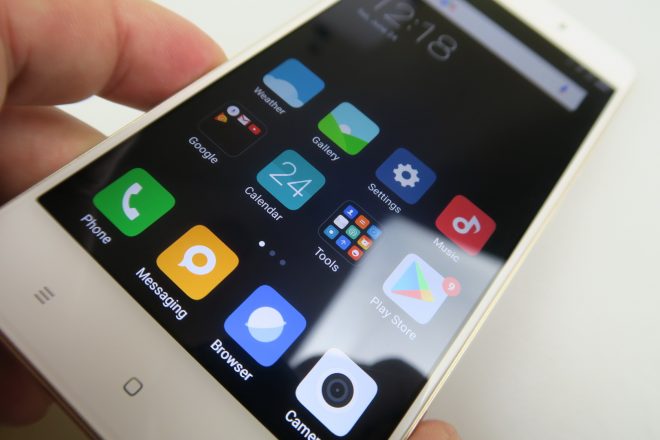 The dropdown portion is clean and well organized and it includes Quick Settings and notifications, as expected. Don't expect any dramatic change from the regular experience. Settings are pretty regular, with wallpaper, themes and more. There's also the fingerprint scanner to set up, with a 13 step fingerprint setup and very fast unlock, which I liked.
There's an option to prevent pocket dials and a Child Mode, within Settings, Second Space (like using another phone), DND, Lite Mode, Quick Ball (floating widget). One hand mode is also available. This Xiaomi phone has 32 apps preinstalled, with stuff like Weather, Recorder, Security, Compas, Notes, File Explorer and more. Time for the verdict and the Pros and Cons.
Here are the Pros:
great battery
good build
OK display
not bad performance
good pictures during the day
OK selfies
reasonable video capture
infrared connectivity
fast fingerprint scanner
And the Cons:
some audio imperfections
poor microphone recording in video capture
poor low light capture
no Android Nougat
no scratch resistant glass
In the end I'll say it again: Xiaomi Redmi 4 Prime is a great bang for the buck phone, particularly the battery. It's got an OK camera and display, all within a compact machine. It's an all round good midrange phone, but without bells, whistles or records to break. You probably noticed I compared this smartphone to the ZenFone 3 and Huawei Nova, plus the Huawei P Lite models, because this Xiaomi deserves to be among them and even beats them in a few areas.
For sub $200… sign me up! Here's a list of retailers selling the device:
TomTop.com 
Gearbest.com
Geekbuying.com 
AliExpress.com