Just as expected (and announced) Amazon had a special event today, during which they debuted the 3D Fire Phone, detailed below. This is the company's first smartphone, that was unveiled during an event in Seattle.
The newcomer packs a 4.7 inch screen, aluminum buttons and a high definition LCD display. The 3D functionality that was rumored is here and Jeff Bezos, the Amazon boss calls it "dynamic perspective". It allows the user to scroll through applications simply by tilting the device instead of touching the screen. Bezos claims that the main innovation here is a series of front facing cameras, that will track the user's perspective, in order to render the handset's interface in 3D.
The product is priced at $199 for 32 GB or $299 for 64 GB, with a 2 year contract with AT&T, or $650 without a contract. It's available for preorder today, but it will start shipping on July 25th. The company's stock was up 3% after the announcement came and other things you need to know about the product are the fact that it comes with unlimited photo storage, as well as access to Amazon's streaming music and video service for Prime members, said Bezos. But many of the prime members also reported that the you wont be able to see the video's of some other countries like due to content library restriction on the IP address. Here is the solution to that also to view other video's, you can check how to change country on Amazon prime location.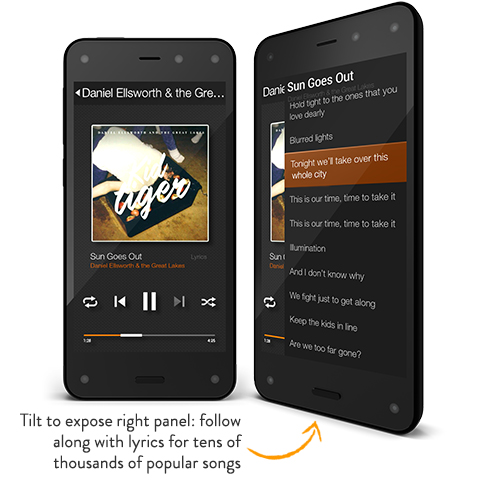 He also announced a service called Firefly, that allows you to identify products using the handset's camera and add them to your shopping cart on Amazon. The smartphone relies on a 4.7 inch Gorilla Glass display with HD resolution and it should be about the same size as the Moto X. In case you want specs, know that the new model has a rubberized frame with aluminum buttons and inside it we find a quad core 2.2 GHz processor.
There's also an Adreno 330 GPU, 2 GB of RAM and a 13 megapixel rear camera with F/2.0 lens and optical image stabilization. The handset's display provides 590 nits of brightness apparently, dynamic image contrast and a "circular polarizer". We've got a dedicated camera key here as well and connectivity features include global LTE, quad band GSM, five bands of UMTS, WiFi, NFC and Bluetooth.
As far as acoustics go, the Fire Phone has dual stereo speakers with support for virtual Dolby Digital Plus surround sound. It comes with tangle free earphones (flat ones) and magnetic earbuds that clasp together. Amazon Fire Phone is available with Xray for second screen functionality, ASAP support and video streaming to Miracast enabled devices. As far as that 3D interface is concerned, this one will follow the user around thanks to a head tracking system called Dynamic Perspective. It uses 4 cameras to do that, each with a 120 degree field of view and infrared light. They rely on a global shutter instead of a rolling one.
There was a demo on stage during the unveiling today, showing a picture's view as the user moves around. As far as software goes, the Fire Phone comes with "active widgets", that will show the last messages or emails in various communications apps. The Music app comes with a 3 panel design, with the left being used for navigation and the center for various controls, while the right is for lyrics.
The Fire Phone measures 8.9 mm in thickness, weighs 160 grams and in case you're wondering, the CPU mentioned above is a Snapdragon 800. We've got a 2.1 MP camera here upfront, WiFi channel bonding, a 2400 mAh battery and Fire OS 3.5.0 based on Android with Amazon Cloud Drive integration. One handed gestures are included here, an enhanced carousel as well and immersive apps and games.  What can I say, aside from sign me up for one!
Via Amazon