If you own a Samsung Galaxy Nexus and you envy the people who will buy a LG Nexus 4 today, don't! At least when it comes to software choice… since now you can get Android 4.2 on your Galaxy Nexus. The software is rolling out slowly to these devices and if you're impatient, you can manually download it from here.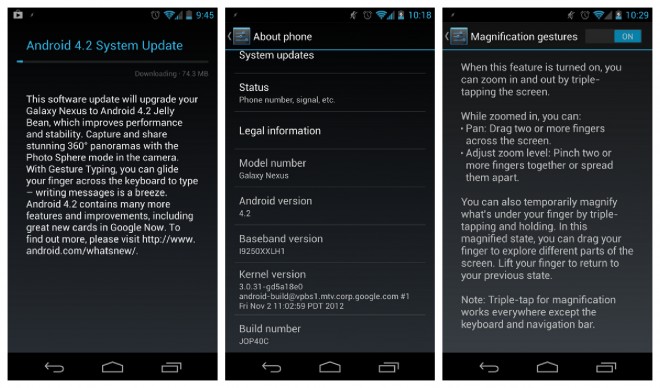 There are new features here, ones that the media hasn't covered like the magnification gestures. Other new features include the Quick Settings area, multi user accounts (only on tablets) and improved Google Now. The idea with the multiuser is that many people share devices with family members, but each one has a specific collection of apps or preferences. As far as Quick Settings go, this area allows users to instantly access the most frequently used settings, like brightness, WiFi, data usage, battery life, toggles for Bluetooth, Airplane mode and the likes.
Android 4.2 also introduces a new phone-style 10 inch tablet user interface, that was first seen on the Nexus 10. The "dock" is across the bottom of the display in landscape mode, for example. The notification area is also a bit different on the 10 inch tablet compared to a phone. The standard notification center is accessed via  swipe down from the top of the left half of the screen, as for the Quick settings menu, that's accessible by swiping down from the right half.
Google Now's improvements employs the Google Knowledge Graph, that brings up quick stats related to the search query, plus relevant links. Another improvement in Android 4.2 is the Photo Sphere, that allows you to stitch together a 360 degree panorama. So, did you get these on your Galaxy Nexus?