The big day came, September 10th and the Apple event was surprisingly short. It was a bit over an hour in length and featured a small Elvis Costello concert in the end. The real star of the show, however was the iPhone 5S. This flagship brings a couple of improvements to the iPhone 5, but the screen is not one of them.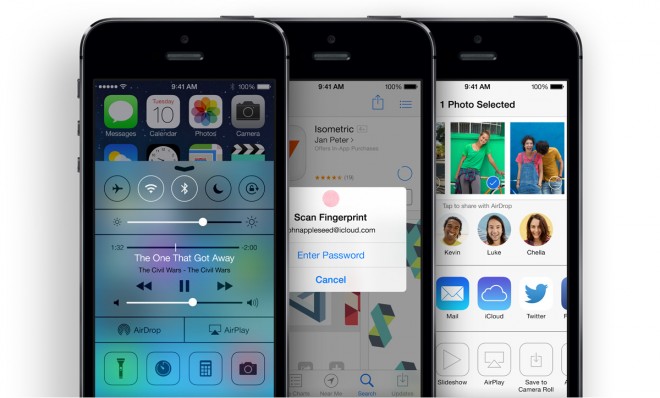 The handset is called "the most forward thinking phone we've ever created", as Tim Cook claims. We've got a biometric fingerprint sensor called Touch ID On board, mounted inside the Home button area, just as it was rumored. This system can be used for authenticating purchases in iTunes and also unlocking the phone. Apple claims that this sensor can read sub-epidermal skin layers and it comes with 360 degree readability.
There's a ring around the Home button used as the detection sensor and the button will now be made of sapphire crystal. Moving further, the device packs a 4 inch 1136 x 640 pixel display and overall the handset design is the same. This time the phone comes in 3 new colors: silver, space gray and gold, once again as rumored.
There will also be a bunch of cases available, including black, blue, brown, yellow and beige ones, made from leather. Another novelty is the fresh CPU Apple A7, the world's first 64 bit chip on a smartphone. It's said to be more than 40 times faster than the power of the CPU on the original iPhone and twice as fast as the iPhone 5 CPU.
We've also got a coprocessor on board, the M7, that collects data from various sensors, like accelerometer, gyroscope and compass. The 8 megapixel camera at the back features a 5 element lens, a F2.2 aperture and a 15% larger sensor area, which allows more light to get in. The flash is an important update, so now we get a dual LED one, with a True Tone tech, that involves a LED for cooler tones and one for warmer ones.
The camera does 120 fps 720p video capture and slow motion capture, as well as 10 photo per second burst captures. iOS 7 is obviously present here, with a upgraded Siri, iTunes Radio, new ringtones and the "gradient"-based UI. The product comes to stores on September 20th and it's priced at $200 for the 16 GB version, $300 for 32 GB and $400 for the 64 GB unit, with 2 year contracts. Sounds appealing or is it time to get an iPhone 5?