AT&T and Pantech have just unveiled the Impact and Reveal models, that you can check out in the images below. Pantech Reveal is quite a cheap-looking phone, that packs a small screen, mostly because the rest of the front side is eaten up by a dedicated numeric keypad, although there's also a sliding QWERTY keyboard underneath.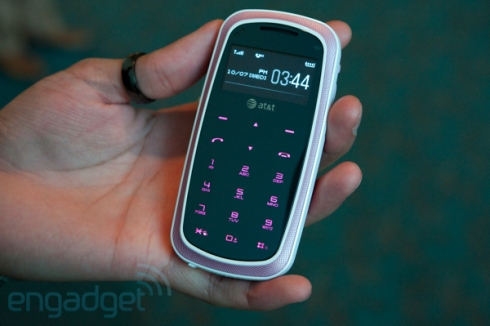 Pantech Impact is pictured above and comes with a glossy black surface, that can light up and reveal a monochrome display and a numeric pad, all basic features. If you press the pad's buttons you trigger haptics and you can feel your way around the keys.
Also, one can open up Impact and reveal a full QWERTY keyboard with dedicated buttons for key features and a color display, plus stereo speakers on the sides. The screen is pretty big and impressive, but also useful when it comes to full HTML browsing. Pantech Impact will be available for under $80, starting next month.
[via Engadget Mobile]