As expected Nokia announced the Lumia 900 model today, a handset previously codenamed Ace and awaited/rumored for a long while now. Just like the speculations said, this is a bigger Nokia Lumia 800, with a bigger display, front camera and LTE connectivity as extras. The rest is the same, including the CPU, camera, RAM and OS of choice – Windows Phone Mango.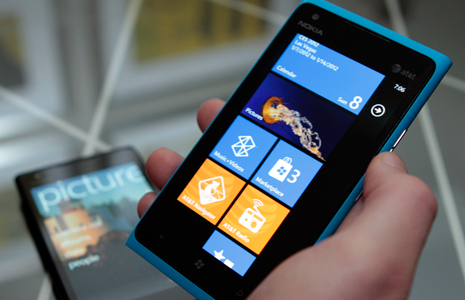 AT&T will be launching this LTE newcomer, that will also provide HSPA in countries that don't yet have LTE and speeds will go to 21Mbps in downloads. As you can see the polycarbonate unibody design is still here, in spite of the rumors saying we were to expect a metallic case on this baby. Not that there's anything wrong with this design, that the N9 made popular… And now here's the specs list of the Nokia Lumia 900 and a hands-on video after the break:
Display: 4.3 inch, AMOLED ClearBlack, 800 x 480 pixels
CPU: 1.4GHz, Qualcomm Snapdragon APQ8055 + MDM9200
Connectivity: LTE, HSPA, WiFi, Bluetooth, NFC, A-GPS
Battery: 1840 mAh, 7 hours of talk time
Memory: 512MB RAM, 16GB internal
Camera: 8 megapixel, Carl Zeiss, dual LED flash, 720p video capture, 1MP front cam with 30 fps capture
The handset measures 11.5mm in thickness, weighs 160 grams and it will probably come to the USA first, if my deductions from the ads for the phone are right. I'm expecting a price tag that's only a bit higher than the one of the Lumia 800 here and considering that the rumors point towards a $100 million marketing campaign for the phone, you'd better keep your eyes peeled for unusual promotions involving the Nokia Lumia 900.