After a leaky week over at Dell's, with those 4 smartphones and all, now we've come across the company's roadmap, that also includes Android-based netbooks. We're talking about Athens and Sparta models, mentioned in the image below.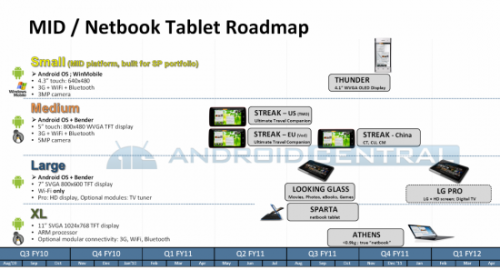 Dell Athens is an 11 inch netbook with a swivelling part, Bluetooth, 3G, WiFi and an ARM CPU. Sparta keeps some of the specs on Athens, except for the fact that it's a netbook tablet, so it's very likely that it features a touchscreen. We also have to mention that the Roadmap includes the Moblin logo in the "medium" and "XL" categories, so it's likely we'll see devices based on this platform.
By the end of 2011, Dell will already have quite a nice bunch of Android devices, that will give a decent market share, in the smartphone, tablet and netbook segment.
[via Phandroid]