Less than 24 hours ago Google announced some products that we were all waiting for: the Google Nexus 7 tablet made by ASUS and Android 4.1 Jelly Bean. They also gave us the Nexus Q gadget, a sort of a mini Android PC, able to stream content from your Android devices. Let's see what each of these products brings.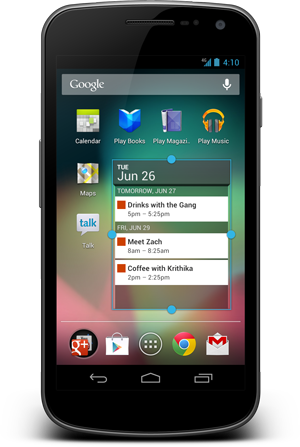 First is Android 4.1 Jelly Bean, that now provides a faster and smoother experience, increasing system frame rate to around 60 fps and also adding a power saving feature, that makes the CPU on the devices work at a lower frequency in standby mode and increase it back when the user touches the screen. Other features include Google Speech Recognizer, that gives the user voice-based typing even in absence of a data connection. The camera app also got updated and there's a new function called Google Now, that relies on search history and location history to deliver useful info.
The most important announcement from yesterday was the Google Nexus 7, a powerful 7 inch quad core Tegra 3-based slate made by ASUS. This device was long time rumored and everything turned out to be true. We get a 340 gram light device with a front facing camera, $199 price tag in the 8GB version, a 1200 x 800 pixel resolution and 1GB of RAM. The device is bundled with some movies and magazines and can be preordered right now in the UK, US, Australia and Canada. It will be shipping in the middle of July, just when the Android 4.1 Jelly Bean arrives officially on the likes of the Galaxy Nexus.
And finally we have the Nexus Q, a device shaped like a sphere, that will be used to stream music and video around the house. It will be controlled by an Android tablet or phone, it costs $299 and it has pretty much the same specs as a Galaxy Nexus, including 16GB of storage, the same CPU and the latest Android on board. It's sort of a mini PC that's dependent on other devices for sharing content. Detailed video of the products are available below!