During yesterday's Google event, the search engine giant finally made official the Google Pixel 2 and Google Pixel 2 handsets, with OLED screens and Snapdragon 835 processors. All the rumors we knew, all the renders we had were spot on. However, there are a few surprises, like the fact the Pixel 2 camera already seems kickass, getting a huge 98 point score from DxOMark. Let's learn what the specs and prices are.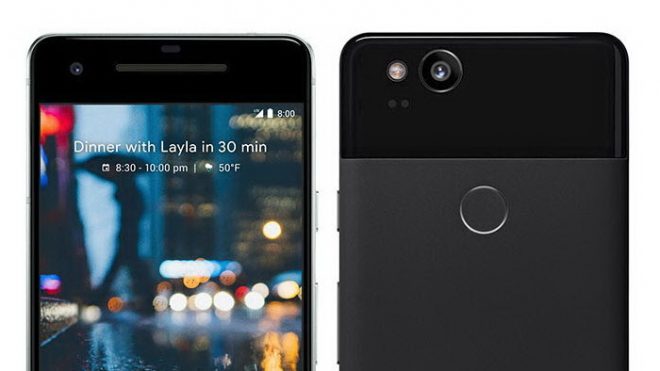 The devices combine a metal unibody design with an obvious front side glass panel and a smaller glass piece at the back. The bulk of the hardware is shared by the handsets, but let's see what's different.
Google Pixel 2
HTC made this Google Pixel and it's a rather odd duck. It has big bezels, especially below and above the screen, hosting generous stereo speakers. The phone is a 5 incher, available in black, white and a grey-blue. An interesting feature is the use of edges that once squeezed can trigger Google Assistant and other features, much like on HTC U11. Both Pixel 2 and Pixel 2 XL got this functionality.
Google Pixel 2 is waterproof and dust proof within the IP67 standard. It packs a 5 inch Full HD AMOLED panel, Snapdragon 835 processor, 4 GB of RAM and a 2700 mAh battery. There's also 64 GB of 128 GB of storage and no trace of microSD card slot. On the camera front we've got a main 12.2 MP shooter with dual LED flash and F/1.8 aperture. There's OIS, laser focus and PDAF, as well as 4K video capture.
Selfies are taken with an 8 MP camera and using software tricks Google offers a Portrait/Bokeh mode for the main camera. Dual Pixel autofocus is also here and the device is able to pull a better stabilized focus. The phone runs on Android 8.0 Oreo with a Pixel launcher and deeply integrated Google Assistant. Google also throws in gestures, Google Lens object scanning and just like the first Pixels we get unlimited photo backup in Google Photos.
Google Pixel 2 will be up for sale on October 17th, priced starting at $649 for the 64 GB version.
Google Pixel 2 XL
This is the bigger and better model of the two, thanks to a P-OLED 6 inch screen with an 18:9 aspect and a 1440 x 2880 pixel resolution. It has curved edges and corners, plus very narrow bezels. Since the phone is made by LG, it's very likely that the screen got borrowed from LG V30. The design is similar to the Pixel 2, albeit the front has narrower bezels. It's still all glass and metals.
Hardware specs include a Snapdragon 835 processor, 4 GB of RAM, 64 GB of 128 GB of storage and the same 12 MP/8 MP camera combo. This time the battery is a generous 3520 mAh unit. We've also got a back fingerprint scanner, stereo speakers, Bluetooth 5.0 and USB Type-C port. IP67 certification is in the mix, so water and dust proofing is available. The camera once again should amaze, with OIS, F/1.8 aperture, dual pixel autofocus and Bokeh/Portrait that's triggered via software.
Android 8.0 Oreo is the OS of choice, with deep Google Assistant integration, Google Lens and the Active Edge feature that lets you squeeze the phone edges to trigger the virtual assistant or a Song ID feature. This phone will be available from mid November, with a $849 price tag for the 64 GB model and $949 for the 128 GB one. It's available in black or white.