Minutes away from the launch of Windows Phone 7 we uncovered HTC 7 Trophy posted on German retailer A1's site here. The device runs WP7 and it packs a 3.8 inch touch display. It comes with HSPA, WLAN and GPS, as expected, but strangely enough it's posted that it'll go for zero euros, so it might involve a contract and monthly fee.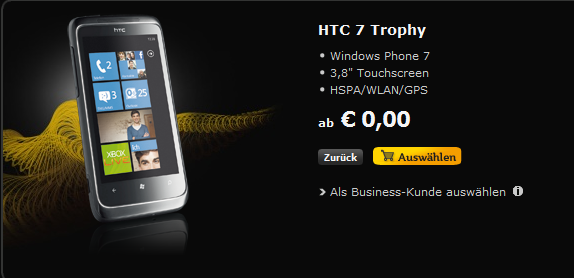 Last we heard, this device had 8GB of internal storage and it came with the HTC Sense Hub we've also seen in a batch of screenshots. Also spotted in Vodafone's systems a week ago, HTC 7 Trophy is supposed to feature a 1GHz Snapdragon CPU, 576MB of RAM and a 5MP camera, but nothing is for sure till we get an official confirmation.
The end of October is the supposed launch date, for Europe.