HTC Desire 10 Lifestyle is a sort of spiritual successor to the HTC Desire 816, 820 and 826 if you will, a model meant for the young people who listen to a lot of music. It's supposed to be a stylish music phone with golden accents and it was unveiled in September 2016. Late last year it came to us for testing purposes and what came out of that was the review after the break. This product is priced at around $235.
What stands out from the start is that this handset is using a pretty old chipset and it also comes with midrange specs, but also high res acoustics, 24 bit to be more precise. It's available in a couple of hues called Stone Black, Polar White, Royal Blue and Valentine Lux. The design involves a polycarbonate shell with metal edges and golden accents, which may be elegant for some, but also kitschy for others.
It's a pretty massive device, even though it's not exaggerately thick at 7.7 mm in thickness or heavy, at 155 grams. It's actually much lighter than the 183 gram heavy Desire 826 and a bit lighter than the Huawei Nova Plus (160 grams). It's got a huge camera area, it feels alright in the hand and I noticed that the back has a tendency to get smudged easily.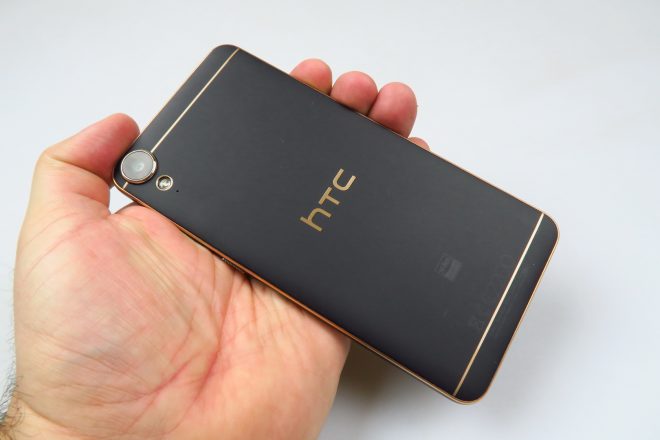 One hand usage doesn't come easy, since it's quite a long phone. It has comfy buttons, a solid build, but also rather big bezels. Its gold contour is shiny and looks pretty nice when the light shines upon it. In the end it all depends on your taste, but what's for sure is that the build is pretty solid here. As far as the display goes, we get a 5.5 inch Super LCD panel with a 1280 x 720 pixel resolution and Gorilla Glass protection.
Frankly, I wish HTC would have included a Full HD screen here, since even the companies making $99 phones are doing that. There's no video player, so we had to use the Gallery/Photos app. The viewing experience was a letdown, with poor brightness and contrast, plus poor vertical viewing angles. The colors are OK and the horizontal viewing angles are also rather good.
Pixels have an RGB Stripes setup and the brightness we achieved via the luxmeter test was 232 LUX. This is incredibly low, placing this phone almost dead last in our top 100 phones and more. We surpassed only the likes of Xperia E4 and Coolpad Modena, which are rather modest models. We also scored below the low lit ZenFone 2 Laser and LeTV 1S.
Settings for the screen include font size, brightness, color temperature (warmer, colder with a dedicated slider). There's also auto off backlight of capacitive buttons and motion launch gestures. You can double tap to wake, swipe left for homescreen right for Blinkfeed. Overall, the screen is a letdown, that's for sure. The CPU offered on this handset is a quad core Qualcomm Snapddragon 400, clocked at 1.6 GHz and this feels like pretty much an antique feature right now.
It's a 2013 CPU, a 28 nm unit with an Adreno 305 GPU and 3 GB of RAM in the mix. There's 32 GB of storage, a microSD card slot and sadly the device experienced some lag. It takes a while for it to start up and the graphics drag a bit in some of the high end games, like Riptide GP Renegade. As far as benchmarks go, in Quadrant we scored at the level of the Allview P8 Energy, but also below the Galaxy A3 (2016).
In AnTuTu 6 we got to the Galaxy J5 (2016) level, but also below the Huawei G8. In 3DMark Ice Storm Unlimited we even went below the HTC Desire 816 and above the LG AKA, which is not impressive. In GeekBench 4 we were below the Lenovo K6. As you can tell, the performance was far from impressive. I've seen phones that cost half with better performance, to be honest.
We also tested the temperature and achieved 35.3 degrees Celsius after running GFXBench and 41.3 degrees after running Riptide GP Renegade, which means there's a bit of overheating. HTC Desire 10 Lifestyle has a Li-Ion 2700 mAh battery, that sounds small for a 5.5 incher. On paper we are being promised 8 hours of video playback 50 hours of audio playback, or maybe 24 hours of 3G talk time.
Fast charging at 5V/1.5A is also available. Our HD video playback test gave us 8 hours and 30 minutes of functioning, which is rather OK and superior to the Xperia Z5 and Allview P8 Energy Mini. We also scored below the Huawei Honor 5X and Galaxy A5 first gen model. In PCMark we scored 5 hours and 33 minutes of continuous usage time, which is rather weak and places us 81st among all models.
Well, it's not the weakest though, since we beat the LG G4 and OnePlus One, at least. These results are less than the ones of the Huawei Honor 7 and Vernee Thor. Charging is done in 2 hours and 35 minutes, which is kind of long. At least it charges faster than the Xperia M5 and Huawei G8. Settings include Doze, Power Saver and Extreme Power Save, that only lets you use basic features and a tile based UI, everything in order to save juice.
Overall, the battery is not very good, but also not the worst I've seen. On the acoustics front, on paper the best attribute of the phone we are treated to 24 bit Hi Res audio and BoomSound HiFi speakers, with Dolby also supported. We used Google Play Music here, without any type of equalizer, sadly. The music comes from the top part, the earpiece and also from the bottom, where the bigger speaker rests.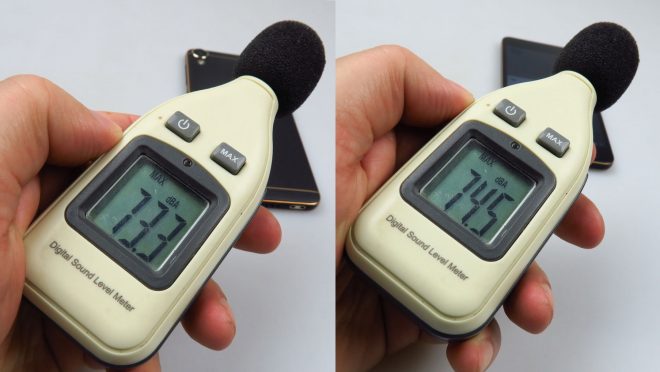 The sound is loud and clear, also very clean, without distortion. I heard a good voice being rendered here, well calibrated sounds and OK bass. The only software options provided by HTC are Music Mode and Theater Mode. Everything was peachy, till we actually pulled out a decibelmeter and started measuring. Upfront we achieved 74.5 dBA and at the back 73.3 dBA, using our usual audio test sample.
When playing Riptide GP Renegade we got to a much improved 82.1 dBA, but still far from our expectations. Frankly, it all sounds louder in real life. At least we surpassed the iPhone 6s and HTC Desire 820, but scored below the HTC One M9 and HTC Desire 816. The bundled headphones are not the Hi Res ones that take advantage of the device's cool tech, but rather regular HTC accessories.
They've not very comfy, they support BoomSound and let you tweak headphone type. They provide very good bass, nice isolation and come with a flat and tangle free wire. There's also a small remote here, FM radio support and overall we find the acoustics mixed, because my ear tells me everything is OK, but HTC has accustomed us to excellence.
I was expecting to be blown away, but I wasn't. Time to see if the camera impresses! We get a 13 megapixel back shooter with BSI sensor, LED flash, autofocus and F/2.2 aperture. There's also 28 mm focal length. At the front there's a 5 MP front cam, with BSI, F/2.8 aperture and 33.7 mm focal length. The camera app starts up fast, but takes pics very slowly. The zoom is fluid, but focus is slow. Flash, HDR and timer are a few of the options from the UI, very minimal even by HTC standards. There's resolution and aspect, plus modes like Panorama, Selfie Photo, Selfie Video, grid, auto exposure touch and HTC included an exposure slider. There are no modes, no extra options, no ISO, no exposure, no shutter, nothing.
The gallery of shots we've taken during the day involve pics taken at the end of December, on a sunny day, close to sunset. The panorama had an OK resolution, of 7970 x 690 pixels, good clarity and the closeups we did were pretty clear too. The HDR makes things a bit too white and we also recorded some blurred shots. Burnt backgrounds were also a problem, but in general we were happy with the clarity.
Landscape shots had reasonable details and the focus was good when it came to closeups. We photographed some toys in the park and met with a nice texture and lovely gloss. Selfies were only decent, nothing special and far from appreciated midrangers from ASUS or Huawei. There's still too much ghosting and blurring for me to be happy with the overall quality here.
The colors felt washed out and closeups and about 30% of pics are the only good things here. The focus is easy to play with, alternating between background and foreground. I also met with some very strange selfie colors and frankly speaking I can't feel the upgrade from the pretty decent HTC Desire 816 and Desire 820 shots, even though the years have passed.
We even scored below the Huawei Honor models from two years ago. I'd compare this unit rather with the Huawei Honor 4X, if anything. Low light photo capture features huge light sources (halos), ghosting and grain. There's a blue and violet hue, particularly in the sky area. We had an OK texture for objects, nice lighting, but not very nice colors. I think that even my own iPhone 5 can handle the night shots better.
At least the lighting and exposure were OK, but once again not impressive. On the video front, we filmed in MP4 format, at 30 FPS and with a 21 Mbps bitrate. The exposure change is OK, but the image was a bit shaky. There was also some burn and the zoom quality was poor. The microphone was OK and the colors were so-so at best. Focus was certainly the best here.
The red was much too vivid here, but in the end I've seen much worse than this. HTC has higher standards and I/we wanted more from them. Too bad! Low light video capture happens at 19 FPS and the result is a very yellow video, that's also blurry and foggy. Zoom was very, very poor, but the microphone was OK. The light sources were blurry, the image was shaky and in the end I wouldn't recommend filming at night.
I feel that a smaller Chinese phone maker could pull off a 13 MP/ 8 MP combo at much lower price and with better capture. As far as the browsing goes, we used Chrome to enter the web and it wasn't fast. Its benchmarks were also rather poor, in Vellamo and Sunspider. The virtual keyboard had huge keys and it was comfy. On the connectivity front, there are dual SIM slots here, nano SIM ones, plus GPS, Glonass support, 4G LTE Category 4, Bluetooth 4.1 and WiFi b/g/n.
There's a microUSB 2.0 port at the bottom and the calls we got registered an OK signal, good noise cancelling and they were clear. The volume wasn't very high though. Speed Dial is also here, by the way. We also took a SpeedTest and achieved 52 Mbps download speed via WiFi and 25 Mbps upload speed. 4G connectivity testing gave us 101 Mbps in download via 4G and 46 Mbps in upload, both pretty reasonable values.
The WiFi ones weren't very impressive though. HTC Desire 10 Lifestyle runs Android 6.0.1 Marshmallow, with HTC Sense on top. Multitasking is done via the usual carousel and the dropdown portion includes the usual notification and Quick Settings. The leftmost homescreen includes BlinkFeed, with videos from YouTube, posts from Google+, Linkedin, Twitter and even meal recommendations. There's also news sources galore, shown as tiles.
Keepind the homescreen pressed lets you trigger the Theme area, with a dedicated Store and the option to make your own theme. Then there are the wallpapers, widgets and page edit. You can also use a freestyle layout for your themes, letting you place stickers and widgets wherever, make them bigger, smaller or change labels as you please. No limits!
Sense Home is a widget we've seen quite a bit on the latest HTC phones, with special modes for use at Home, Out and at Work, displaying a collection of apps for each scenario. Settings let you personalize the look of the UI, font size, keyboard color, dialer color and more. The preinstalled apps list includes 40 apps, which is kind of a lot.
Many of them are uninstallable, though. One of the most useful ones are Boost, that lets you optimize and clear the junk for example. There's Instagram and News Republic, Record and Under Armour, plus Zoe Video Editor. So, it's all said and done now, so let's see the verdict.
Here are the Pros:
OK build
good display colors
customizable UI
pretty reasonable video playback time
good audio in real life
nice headphones
the camera has pretty good focus and closeups
lots of uninstallable apps
And the Cons:
kitschy contour
low screen brightness
some lag and overheating
no fingerprint scanner
unimpressive PCMark
low volume measurements
too few camera options
not a good camera overall, especially low light capture
HTC Desire 10 Lifestyle is a disappointing phone overall, because we're not used to see HTC making phones that are "just good, just OK, let's just make another phone and sell it". There are too many compromises and even the praised on paper audio isn't mind blowing, but just mid level good. If you like gold accents on your phone and only Facebook ready pictures, you'll appreciate the handset, but that's a small niche to fit into.
The music playback is also OK, but in the end nothing is truly special. The Desire series used to be really better than this… The updated price of the handset is here.