Most claims and rumors about HTC's upcoming device, the HTC M7, seem to come close to reality courtesy of the recent turnout by HTC's very own CEO. The handset is said to be the manufacturer's next flagship with plenty to offer in both looks and specs.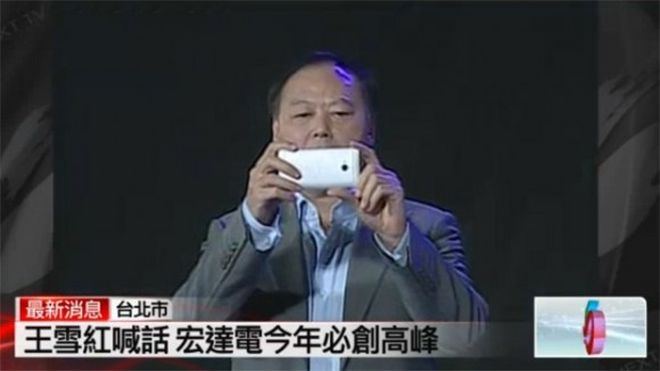 Recently it has been disclosed by some well placed sources that the HTC M7 may come in both a black variant and a white-silver one. Barely did the announcement flood the Internet that the handset surfaced in a video staring none other than HTC's CEO. Peter Chou was filmed holding the device for a shot,  more like teasing it. at the HTC Year-End Party in Taipei. The device seems to be every bit of what the most solid rumors have stated. It has an aluminium body and a screen size of no more than 4.7-inches. The unveiled in it's purest white-silver form. Video below:
The HTC M7 is said to be powered by a Qualcomm quad-core chip with 2 GB of RAM. The screen offers the 1080p resolution and is 4.7-inches in size. There is a 13 MP camera on the back and all the HTC goodies including ImageSense and Beats Audio.
Courtesy of @evleaks we can now take a look at another handset in what seems to be HTC's M line-up. The HTC M4 surfaced featuring a 4.3-inch display of 720p resolution and according to the source is powered by a 1.2GHz dual-core Snapdragon chip with 2GB of RAM. There is a 13 MP camera on the back and a 1.7 MP sensor on the front, along with a 1700mAh battery and Android Jelly Bean. Another handset to be unveiled is the HTC G2, coming in last place with a 3.5-inch HVGA display and powered by a single core 1 Ghz ARM chip with 512 MB of RAM. It offers 4GB of internal storage, microSD card slot, 5 MP rear camera,  and Android 4.0 Ice Cream Sandwich.