We've seen a bit of a scandal last year, when the Galaxy Note 3 was caught cheating in the AnTuTu benchmark and since then the confidence of the public in these tests has dropped dramatically. Now here's another reason not to trust them: the Huawei Ascend P7 handset was caught cheating in 3DMark.
Following the article from Anandtech, where there's a pertinent analysis of how Huawei cheated, Futuremark decided to sanction the device by delisting it from their top of smartphones and tablets. They quote "breaking the rules governing benchmark detection" as the problem. The P7 features a quad core Kirin 910T SoC, a 4 core Cortex A9r4 CPU that runs at a top speed of 1.8 GHz, accompanied by 2 GB of RAM.
This model is meant to average at 1.3 GHz in CPU clock during normal usage, but in benchmarks it has been found to throttle it up to 1.8 GHz all the time. The result in 3DMark Ice Storm unlimited is 7462 points and a special version of the benchmark, one not meant for the public achieved a score of 5816, which is the real one. This means that Huawei boosted the result by 28.3% and this also happened in GFXBench T-Rex, where the device got 12.3 FPS instead of 10.6, which would be the real score, without boost.
Huawei responded to allegations saying that the CPU configuration is adjusted dynamically according to the workload. They say that the P7 has the highest frequency of 1.8 GHz and that it only does that for a short amount of time. What do you think about this?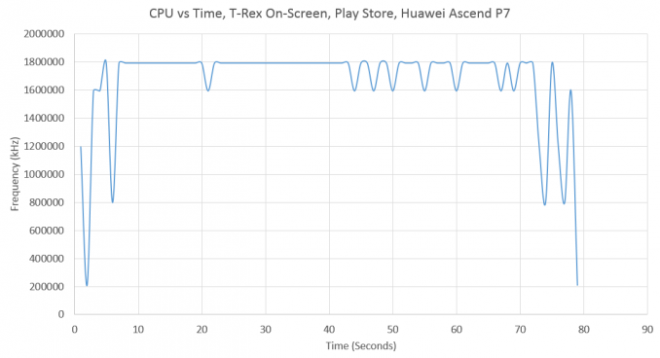 Via futuremark