re is a 6 inch phablet that at the moment I'm writing this piece is the most powerful Huawei phone and one of the most potent devices in stores. Launched globally at CES 2016, the product is priced at $627 on Amazon and we tested the 3 GB RAM/32 GB storage version, so I imagine the 4 GB RAM one is even more powerful.
Design-wise, we get a 6 incher here, with a metal body and an overall format similar to the one of the Huawei Mate S, but bigger. There's an aluminum body in the mix, measuring 7.9 mm in thickness and the handset weighs 185 grams. This makes it heavier and thicker than the Mate S (7.2 mm and 156 grams), but it keeps the same measurements from the Mate 7, that had the same thickness and weight.
I have to say that the Mate 8 feels quite light for a phone weighing almost 200 grams. It has great grip and the fingers are able to reach pretty much all over the screen, so we've got great ergonomics. There's a subtle curve at the back and the model we tested was matte and looked nice. Huawei Mate 8 comes in silver, gray, gold or brown and upfront we find the status LED, earpiece, front camera, sensors and a 2.5D glass panel, that's diamond cut and has small bezels.
At the back there's the main camera, with dual LED flash and fingerprint scanner below it. The antenna cutouts are pretty discrete. Moving to the top, this is where the microphone and audio jack are found, while at the bottom there's the microUSB port and speaker grilles (only the right grille hides one). To the left Huawei integrated a big gray, accessed with a metal key and hosting two nano SIM slots, one of them becoming a microSD card slot if need be.
To the right are the volume buttons and Power button, all of them comfy and offering good feedback. Overall, the Huawei Mate 8 is an elegant and compact phone for a 6 incher, plus it's good looking. Hardware includes a 6 inch Full HD display, a Huawei Kirin 950 processor (octa core, 64 bit, 16 nm FinFET+ technology) , with 4 Cortex A72 cores clocked at 2.3 GHz and 4 Cortex A53 cores at 1.8 GHz.
There's also an i5 coprocessor, used for real time location services and an always sensing mode, that use up less power than you'd think. Huawei Mate 8 also comes with a Mali T880 MP4 GPU, 3 or 4 GB of RAM, 32 or 64 GB of storage and a microSD card slot, that supports up to 128 GB in extra storage. There's a 16 megapixel back camera in the mix, a front 8 MP shooter and connectivity options include GPS, Glonass, WiFi dual band a/b/g/n/ac, WiFi Direct, Bluetooth 4.2, microUSB, NFC and 4G LTE Category 6.
Sensors include a fingerprint scanner, G Sensor, gyroscope, compass, ambient light sensor, proximity sensor and hall sensor, as well as barometer. The battery included here is a 4000 mAh unit, which is great considering the LG V10 and Galaxy Note 5 have 3000 mAh units. On paper we are promised 17 hours of video playback and 20 hours of navigation, as well as 22 days of standby.
9V/2A charging is offered too and a promise of juicing up in 2.5 hours. A 30 minute charge should also provide one day of usage. During our HD video playback test, in a loop, with WiFi on and brightness at 200 LUX, we achieved 9 hours and 51 minutes of playback, which was good, but below 2015 flagships. At least we surpassed Samsung Galaxy S6 (9 hours and 49 minutes), Microsoft Lumia 640 XL LTE (9 hours and 49 minutes) and the Nexus 6P (8 hours and 48 minutes).
We scored below the iPhone 6S Plus (15 hours and 8 minutes) and Galaxy Note 5 (11 hours and 39 minutes), plus the ASUS ZenFone 2 Laser (11 hours and 11 minutes). In PCMark we got to 9 hours and 3 minutes, which is great, considering the ASUS ZenFone 2 Laser scored 8 hours and 16 minutes in this test, while the Galaxy Note 5 only went to 8 hours and 6 minutes. We also beat the Samsung Galaxy S6 Edge+, that reaches 7 hours and 52 minutes in PCMark.
Only battery phones can beat the Mate 8 in this test, like the ASUS ZenFone Max with 16 hours and 24 minutes or the Allview P8 Energy, with 16 hours and 20 minutes. Charging took us 2 hours and 11 minutes, which is great, since it surpassed the time of the HTC One M9 (2 hours and 20 minutes), the OnePlus 2 (2 hours and 13 minutes) and HTC One M8 (2 hours and 30 minutes).
We scored below the Samsung Galaxy S6 Edge+ (1 hour and 5 minutes), Galaxy S6 (1 hour and 10 minutes) and LG G4 (1 hour and 43 minutes). Settings include a Battery Manager, one touch optimization, too, as well as a power plan section. That features a Performance mode, that auto adjusts the CPU and network usage, plus a Smart option and Ultra option, that only lets you use basic features to save more juice.
Then there are the Protected apps, that run even when the screen is off and we have a power use firewall included too. Options available here let you close apps that are power intensive and keep WiFi on off in sleep mode.
Now let's talk about acoustics. We have only on speaker on the lower right side and the Music app is totally EMUI material, with a minimal design and such. Options include a timer and no EQ sadly. The experience involves a vibrating handset body, mid level volume, so so bass and OK clarity. It's clearly not on par with last year's flagships, that's for sure.
Headphones are the same pair we saw with the Mate S and P8, with a big plastic body, big remote and they don't quite sit well in the user's ear. They do provide a loud and clear sound, OK bass, good isolation and they're not very comfy. FM radio is also here, with a very nice UI and a slow station scan. Settings related to acoustics don't include an equalizer, just the DTS option.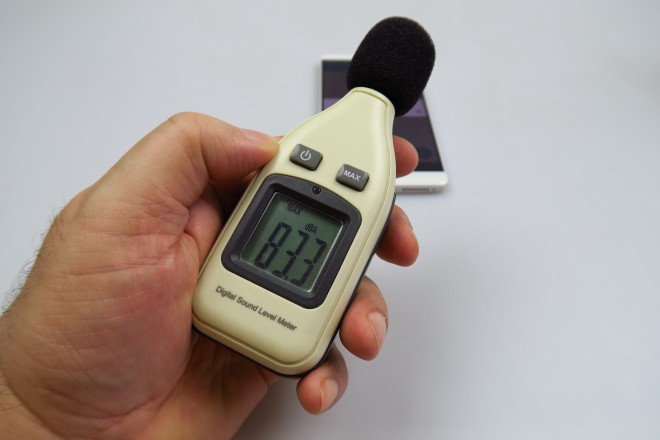 We did a decibelmeter test and got to 83.3 dBA, without any sort of muffling on a flat surface, which was good. We beat the LG G Flex 2 (82.9 dBA), OnePlus 2 (82 dBA) and Huawei Mate S (80.7 dBA), but we scored below the HTC One M9 (86.9 dBA), Samsung Galaxy S6 (89 dBA) an LG G4 (87.8 dBA). Now let's talk display! We're dealing with a 6 incher here, with a Full HD resolution and a panel made by JDI, of the IPS NEO LCD kind.
The screen has a 368 ppi density and it uses a 2.5D panel, with 1500:1 contrast and 95% color saturation. The video app has special settings for playback speed and DTS acoustics, while the actual viewing experience involves black edges, that are a bit annoying, vivid colors, good brightness and wide view angles. Contrast is good and sunlight behaviour was also nice.
Blacks are deeper than your average IPS LCD and pixels are of the RGB Stripe kind. We achieved a brightness of 423 LUX units, which is great and means we passed the OnePlus One (404 LUX), Lumia 930 (420 LUX) and Huawei Honor 6 (383 LUX). We got beaten by the OnePlus 2 (465 LUX), HTC One A9 (505 LUX) and Huawei Mate S (455 LUX).
Settings for the display include Color Temperature (default, warm, cold and a palette of colors to pick from), View Mode (small, medium, large), font size and brightness. Now it's time to analyze the camera, possibly the best feature of the phablet.
At the back there's a 16 megapixel shooter, with F/2.0 aperture, OIS, BSI CMOS sensor and dual tone flash. The sensor is a Sony IMX298, measuring 1/2.8 inches and using 1.12 micron pixels. The front camera is an 8 MP Sony IMX179, measuring 1/3.2 inches and using 1.4 micron pixels and F/2.4 aperture. The camera app opens reasonably fast and the UI is minimal.
To the left we find a shortcut to the main capture features like HDR, Watermark, Document Readjustment, Super Night, All Focus, Audio Note, Panorama, Professional and Slow Motion. The Pro mode brings forth a few of its own options, like a semicircle of setups for white balance, focus, exposure, ISO up to 1600 and shutter speed (from 1/4000 seconds to 8 seconds).
There's also a grid, horizontal leveller and autofocus auxilliary light. Video capture gets its own white balance, focus, exposure and metering in Pro mode. General settings let you choose a 16 MP 4:3 shot, 12 MP 16:9 capture or 12 MP in 1:1. There's GPS tagging and Perfect Selfie, a selfie template with predefined facial traits to apply.
The list goes on with Audio control, a timer, touch to capture, capture smiles, object tracking and volume button functionality. Image adjustments like saturation, contrast and brightness are here too, with sliders. The front camera has its own beauty slider and finally on the right side of the UI we find the Time Lapse option, Beauty, Light Painting (traces lights behind car tail lights, stary nights and waterfalls).
Video capture can be done in Full HD at 30 or 60 FPS and there's also a stabilizer option. Using the camera, we discovered it has a digital zoom of up to 4X, a mid level focus speed, fluid zoom and fast picture taking. Keeping pressed the screen you can access two virtual frames that can be moved around to set up metering and focus.
We took a gallery of photos using the Huawei Mate 8 and it all happened in mid February, on a sunny day. We registered vivid colors, crisp images, even in full sunlight and had a blast refocusing pictures using the Allfocus feature. Colors were vibrant and details were great, even in landscape shots. The Panorama had a generous resolution of 13.440 x 2240 pixels and when taking landscape shots we achieved good cloud representation and a good level of details.
Selfies were crisp and I liked the hair texture and background most of all. This camera combo is clearly better than the one of the Huawei Mate S, that itself was not shabby at all. We zoomed in at 4X in some shots and still lost no details, plus did some perfect closeups. I'd say this model is equal to the latest iPhones, if not superior, but its colors aren't as realistic as those of the LG G4, or ultra crisp like the Samsung Galaxy S6, but it's also not very far.
We then did a series of shots at sunset and we had good clarity, exposure and white balance her as well, but the HDR was a bit washed out. Details were once again great in lanscape. Finally, the low light capture came and blew our mind, since the Huawei Mate 8 was basically perfect in this test. It's the best low light capture I've seen in years and the biggest surprise since the Sony Xperia Z2.
There's no grain, no big halos for street lights and colors and details were great. Closeups are fantastic and Super Night made the images look like they did during the day. When it comes to low light capture, Huawei Mate 8 is superior to any iPhone, any Samsung Galaxy S model and the LG G4. Video capture was done in MP4 format, in Full HD at 30 or 60 FPS, but there's no 4K.
Bitrate was 24 Mbps in Full HD 30 FPS, or 47 Mbps in 60 FPS. The first video featured artificial colors, it was shaky and suffered from detail loss when zooming in. The clarity was OK overall, though. The slow mo clip looked fine and the third video was a 60 FPS one, with a crisp cinematic feel to it, some refocusing, but also good clarity and it was a bit dark.
We then did a stabilization test, that came out OK, without any focus loss, but I've been better. Video 5 was shaky again and colors felt airbrushed, while the sixth clip had us testing the clarity and OIS again, to good results. The red hue caught there was unrealisticly bright. When capturing video at night, we had OK street light halos, reasonable clarity and sadly a big portion of focus loss, refocus and darkness.
Last year's Huawei models also didn't excel in video capture, so this was to be expected. However, I went back to the Mate S videos and found that the Mate 8 ones are much better, by as much as 50%. Of course, they're not at the iPhone 6S Plus and Galaxy S6 level. The Gallery app is able to show your pics on a map and as a timeline, which is quite nice.
We did some editing and it included options to rotate, crop, filter, splash and illusion, to name a few. We then proceeded to measure the temperature of the device, reaching 33.3 degrees Celsius after 15 minutes of playing the game Riptide GP2, so there's no overheating here. It's true that the handset gets a bit hot after a long period of camera use.
Connectivity was also in our focus and we found that the Huawei Mate 8 supports 5 2G Bands, 10 3G bands and 18 4G bands. It has dual nano SIM card slots and supports WiFi 802.11 a/b/g/n/ac dual band. There's also WiFi Direct, Bluetooth 4.2, NFC, GPS, Glonass and microUSB 2.0. The dialer offers access to features like harassment filter, Quick Call, virtual HD call, Pocket Mode and Speed Dial.
Calls are loud and clear, with crisp sound and the mics on board are excellent. WiFi reaches a download speed of 20 Mbps and upload 27 Mbps, according to the Speedtest we did. In the Settings we also found WiFi+ and Signal+, able to connect to a router you've connected to before and use better connectivity when on a train respectively.
Then it was time for benchmarks and browser. The preinstalled browser here is Chrome, that offers a medium level speed, fluid scrolling and then we had a look at the keyboard. Its keys are a bit too big for my liking, but they're quite comfy overall. Swype is also available. The Mate 8 has no lag, uses a fluid UI and it's quite powerful, being able to run a 2 GB game like WWE Immortals, plus whatever else we threw at it.
Kirin 950 is a powerful processor and keep in mind this is only the 3 GB RAM version of the phone we're testing. We did a benchmark comparison with the Huawei Mate S, Samsung Galaxy Note 5 and iPhone 6S Plus and came out impressed. Here are the results:
The Mate 8 easily wins the battle in all aspects, perhaps except the GPU, where the iPhone defeats it. The CPU behind this great performance is a 16 NM chip made by TSMC based on FinFET+ technology and it even beats its predecessor, the Kirin 935 by quite a margin. Now it's time to say a few words about software. This model runs Android 6.0 Marshmallow with EMUI 4.0 on top.
Huawei Mate S had EMUI 3.1 on top of Lollipop and not many things have changed. The UI is still minimal and flat, taking some iOS inspiration. There's no app drawer here. If you keep the screen pressed, you will trigger the wallpaper and widget area, tweak transitions, layout of icons and home screen loop and rotation of the homescreen.
Multitasking isn't done with the usual carousel here, but rather with big thumbnails, that are scrolling around horizontally, looking like the older iOS. The dropdown portion is semi transparent and includes the notification shown in a timeline, Quick Settings and more. In the Settings area you can change the home screen style (Standard or Simple) and that place was where we found the fingerprint scanner and its options.
It's a very fast scanner and also has fast setup. It offers great accuracy and lets you take photos and video tapping it, or answer calls. There was also a section within the Settings, called Smart Assistance, that let the user change virtual buttons, trigger a floating widget with virtual buttons, access motion control options and set the Knuckle Gestures.
With those, you can use double knuckle tap to take a screenshot, tap plus keep knuckled pressed to cut a portion from the screen or press hard with two knuckles to record video from the device. You can also use your fingers to draw letters on the lockscreen and open up apps like this, or draw a line with the knuckle on the middle of the screen to trigger a split screen mode, or you can keep the Recents button pressed for the same purpose.
There's also a One Hand UI option, voice wakeup, smart cover features, smart headset control and glove mode. I can't help but wonder where the special fingerprint scanner gestures in the gallery and homescreens went, those from the Huawei Mate S, as well as Force Touch, since there's no trace of them here. Having a look at the apps, we found some bloatware and the list of preinstalled apps looks like this:
Google
Gmail
Maps
Youtube
Drive
Play Music
Hangouts
Photos
Google+
Play Books
Play Newsstand
Play Games
Play Store
Calendar
Settings
Gallery
Music
Video
Themes
Email
Clock
Files
Phone Manager
Health
Weather
Calculator
Notepad
Recorder
FM Radio
Flashlight
Mirror
Compass
Backup
Downloads
SIM Toolkit
WPS Office
Facebook
Twitter
Keep
Docs
Sheets
Messenger
Google Now Launcher
Slides
Clock
News and Weather
Calendar
Health is a new app, that measures calorie usage and steps taken, while Themes has a variety of customization options. We also showed you a case that came with the phone towards the end of the video review, as well as the lockscreen with its Previous/Pause/Share options.
And now it's time for the verdict.
Here are the Pros:
elegant and comfy
good looking
great PCMark battery life
OK charge time
bright and crisp display
good pictures during the day
perfect low light capture
huge performance
runs any games
no overheat
great benchmarks and connectivity
nice looking UI
And the Cons:
​video playback battery time could be longer
acoustics could be better
no EQ
black screen edges
video capture isn't exactly on par with flagships
bloatware
loss of features from Mate S (Force Touch, fingerprint scanner gestures)
This model is the highest performing unit one can get before the 2016 flagships are out and even then it may pose them some problems, with its great low light capture and great CPU. Everything is basically perfect on this phablet, minus the audio and video capture. It's a future proof device, that you can find priced at $627.