Huawei P20 Pro is arguably one of the most talked about Android smartphones at the moment. Why? Because of the chameleon color hue and the triple camera thing. That has yet to be copied by any other maker, unlike the much copied notch. Unveiled at the end of March in Paris, the Huawei P20 Pro is the current Huawei flagship and while the camera is new, the CPU isn't. It's the same as the Mate 10 Pro, the Kirin 970. Priced at $999, the device gets our ultra in depth review below.
This device is part of a trio, that includes the P20 high midranger and also the P20 Lite. All of them have a notch and there's also a Porsche Design version, with two fingerprint scanners and the same specs as the P20 Pro. This is a handset, that's all about the AI and its cool camera features. Let's see what it offers.
Design
I'm totally in love with the gradient and "chameleon" hue of the device, the ones called Twilight and Pink Gold. There's also one called Midnight Blue and a Black one. We've got a 3D curved glass at the back and also 3D glass at the front. There's a metal frame between them, for extra solidity. This is certainly a curved machine, that comes with IP67 certification.
It means that the device is water proof and dust proof, but not to the max IP68 level. As far as measurements go, the handset is 7.8 mm in waistline and weighs 180 grams. This means it's 25 grams heavier than the ASUS ZenFone 5z and also 0.1 mm slimmer. Meanwhile, it's also 18 grams heavier than the LG G7. The notch is smaller and less wide than on the Huawei P20 Lite, or the LG G7 or the iPhone X.
The buttons on the sides are narrow and comfy and the handset provides a pretty good grip. One hand usage isn't exactly tip top and the back draws fingerprints and grease. There's too much dirt gathering around the lifted back cameras and it's very hard to remove and clean. It just sticks there, in a crazy sticky manner. The protruding cameras also tend to drag on a flat surface, a table of sorts.
I love the chameleon hues and the format is OK, comfy and premium for sure. Too bad for the fact it gathers lint around the cameras.
Display
Huawei P20 Pro packs a 6.1 inch AMOLED screen with a 2240 x 1080 pixel resolution, 408 ppi, 16.7 million colors and the notch doesn't bother me one bit. You can hide it via software, by the way. The screen has narrow bezels, 18:7:9 aspect and I feel that this is quite the jump from the Huawei P10 Plus and its 5.5 inch IPS NEO LCD Quad HD display.
The viewing experience involves great colors, wide view angles, great brightness (really great), solid contrast and a well calibrated set of colors. The blacks are deep for sure. Pixels have a Pentile Matrix setup, as shown by our microscope and we also did a luxmeter test, achieving 629 LUX, which is great. It's actually the third placed phone all time in our top, counting only the "Manual" brightness settings.
It's the brightest Huawei phone ever, beating many flagships like the Galaxy S8, Galaxy Note 8, Galaxy S9+ and Xperia XZ1. It's still not as bright as the iPhone X or the Moto Z2 Play. Settings include Brightness, Auto Brightness and Color + Eye Comfort. You can choose a Natural Tone, Color Mode and Temperature. The latter brings stuff like Normal or Vivid options. There's also a palette of colors to choose from.
Eye Comfort takes care of your eyes, with a slider that makes you use a cooler or warmer hue. We can also choose a Home Screen Style, between Standard or App Drawer one. Full Screen Display Apps fit around the new aspect ratio and there's also the Notch Hiding, View Mode, text size and screen resolution setup. You can set it to Smart, HD+ and Full HD+. Then there's Auto Rotate.
It's a solid screen overall and the best Huawei has ever offered.
Hardware
Now it's that part of the review where we discuss the full hardware. We've got a Kirin 970 CPU here, also spotted on the Huawei Mate 10 Pro by the way. It's an octa core CPU, which has a micro core i7, together with a combo of 4 Cortex A73 cores and 4 Cortex A53 ones. The GPU is a Mali G72 MP12 and we also get 6 GB of RAM and 128 GB of storage. There's no microSD card slot here.
There's no lag on this phone, the UI is very fluid, there's no problem with any sort of stutter or any weirdness. I felt the need to mention that, because when I first tested the iPhone X, I did run into some problems. We played a FPS game, which ran like a champ and it did get the device a bit too hot for my liking. I also played the game Riptide GP Renegade on it and turned it all the way up on the graphics department, that everything looked great.
We also did a bunch of benchmarks, like AnTuTu 6, in which we surpassed the OnePlus 3, Google Pixel XL and HTC U Ultra. We were placed below the LG G7 and iPhone 7, plus the Xperia XZ1. It's a bit underwhelming, especially in the 3D area, where we reached the 40th place. We also did an AnTuTu 7 test, which placed the Huawei P20 Pro above the Xperia XA2 and Motorola Moto X4, but below the Galaxy S9+ and Xperia XZ2.
In GeekBench 4, the multi core sub test we scored on the 7th spot, which is not that bad. We beat the Galaxy S8, Note 8 and Xiaomi Mi 6, but scored below the Huawei Mate 10 Pro and Xperia XZ2, plus Galaxy S9+. In Slingshot 3.0 we scored on the 20th spot, so once again the GPU is a letdown. It's even below the Galaxy S7 if you can believe it.
The temperature got a bit high, with 40 degrees Celsius in GFXBench and 37.9 degrees Celsius in Riptide GP Renegade. Aside from those results I actually felt the device getting overheated in games, FPS ones especially.
Battery
Huawei P20 Pro packs a 4000 mAh battery, which sounds like quite the upgrade from the Huawei P10 Plus , which had a 3750 mAh battery. The Galaxy S9+ had a 3500 mAh battery, by the way. There's also the promise of Super Charge, fast charge. We did a video playback test, which was actually very good: 15 hours 37 minutes of functioning time, which is great.
It beats out the Xperia XA2 Ultra and Galaxy S7 Edge, but scores below the Moto Z Play and Lumia 1520. In PCMark we also did good, with 11 hours and 57 minutes, which is great and places us on the 10th place. It beats the Xiaomi Mi 6 and Huawei Mate 9, plus Galaxy S8 and Galaxy S9+. It also scores below the Xperia XA2 Ultra, Moto Z play and Xiaomi Redmi 4.
Charging was done in 1 hour and 28 minutes, so that's not bad at all. It beats the Galaxy S7 Edge and Galaxy A8 (2018), so that's not bad. We also did step by step charging, with these results:
5 minutes: 11%
15 minutes: 31%
30 minutes: 52%
1 hour: 89%
These are all solid and in the Settings department we have Power Saving Mode (limits background activity), Ultra Power Saving Mode (only core apps). You can also darken the UI, turn down the resolution, keep WiFi on during sleep more and press an Optimize button. It's a great battery overall, I'd say the best for a Huawei.
Multimedia
The Huawei P20 Pro has a stereo speaker setup, with an earpiece at the top and another speaker at the bottom. Luckily none of them is easy to cover with the hand. There's also a Stereo+ mode here and the Music app comes without an equalizer, just the Dolby Atmos option. It has 3 modes: Smart, Film and Music. The latter offers you options like Open, Rich, Focused and Off.
The listening experience involves a Deep Bass and the device's back side vibrates pretty strongly. The song's guitar is very nicely heard and felt and so is the violin. It's a very loud experience. The upper speaker is a bit strident and tends to overpower the one at the bottom.
Stereophony is great and the sound was pleasant. There's no FM radio here and the bundled headphones come with an USB Type-C connector, since we don't have an audio jack in the mix. At least there's an adapter for a 3.5 mm port. That's an approach also done by the Huawei Mate 10 Pro, by the way. The headphones are as usual EarPods clones, by design.
They're a bit rigid, they have an OK volume and bass, but I wouldn't trade them in for the EarPods. We also did a decibelmeter test, achieving 85.9 dBA with an acoustic sample, which is an upgrade from the Huawei Mate 10 Pro and Nokia 8, but it's also below the Huawei P9 Plus and Huawei Mate 9. That's the result we achieved with the bottom speaker and the top one showed 79.5 dBA.
In Riptide GP Renegade we got to 98.7 dBA, which is pretty good, but no record breaker. It beats the Google Pixel 2 XL, HTC U11 and iPhone 8, but scored below the Nokia 8 and Galaxy Note 8. Stereo was solid, volume too, but I feel that it needs a bit more kick and better headphones.
Camera
Huawei P20 Pro packs the first triple camera on an Android smartphone. It has Leica technology still and here are the 3 cameras:
1. 40 megapixel RGB cam F/1.8 aperture
2. 20 MP monochrome cam F/1.6 aperture
3. 8 MP telephoto camera F/2.4
There's also a Color Temperature sensor, laser transmitter and receiver, plus flash. Huawei also put here hybrid zoom 5X and results are stunning. We have a picture of a crow holding a Cheeto in its beak and it looks amazing, being so far away. We also get OIS, 3x optical zoom, 960 FPS Super Slow Motion and Contrast + Phase Detection. Upfront there's a 24.8 megapixel selfie camera with F/2.0 aperture.
The device takes pictures pretty fast and the zoom was pretty snappy. Focus was also pretty impressive. And then there's the set of camera options. You can tweak colors (Standard, vivid, Smooth), Moving Pictures and the resolution has some strange options: 7 MP, 10 MP or 40 MP. No 20 MP? Odd. The 10 MP shots are pretty detailed, because they combine multiple shots into one.
RAW capture is available, Master AI with 4D Predictive Focus Points and the Modes are the following: Aperture, Night, Portrait (Beauty, Lighting, Artistic), Pro, Monochrome, Time Lapse, Watermark, Panorama, HDR, 3D Panorama, Slow Mo, Light Painting, Filter, Document Scan. The Pro mode lets you play with white balance, ISO, exposure, focus and metering.
The Lighting also has its own sub options like on the iPhone X: Stage, Classic, Soft, Split, Butterfly. Finally, video is shot in 4K, Full HD+ or 60 FPS Full HD, plus you can choose H.264 or H.265.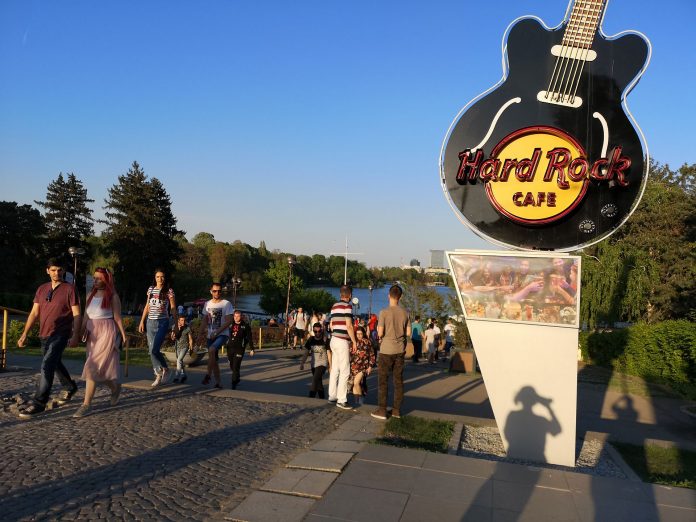 Now let's see the Day Time Gallery. We caught a pretty sunny day and had sme crisp and detailed shots. The details are much better than the latest iPhones even. I loved the color hues, minus the greens, which were seriously burnt in the sun. The green is way too vivid here and we blame that on the AI auto detection. There are also good things, like the fantastic zoom.
You can go up to 10X with surreally good zoom. Even 5X feels like optical zoom, not the hybrid zoom you are promised. I also liked the focus, which is miles ahead of the Huawei P9, which is just 2 years old. The phone is also capable of one of the best Bokeh shots I've seen, like ever. Google Pixel 2 XL previously had that title, but Huawei P20 Pro gives it a run for the money.
You can also take Portrait selfies, which are the equal of the iPhone X, no doubt about it. It also has those cool Portrait options, once again like the iPhone X. The Panorama is a bit modest, at 9600 x 2304 pixels. Selfies are superior to the Galaxy S9+ and Xperia XZ2 for sure. I'm calling it: best eyes, skin color and hair texture. Oddly enough all the colors were great minus the greens, which was also a problem with the Huawei P10 Plus.
Dynamic range was perfect, in the sun and the shade and HDR was also top notch. Monochrome shots are still artsy, but not as impressive as the first time I saw them on the Huawei P9. Their lighting is excellent though. Overall, I'd put the Huawei P20 Pro much on par with the Galaxy S9+ and iPhone X or the Pixel 2 XL. The areas it's better than them are compensated by the areas where it's lacking basically.
We did a bunch of indoor shots, which were a bit blurry at times and we also found some grain in the low light shots. The AI seems undecided at times, so you may want to switch to Pro/Manual. There's also a bit of a lack of focus at night, a bummer for a flagship. Clarity and brightness were OK in general and brightness was also solid. Flash and details are top notch and the zoom was once again solid.
The level of yellow is OK, not too much yellow, no orange or blue strange hues. Street light halos have a perfect size, not too big, not too small. Galaxy S9+ is brighter in night time shots and there were some frames which felt a bit orange. However, some other shots were some of the best I've seen. Look at that shot below and tell me it isn't wallpaper worthy.
The sky also looks mint to me, some of the best rendering of the sky ever. I'd say this feels like an 80% upgrade from the Huawei P10 Plus, which was a letdown at night. It's even an upgrade from the Huawei Mate 10 Pro, which is not bad. It's the best Huawei photo taker ever for sure. Except for the green hue and some weird blue.
On the video front, we tried a Super Slow Mo, which is just HD, but looks great nevertheless. However, I can't say it feels better or worse than the Xperia XZ2 or Galaxy S9+. The mic was OK with the music and voices, plus the cameras can handle the screens in great fashion. I took the phone to a God of War launch event and there were tons of lights, screens, smoke even and the P20 Pro handled them.
Focus was solid, plus stabilization too. Greens are poor again, bug the lighting is OK. I would dare to say that filming is not as crisp as the other flagships out there. We played with Full HD, MP4, 30 FPS and 16 Mbps. 4K is filmed at 41 Mbps and looks perfectly crisp. That boat video though is a bit too blue. The church clip is a bit too burnt, but the clarity and zoom were OK.
The stabilization test felt bumpier than the Xperia XZ1 and Xperia XZ2, or the Galaxy S9+. 60 FPS was also satisfying and the one thing that kept bugging me was the color setup, even in 4K. To compensate for that, at least we have a great zoom on those swans. The front camera was rather poor, surprisingly so for 24 MP. I was actually fooled into believing that the front camera shoots just in HD, because the Full HD option is too well hidden.
Nevertheless, front cam filming is shaky, but keeps an OK skin texture for your face. It's ways below the Xperia XZ1. Overall, in spite of its accolades and awards, Huawei P20 Pro is inferior to the Google Pixel 2 XL and iPhone X, plus the Galaxy S9+. It's all about those colors… and it also needs some work in the stabilization department. Low light videos produced an OK zoom and a swift object tracking.
Things get "flakey" after a while and there's focus loss and shakiness. Lights dim out and things feel "liquid". There are shakes with your every move and that's unacceptable. Street light halos are poor, but the closeup filming is OK. This certainly feels like the weak spot off the phone and it even places below some midrange units out there.
Browser and keyboard
On the browser front, there's good old fast Chrome, with solid Sunspider results. We also have SwiftKey for input with Swype here, decently spaced and responsive.
Connectivity
Here the Huawei P20 Pro is packed to the gills with functionality, as it even has infrared, so you can control a TV set, set top box, air conditioner and more, even a projector. This is a dual SIM machine, with nano SIM card slots, WiFi a/b/g/n/ac, Bluetooth 4.2 + LE and NFC, as well as USB Type-C. 4G LTE Category 13 is here, as well as GPS, Glonass, AGPS, Beidou. By the way 4G applies to both SIMs.
Speed dial is on the table and we've got calls that were loud and clear, but the earpiece is way too small and you can easily cover it with the wrong part of your ear. We also did a SpeedTest or two, achieving 67.5 Mbps in download and 65.8 Mbps in upload. There's also WiFi testing, with 341 Mbps in download and 25 Mbps in upload achieved.
OS, UI, Apps
Huawei P20 Pro runs on Android 8.1 Oreo with EMUI 8.1 on top. There aren't many big changes from the Huawei Mate 10 Pro, at first sight. For multitasking we can rely on the carousel view and the split screen action. Iconography and menus are minimalistic and abstract, stuck that way since iOS 7. The leftmost homescreen is dedicated to the Google Feed and if you keep the homescreen pressed you can trigger the wallpaper, widgets (stock and some Huawei specials), transitions and settings for the layout, auto align, badge for apps, icons, loop and Google Feed.
The dropdown area includes notification and Quick Settings, the most useful of which being the screen recording probably. The black background makes things pretty sobre and business like. Settings are a different animal, with a plurality of options, like the Easy Projection, which feels like the Samsung Dex thing but without a DeX.
Just hook up your phone via USB Type-C to a monitor and you're all set, just like the Huawei Mate 10 Pro. We also found a storage cleaner in the Settings and a Security area, that we put to the test. The fingerprint scanner has a 12 step setup and a very fast screen unlock. It can also unlock the safe area and offer access to a variety of features.
Then there's Bluetooth unlock via bracelet and Face Unlock, which feels faster than the iPhone X one and on par with the ZenFone 5. A price Space and File Safe with encryption double checks your privacy and safety. I also had a glance at the Accessibility area, with One Hand UI, Motion Control, the drawing knuckle gestures and voice control. System navigation lets you use a single navigation key to go around, or even the fingerprint scanner.
You can also have virtual navigation buttons onto a floating widget, or a virtual bar button. The sky is the limit. We also checked out the preinstalled apps, 52 of them, which is quite a few. There's the useful Phone Manager, with some cleanup and virus scan, plus the Themes, Health, App Gallery, Notepad, Wallet, Translation, Booking.com, Instagram, eBay or Netflix.
App Twins lets you use two instances of Facebook and in the end I should probably mention that AI is part of the package, with 19 categories of sceneries recognized for pics. There's also AR Core support from the NPU. AI should also make functioning more lag free in the long run.
And now we've reached the verdict, so we go for pros and cons.
These are the Pros:
beautiful Chameleon hue
best zoom on the market
solid Bokeh capture
nice stereo speakers
infrared connector
great display
very good selfies
fast face and print unlock
solid battery
fast charge
OK software and connectivity
Projection mode is a plus
And the Cons:
long phone and a fingerprint magnet
GPU is not 2018 flagship material
overheating in games and long camera usage
the green hue in pictures and videos isn't top notch
video capture below rivals
OIS flicker
no waterproofing
poor selfie videos
bloatware
news more AI features
no microSD
Huawei P20 Pro has to be about 70% better than the Huawei P10 Plus, a much bigger upgrade than Samsung is offering from the S8 to the S9 for sure. Huawei doesn't settle with second tier flagships anymore. It's around $100 less than the S9+, it inaugurates a triple camera and it's once again, as usual for a few years for Huawei, the "iPhone of Androids". It has the best screen, audio and battery I've seen lately, plus a very solid camera.
It even beats the Huawei Mate 10 Pro with the same CPU. It can work fine as a journalist phone, paparazzi phone, thanks to the crazy zoom and it's totally lag free. The biggest thing about is that it can be purchased out of vanity for the mauve/chameleon hue, which is something people usually do with iPhones. This takes Huawei to a new level, but the GPU and camera compromises are things we can't get behind of.
Something more to fix with the Mate 20 Pro… Till then this is by far the best Huawei money can buy. You can get it here.