The past year has been marked by at least 3 reviews we did of Huawei phones, all of them with excellent cameras. Someone over at Huawei is picking excellent sensors for these devices, I have to say. The Huawei P8 Lite is no exception, so let's find out what makes it so special in the review below.
This model can be considered the lite/mini version of the P8, a device we already reviewed and liked. Announced in April, just like the big model, this product is priced at $250 on Best Buy. The design has a reasonable thickness of 7.7 mm, of course nowhere near as thin as the 6.4 mm P8. Huawei P8 Lite weighs 131 grams, compared to the 144 grams of the P8 and it feels very light in the user's hand.
The grip is good and this is one comfy phone. One hand usage is so-so, because the handset is rather long for a 5 incher, at 143 mm in length. The P8 in comparison was 144.9 mm in length and another difference is that the P8 Lite relies on plastic alone, while the Huawei P8 had a nifty metal body. In this case the body feels a bit cheap and it adopts a rectangular format, plus it ha thick bezels and less of an edge to edge illusion than the P8.
Corners are slightly rounded and the build is solid. In spite of being made of plastic, this device still adopts an unibody approach. The P8 Lite comes in black, white or gold and uses a fake metal frame (plastic as well). The front side includes the sensors, earpiece and selfie camera, while the back features the main camera and flash. At the top you can find the microphone and audio jack, while at the bottom, in spite of the two grilles, only the left one features a speaker and then there's also the microUSB port in there.
There's nothing on the left side, while on the right we find the volume buttons and On/Off button, with the latter being kind of small and not very easy to control. In the same area you can find the two slots, the microSD and micro SIM. Overall, I'd say this design is OK for the price, but it's below the quality of a Galaxy A model, for example, also in the midrange area, but pricier.
As far as hardware goes, this model comes with a 5 inch IPS LCD display, with a resolution of 1280 x 720 pixels. Inside it we find an octa core HiSilicon Kirin 620 processor, clocked at 1.2 GHz and using Cortex A53 cores. There's a Mali 450 MP GPU here, plus 2 GB of RAM and 16 GB of storage. At the back we find a 13 megapixel camera, while upfront there's a 5 MP shooter.
Connectivity-wise, there's GPS, Glonass, LTE Category 4, WiFi 802.11 b/g/n, Bluetooth 4.0, NFC and FM radio on the specs list. In the section we like to call Others we find the accelerometer, proximity sensor, compass and ambient light sensor. The battery is a 2200 mAh Li-Po unit, that on paper provides 380 hours of standby time and also offers 11 hours of talk time.
In our HD video playback test, with WiFi on and brightness at 50% we achieved 5 hours and 25 minutes, which is far from impressive. The P8 offered 6 hours and 55 minutes, while the Amazon Fire Phone got to 7 hours and the Galaxy A5 to 9 hours. This model fits in the same battery range as the HTC One M7, battery-wise, since that model scores about the same.
In the PCMark battery test we achieved 4 hours and 47 minutes, which is reasonably good. We beat the Amazon Fire Phone and its 4 hours and 38 minutes, as well as the Huawei Honor 6, with its 3 hours and 35 minutes. Still, we're below the Mstar S700 and its 4 hours and 58 minutes. Charging takes 2 hours and 41 minutes, which is reasonable, too.
This puts us on par with the Amazon Fire Phone, that requires 2 hours and 41 minutes as well to charge and also places us better than the P8, that needs 2 hours and 47 minutes to charge. HTC One M9 charges faster, with 2 hours and 20 minutes, as does the Galaxy A5, with 1 hour and 45 minutes. Overall, this not a bright model, just an OK one.
The Settings include a Power Saving feature and also Power Monitoring, that finds issues and optimizes consumption. Options here include Ultra, that only gives access to basic phone features and provides a black and white UI. There's also the Smart mode, that auto adjusts the CPU usage and network use, too. Finally, we've got the Normal mode, that slightly adjusts CPU and network usage.
A list of protected apps is made available as well on this handset, apps that are allowed to work or not when the screen is off. Finally, there's an option allowing you to keep WiFi on in sleep mode. Now let's see the acoustics! Huawei P8 Lite only has one speaker, hidden behind its lower area left grille. Its player adopts the same UI as the one of the P8 and Honor 6 models.
Settings include a timer and lyrics and there's no equalizer here. The speaker is easy to cover with the hand by mistake, while holding the phone in landscape for gaming and video consumption. The acoustic experience brings a loud volume, a vibrating back, an OK bass and good clarity. There's a bit of distortion at max level and the headphones are pretty much like the ones of the P8 and seem to imitate the Apple Earpods design a bit.
The pair of buds has an elongated plastic body, a tangling wire and the buds are a bit too big for my ears. They deliver a loud and clear sound, good noise canceling and good bass. FM radio is in the mix too, with a minimal UI and fast reception of stations. We tested the smartphone with a decibelmeter and achieved 82.9 dBA, which is quite good, especially since we beat the Huawei P8 and its 81.9 dBA.
We also beat the Huawei Honor 6 Plus and its 81.9 dBA, but we placed lower than the Oppo Find 7, with its 84.2 dBA, or the iPhone 6 Plus and its 83.8 dBA. Overall acoustics are good and now we analyze the screen. This one is a 5 inch IPS LCD with a 1280 x 720 pixel resolution and Gorilla Glass 3 protection. The pixel density is 294 PPI and the video player offers a pop up play style functionality.
The viewing experience is clear, bright and crisp, with vivid colors and wide view angles. I'm not a fan of the black edges around the screen, made to make it seem like it has a narrower bezel. Contrast is also not very impressive. Pixels are of the RGB Stripe kind here and the luxmeter has shown us a value of 365 LUX for the P8 Lite, which is good. We surpassed the HTC One M9 and its 362 LUX, also the Oppo Find 7 and its 354 LUX, plus even the Huawei P8 and its 346 LUX.
In spite of that performance, The P8 Lite is less impressive than some other midrange models, like the Wiko Rainbow, scoring 420 LUX in the same luxmeter test. Also, I should mention we weren't far at all from the Galaxy A5 and its 370 LUX, but that was only indoor. Outdoor, in the full sun the Samsung phone scores much, much more, 574 LUX.
Overall, this is a good display, for the price and there are also special settings to apply here. You can set up the color temperature, with a slider, from cold to warm and also set up the font size and activate or deactivate Smart Backlight. As far as the camera is concerned, we're dealing with a 13 megapixel BSI unit at the back and a front 5 MP shooter.
The back camera has an LED flash and F/2.2 aperture, while the UI is very much like the one we've seen on the P8 and Honor 6 models. This means it's minimal and resembles the iOS camera UI. The camera opens up pretty fast and on the left side we open a menu where we find options for HDR, Best Photo, Audio Note, Panorama and All focus, as well as Watermark.
All Focus lets you refocus after taking a shot and this option is also familiar from the Huawei P8. The Settings include the resolution, 13 megapixels in 4:3 (4160 x 3120) or 10 megapixels in 16:9 (4160 x 2336). Then there's GPS tagging and Perfect Selfie, that lets you create a sort of selfie template, then set up with smoother skin, whiter face and bigger eyes, plus a thinner face.
We've also got a beauty slider in the mix, going from 1 to 10. Other options are Mute, Audio Control, Timer, Touch to Capture, Capture Smiles (Auto), Object Tracking and Burst Shoot, plus functions associated to the volume buttons. Ultra Snapshot is here, together with ISO (up to 1600), white balance and image adjust (exposure, saturation, contrast and brightness).
The front camera menu also offers a special option that has to do with auto brightness and it's placed at the lower left area of the screen. The right side menu offers access to capture modes, like Picture, Beauty, Time Lapse or Video. Video has its own settings: Full HD stereo (or lower res), Beauty Mode, Object Tracking. Effects are also triggered from the same right side menu, like mono, vintage, blue or sweet.
If you keep the screen pressed you will trigger two crosshairs that once dragged on the screen will adjust the metering and focus. Zoom is fluid and focus is rather fast, but the picture taking is not that fast. I noticed there's an auto sharpen function here and HDR is suggested to you when need be. The gallery of shots we took was taken on torrid July days.
We started with a closeup indoor, with good texture and a powerful flash, that really lit up the next shot and didn't burn it. At night, at around 9 PM, the images got grainy a bit, but the colors were OK. We also took a selfie, that came out crisp, bright and clear, plus it had good details. Colors of the pictures were realistic, we had good exposure and the images were taken on a sunny day after a period of rain, so we could catch some still rain drops on flowers.
Closeups were very good, already a trademark of Huawei's for the 2015 models we tested so far. The P8 Lite even took some wallpaper-worthy shots, 3 or 4 of the pictures with flowers and leaves looking stunning. Color, details and quality were perfect in those images. We tried out the refocus thing and it worked great as well. From the dozens of pics we took, not one blurry shot was made, which is nice.
HDR worked fine in that picture of pigeons, removing the extra shadow in the previous shot. Even when you zoom into some of the frames, the quality will remain just as good. Some food closeups were taken as well here and finally an HDR of a statue was done in a bit of an unrealistic way. Panorama is quite wide, at 17.792 x 3008 pixels.
Overall, this camera is very good for a midranger and it beats some 2013 flagships, like for example the Galaxy S4, at least in my book. Many midrange models are beaten as well, those from this year and I mean here the HTC Desire models for example and even some Sony units. We put the Huawei P8 Lite on par with the Galaxy A5 as far as photo capture goes.
Video is taken in MP4 format, at 30 FPS, but the bitrate is kind of small, at 10 Mbps. The first video we took was a 720p one, with good colors, stabilization that wasn't as good and a grainy sky. Focus was OK. The second video was a Full HD one, with OK acoustics, some motion blur and poor exposure change, but reasonable colors. Video 3 was crisp, but again there were problems with exposure change when moving from darkness to light and viceversa.
When we zoomed in quality dropped quite a bit. Overall, the focus and colors were OK, but the video capture wasn't on the same level with the excellent photo capture. Editing is done via the usual rotate, crop, filter and adjust options, with watermarks and labels also offered as tweaks. We then measured the performance of the smartphone, through a temperature test.
We scored 43.4 degrees Celsius after playing 15 minutes of the game Riptide GP2, which means the device gets kind of warm, but not in a major way. The browser on board is pretty fast and the keyboard is comfy, plus it offers Swype as an option. The phone calling section comes with Speed Dial, Privacy Protect and a harassment filter. The call volume is loud and the sound is clear.
The benchmarks involved a comparison between the Huawei P8 Lite, Allview X2 Soul and HTC Desire 820. This is a battle of three octa core phones (Kirin 620 vs MediaTek 6592 and Snapdragon 615), with 2 GB of RAM and HD and Full HD resolutions. Let's see the results:
Quadrant:
Huawei P8 Lite: 9400
Allview X2 Soul: 14654
HTC Desire 820: 20058
AnTuTu:
Huawei P8 Lite: 35596
Allview X2 Soul: 27630
HTC Desire 820: 31406
NenaMark:
Huawei P8 Lite: 60.2 FPS
Allview X2 Soul: 57.2 FPS
HTC Desire 820: 59.9 FPS
Vellamo:
Huawei P8 Lite: 1940
Allview X2 Soul: 2624
HTC Desire 820: 2390
3DMark:
Huawei P8 Lite: 5656
Allview X2 Soul: 7138
HTC Desire 820: 9276
GeekBench 3:
Huawei P8 Lite: 591/2600
Allview X2 Soul: 445/2464
HTC Desire 820: 666/2522
GFXBench:
Huawei P8 Lite: 5.6 FPS
Allview X2 Soul: 8.7 FPS
HTC Desire 820: 15 FPS
SpeedTest:
Huawei P8 Lite: 19/20 Mbps
Allview X2 Soul: 12/19 Mbps
HTC Desire 820: 24/21 Mbps
BrowserMark:
Huawei P8 Lite: 1045
Allview X2 Soul: 818
HTC Desire 820: 1461
SunSpider:
Huawei P8 Lite: 1618
Allview X2 Soul: 1074
HTC Desire 820: 1452
BaseMark X:
Huawei P8 Lite: 11415
Allview X2 Soul: X
HTC Desire 820: 10351
Overall, this model wins 3 out of 11 tests in front of the HTC and 6 out of 11 in front of the Allview. It doesn't suffer from lag and it runs Riptide GP2 and some other 3D games just fine. Its CPU may not be on par with the Snapdragon 615, but it's also not far from it. As far as the OS and UI go, this unit runs Android 5.0 Lollipop with Emotion UI 3.1 on top.
Remember the P8 review? Well, everything we had to say about its software applies here, so I'll be brief. There's no app drawer, so all the apps are on the homescreens directly. Multitasking is done through a series of thumbnails like on the HTC handsets. The UI is flat and colourful, plus also minimal and borrowing from iOS heavily in the camera and a few other apps.
If you keep the screen pressed you will be able to tweak the wallpaper, widgets, transitions, layout and screen loop. The dropdown area features notifications, shown as a timeline, with hour included, plus Quick Settings, shown in a transparent menu. The usual options are available here, plus a Screenshot feature as extra. Settings are also minimal, but with colourful icons included.
You can set up the screen style, tap and pay functionality, Do Not Disturb, security and Motion Control (draw letter to open app from the locked screen, double tap to wake and flip to mute). The nav bar is customizable and there are also One Hand UI options here, the Suspend button (floating widget with virtual Android buttons) and Gloves mode.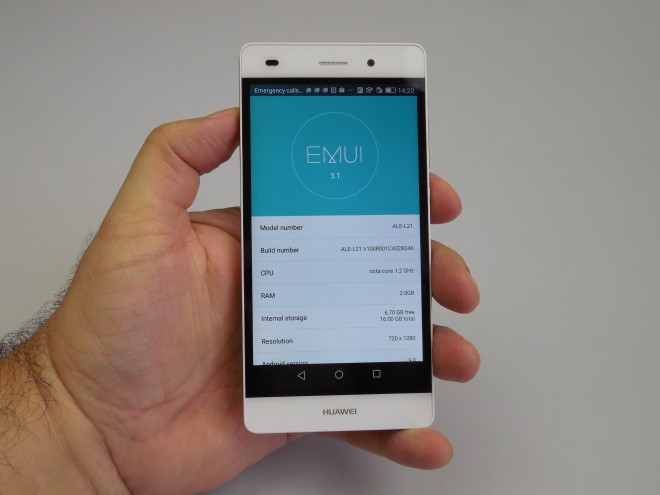 The preinstalled apps list includes the following apps: we've got the Google suite, Phone Manager (taking case of memory cleaning, harassment filter and battery), NotePad, Themes (with customization options), Calendar, Files, Twitter, Zinion, To Do Ist, WPS Office, Huawei Wear, Weather, Calculator, Rec, Mirror, Magnifier, Backup, HiCare, Updater and a folder filled with games.
There's quite a bit of bloatware here, I have to admit. And now let's see the verdict!
These are the Pros of the Huawei P8 Lite:
affordable
light
good acoustics and screen
good picture quality
excellent closeups
no lag
And the Cons:
battery could be better (video playback especially)
speaker is easy to muffle
black screen edges don't look nice
video capture not on par with picture capture
bloatware
We give this model a 9 for design, an 8.7 for hardware and another 9 for OS and UI. The final grade is 8.9 out of 10 and this is a very good midranger, especially when it comes to media creation and consumption via the screen, speaker and camera. Huawei P8 Lite is compact and light and it has a very good price for what it offers. It's not as premium as the Galaxy A5, but it's a very solid alternative to it.