The iPhone 8 went live over the past hours and it's more of an iPhone 7s affair, plus we also saw the iPhone 8 Plus being showcased by Tim Cook and co. The devices' main changes involves a glass back and a brand new chipset.
The smartphones keep the famous and familiar format we've seen over the past years and they also keep the capacitive button at the bottom of the facade. There's a brand new hexa core Apple A11 Bionic processor inside, 2 or 3 GB of RAM (2 on the iPhone 8 and 3 on the iPhone 8 Plus). The stereo speakers are louder now and the glass is said to be very durable, the one at the back.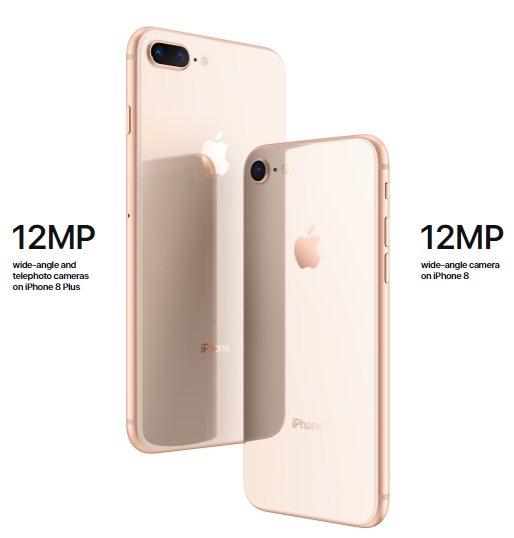 These are still 4.7 inch and 5.5 inch screen handsets, but they use panels with 3D Touch, Cinema Wide Color and True Tone technologies. The two phones are water resistant and also dust resistant. As far as colors go, we get Silver, Space Gray and a new kind of Gold hue. The cameras are 12 MP affairs, a singular one on the iPhone 8 and dual on the iPhone 8 Plus.
A brand new ISP has been bundled with the Apple A11. The video capture has evolved, with 4K 60 FPS capture and slow motion Full HD 240 FPS recording. The iPhone 8 Plus uses a main 12 MP shooter with F/1.8 aperture and a secondary one with the same res and F/2.8 aperture, but also telephoto lens. The latter brings a function called Portrait Lighting, which swaps the lighting conditions and effects in the photo, by scanning the scene and finding the face of the person, then getting rid of the background basically. It can also alter the facial lighting dramatically.
Apple claims that the A11 Bionic chipset has 4 cores that are 70% faster than the two lower power cores in the A10 Fusion and the GPU is said to be 30% improved from A10. There's also wireless charging this time around and even though Apple didn't say it, my bet is that we still get 7 megapixel front cameras. I was also happy to find out that fast charging is now available, with 50% charge achieved in 30 minutes.
iPhone 8 and 8 Plus go on preorder on September 15th and on sale on the 22nd. The basic iPhone 8 is a 64 GB model priced at $699, while the iPhone 8 Plus starts at $799. There are 64 GB and 256 GB versions for both units.