The Karbonn Titanim S6 has been reviewed right here at GSMDome.com a while ago, but we only now got to post the detailed text review. We're dealing with a handset from India here and I have to mention that we've already reviewed the Karbonn Sparkle V, so we're familiar with this brand.
The Karbonn Titanium S6 is priced at around $173 in India and it's a dual SIM device that looks a lot like the Galaxy S4. It measures 7.6 mm in thickness, weighs 104 grams and it's longer than the Galaxy S4, plus wider and slightly rounded. It uses a polycarbonate glossy case, that's pretty slippery. It feels pretty solid and it's OK when it comes to one hand usage.
The handset has a bigger bezel than the Galaxy S4 and it comes with a protective screen layer already applied on top. There's a camera bump at the back and at the front we find an earpiece, camera, sensors and 3 capacitive buttons. At the back there's the main camera, LED flash and speaker, plus a removable back cover, that hides the dual SIM slots and microSD, as well as battery.
At the top we find the audio jack, microUSB port and at the bottom rests a microphone. To the left there's the On/Off button and on the right the volume buttons, but all of them have the same flaw: they're too thin to be comfy to press. This model comes in black or white and it won't win any beauty contests, that's for sure. As far as hardware goes, we've got an IPS LCD 5 inch screen on board with a 540 x 960 pixel resolution, while inside the smartphone we find a quad core MediaTek MT6582 processor, clocked at 1.3 GHz.
There's a Mali 400 MP GPU available here, 4 GB of storage, of which 2 GB are accessible to the user, plus 1 GB of RAM, a microSD card slot with support for up to 32 GB storage and at the back we've got an 8 MP main camera. There's also a 2 MP selfie cam and other specs include WiFi, FM radio, HSDPA, Bluetooth 4.0, GPS, an accelerometer, proximity sensor and a Li-Ion 2000 mAh battery, good enough for 250 hours of standby functioning or 300 minutes of talk time.
In our test, that involves HD video playback with WiFi on and brightness at 50% we achieved 5 hours of playback, which is OK for the price. We only say OK for the price and the fact we're close to the playback time of the Nexus 5. The charging takes 2 hours and a half and there's no power saving feature here. An objection would be to the fact that the charger jack tends to stick out too much from the microUSB port.
On the audio side, there's a speaker shaped just like the Galaxy S4 and as far as players go, we've got both a music app and Google Play Music. The volume is OK, sound is clear and the bass is so-so, but the notes are perceived OK. There's no muffling on a flat surface and we've got a stock EQ to play with. The headphones come with a flat wire and even they are a Galaxy S headphone lookalike.
They offer a big remote with one button, they've comfy, but sadly the experience they provide is poor. There's a hissing sound, no bass and muffled sound. Finally, the FM radio app is the stock one, with the usual Search, Speaker and Record options. We used a decibelmeter to measure the performance of the device and achieved 86 dBA at the back an 84.5 dBA at the front.
The volume is good, since we've above the iPhone 6 Plus, that scores 83 dBA and also above the Xperia Z3 and its 84 dBA. Overall the speaker is OK and headphones are poor. There's also a Bes audio enhance feature in the settings area. Now, let's have a look at the display. This one is a 5 inch IPS LCD screen with a 540 x 960 pixel resolution and it offers a bright and crisp panel.
The screen is oversaturated, but not by very much. It provides wide viewing angles and RGB stripe pixels and you should also know there's no video player on board, so we had to use the gallery app. In the brightness test we achieved 409 LUX units, on a white background, which means the Karbonn Titanium S6 is a pretty bright phone. It's still a bit below the Wiko Rainbow and its 424 LUX units.
There aren't any special display options to play with, though. As far as the camera goes, the Titanium S6 employs an 8 megapixel sensor with single LED flash and a 3264 x 2448 pixel resolution. The UI is very much the same with the one of the Google Camera app, but it's seriously lacking options. On the left side we've got Camera, Lens Blur and Video, while on the right there are the settings, including resolution (8 MP in 4:3 or 6 MP in 16:9), video res (480p tops), Lens Blur Quality (low or normal) and save location.
On the right side, if you don't swipe, you'll find the front camera shortcut, flash option, HDR, grid, timer and exposure. I have to mention that this phone provides very slow photo capture, a so so focus speed and fluid zoom, at least. Looking at the actual shots we captured, I have to mention they were taken on a cold and cloudy day and they appear to be a bit white-ish.
Colors are cold, but the image is pretty clear. We've got a good macro of a tiger, good lens blur of the same tiger and I must also mention that the images seem more vivid on the phone than on the PC. HDR is good, since it highlights details and overall the shots have OK exposure and white balance, but once again on the PC they seem to have a white hue. In good lightning the capture is a bit better and overall there were no blurry shots when taking pics and no focus problems.
The lack of a Panorama feature is very strange here and so is the lack of 720p filming. A full photo gallery can be found here.  There are very few camera options and the 3GPP 480 clips were a total letdown. The vids are taken in 640 x 480 pixel resolution with a max bitrate of 6 Mbps. The quality is weak, but the audio is somehow OK, although a bit echo-ey. Details are not good, the image has the white hue again, but at least there's no focus problem.
Stabilization is weak and exposure and white balance are mediocre. Once again, the lack of panorama and 720p video capture can't be explained logically… So, overall, we get mediocre pictures and poor video capture. You can also do a bit of editing, with the usual filters, crop, rotate options, frame, mirror, shadows, contrast options and much more.
Karbonn Titanium S6 reaches a temperature of 43.5 degrees Celsius after playing 15 minutes of the game Riptide GP2, which means it tends to overheat. The web browser on board has an OK speed and there's a comfy virtual keyboard in the mix, too. The phone section features a nice looking dialer, the Speed Dial feature and I have to mention the slightly weird SIM placement, with the two slots overlapped. The call volume was OK, quality was good and signal was pretty good as well. Background noise wasn't filtered enough, though…
And now let's see the benchmarks, that compared the Karbonn Titanium S6 with the Wiko Rainbow and Allview V1 Viper E. All of them have MediaTek MT6582 processors, 1 GB of RAM, but different resolutions. Here are the results: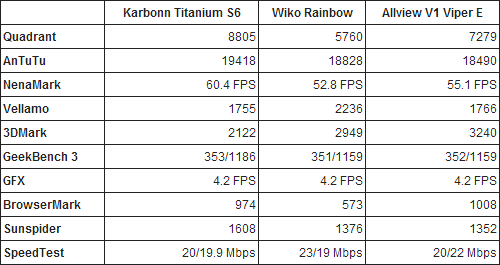 It appears that the handset wins about half of the battles and it also manages to run Riptide GP2 without flaw. In spite of that, the UI feels a bit laggy at times. The OS available here is Android 4.4.2 KitKat with a series of custom icons and it comes with a minimalistic and colourful approach. The widgets are of the stock and non stock kind and if you keep the Home button pressed, you will access Google Now.
If you double press Home, the multitasking area will be trigger and you'll be able to close apps by swiping sideways. Google Now includes a weather widget in the notification area and the Quick Settings are pretty much a standard affair. The Settings area includes Home (launchers) and other than that all the regular options we get on most modern devices. Karbonn Titanium S6 provides a pretty much bloatware-ish software experience, with many apps preinstalled.
We've got an alarm clock, Calendar, Chrome, Drive, Facebook, File Manager, Email, games like Gold Miner, Real Football, The Avengers and more, Google+ and Hangouts. There's a Torch, Maps, Movie Studio, Opera Mini, Photos, Quick Office, Sound Rec, Spider Man, To Do, Voice Search, Weather, Whatsapp, YouTube and at the end of the review we demoed a gesture widget, that's actually pretty nice to use.
Now let's see the Pros and Cons of the device.
Here are the Pros:
– OK battery for the price
– OK volume
– bright screen
– OK picture taking
– good performance (in 3D games and such)
– solid design
– Galaxy S4 lookalike
And the Cons:
– slippery
– no power saving feature
– poor headphones
– poor video capture
– few camera options
– overheats
– laggy UI
– bloatware
– little free storage
Karbonn Titanium S6 gets from us an 8 out of 10 for design, an 8.2 for hardware and an 8.4 out of 10 for OS and UI. The final grade is 8.2 out of 10 and overall I have to say that this phone doesn't exactly have a good camera and tends to overheat, plus it has bloatware, but you may be willing to forgive that for a sub $200 price tag. It's good enough to take Facebook-worthy pictures, it has a Galaxy S4-style design and maybe with a change of launcher it works better.