We've got Porsche working with RIM on the luxurious P9981 handset and now Lamborghini wants a piece of the mobile world. They've just announced 3 new handsets and a tablet, all of them based on Android, apparently. These are all luxury models, introduced in Russia. You can check out the first of the bunch below: Lamborghini TL688.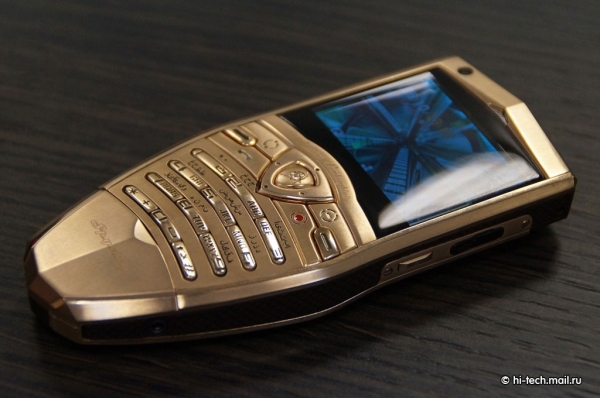 This handset is also known as the Spyder and it comes with a 2 inch QVGA display, a 3 megapixel camera at the back and 4GB of storage. It also has GPRS/EDGE connectivity and it's covered with hand-made leather. The price is around $2,000 and moving on to the device pictured below, this one is the Lamborghini TL 820, aka the Spyder 2, with a 2.4 inch VGA screen, 1GB of storage and support for 16GB more. There's also a 1200 mAh battery on board and a 5 megapixel camera at the back.
There's a VGA shooter at the front and like the first Spyder this one is covered with gold and leather. Lamborghini Spyder 2 has a price of $2,438. And finally we have a smartphone here, pictured below, the Lamborghini TL700. This unit costs $2,750 and gives you a 3.7 inch WVGA Sapphire Crystal screen, unknown Qualcomm CPU under the hood, 4GB of storage and at the back a 5 megapixel camera with a front VGA shooter. Other specs include a 1400 mAh battery and Android 2.3 Gingerbread, plus gold plating and crocodile skin as ornaments.
Finally we also have a fresh tablet from Lambo, the L2800, shown at the end of this article. The slate packs a 9.7 inch 1024 x 768 pixel screen, sapphire crystal screen, a 1.2 GHz Qualcomm CPU, 512MB of RAM and 4GB of storage. Dual 5MP/2MP cameras are on board and the device runs Android 2.3. It's priced around $2,000 as well.