I had a perfect play upon words with "like a G6" prepared for the Lenovo K6, but in fact it's not quite worth that kind of praise. Yes, it's a pretty solid midranger, but it does make a few compromises. This is a $200 handset, focused on selfies and music and it was launched last fall. Let's see just how good it is.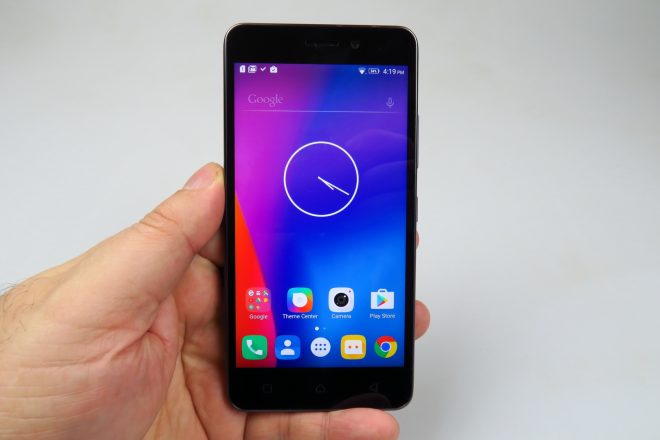 It's got a metal shell, a 5 inch screen and a generous battery to boot and it's available in silver, gold and gray. The design reminds me a lot of the UMi Touch, while the back side feels a touch like a Meizu model, maybe a Note series one. It's a well built device, with rounded edges, it's very comfy and provides quite easy one hand usage.
The unibody metal shell is quite classic, except for the part when the ports are placed at the top Lenovo K6 measures 8.2 mm in thickness, weighs 140 grams and this means it's 4 grams lighter than the Xiaomi Redmi 3S and also 0.3 mm slimmer. It's got an OK size and in the end it feels lighter than the figures tell you. It's also a hefty 1.3 mm thicker than the OnePlus X.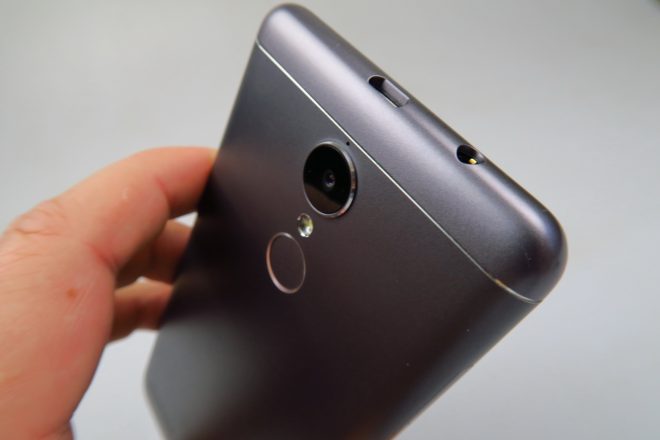 Buttons are comfy and in the end the look just OK and the phone won't win any pageant. As far as the display goes, it's a 5 inch Full HD unit, with an IPS LCD panel and since we had no video player in the mix to test it with, we had to resort to Google Photos. The viewing experience brought on OK brightness, a mid level contrast and absolutely no problem with the sun, visibility-wise.
The view angles are wide and the colors are well calibrated. Pixels are of the RGB Stripes variety and the luxmeter test revealed a value of 396 LUX units, which is good for a midrange phone. It surpasses the LG G5 and LG V10, but scores below the Huawei P9 Lite and Moto G4. Settings include brightness, Color Mode (Normal or Vibrant), font size and Brightness Protect (night time browsing).
It's a solid screen overall and let's see if it's paired with equally solid hardware. Inside we find an octa core Qualcomm Snapdragon 430 CPU, clocked at 1.4 GHz, with an Adreno 505 GPU also available. There's 2 GB of RAM here, 16 or 32 GB of storage and a microSD card slot. We've got no lag and we experienced a fluid UI, plus good performance.
The handset runs Riptide GP Renegade like nobody's business, so let's see if the benchmarks confirm it. In Quadrant it surprised us by beating the Nexus 6P, while in AnTuTu 6 we went past the Galaxy A5 (2016). In 3DMark Ice Storm Unlimited we were able to surpass the Xperia M5, but scored below the Moto G4. In GeekBench 4 we beat the HTC Desire 10 Lifestyle, so I'd say that for a midranger things are fine.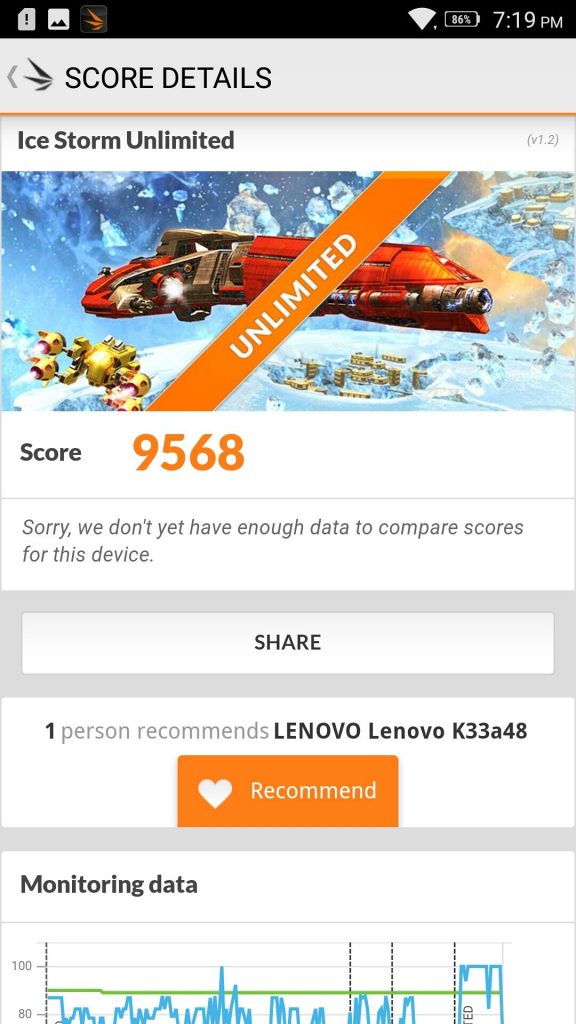 Still, while the performance is OK I wouldn't call this device future proof with its 2 GB of RAM. It reached a temperature of 35.3 degrees Celsius after running Riptide GP Renegade, so there's no overheating. Sadly, GFXBench wouldn't run. Time to see how the battery did! It's a 3000 mAh unit, which is rather generous for a 5 incher. In our HD video playback test it offered 8 hours and 6 minutes of playback, which is just OK and about on par with the Orange Dive 71.
It also beats the OnePlus 3 and Huawei P9 Lite and scored below the LG AKA and Acer Liquid Jade Primo. In PCMark, the continuous usage test, we scored 8 hours and 20 minutes, clearly a solid result and beating even the Galaxy S7 and Note 5. Still, there are midrangers like Huawei Nova or Galaxy A3 (2016) that reached a bigger score. Charging is done in 1 hour and 59 minutes, also good, especially since it beats the iPhone SE.
Settings include Battery Saver, Background app management and Ultimate Power Saver, which only lets you call and send a message. Then there's also Doze and overall I'd say we get a good battery here.
Moving on to acoustics, the first thing to notice is that we get the promise of Dolby Audio here and dual back stereo speakers. Google Play Music sends you straight ot a Dolby Atmos app, to use as the EQ, with modes like Movie, Game, Voice and Custom (volume leveler, dialog enhancer and surround virtualizer). There's also a manual graphics EQ.
The listening experience brought on a loud and clear sound, good bass and the notes were perfectly pitched and renders. No distortion came out and only a slight case of muffling cramped my style. The decibelmeter showed a value of 89.2 dBA at the back and 85.7 dBA at the front, when using our audio sample. We reached 94.4 dBA when running Riptide GP Renegade, which top 5 loudness in our tests and surpasses the likes of Galaxy S6 and OnePlus One.
We also scored below the BlackBerry Passport though. The headphones that came with the smartphone are made of cheap plastic and they're not comfy, so they tend to fall out sadly. They're also not very loud, but the clarity they offer is OK and the bass is rather good, plus Dolby really helps with its options. Finally, we also have FM radio.
On the camera front, we are treated to a 13 megapixel back shooter with autofocus, LED flash and a front 8 MP camera for selfies. The camera app starts up fast, but the focus is slow, just like the picture taking. I noticed that the UI is customized here, in a way similar to the one on the TP Link Neffos C5 Max. Lenovo K6 most likely uses a special camera app.
It's one that comes with a Smart Mode, able to identify the ideal scenery and situation around you. The modes offered here are Pro, Panorama, Art Nightscape, Artistic HDR, Fast Motion and Slow Motion. Then you can also set up the resolution and aspect, plus white balance, ISO, metering and leveling. When we get to the actual shots, the day time gallery was taken on a sunny day in early December, registering OK colors and clarity, plus good details in landscape shots.
About one in twenty shots was still a bit blurry. We also achieved some great selfies and excellent skin and hair texture, plus good brightness. Colors and lighting were solid for the main camera, but when zooming in we lost some details. Closeups looked fine and those colorful toys in the park had a nice gloss and texture. If you're patient to focus, you'll get rid of all blurred shots.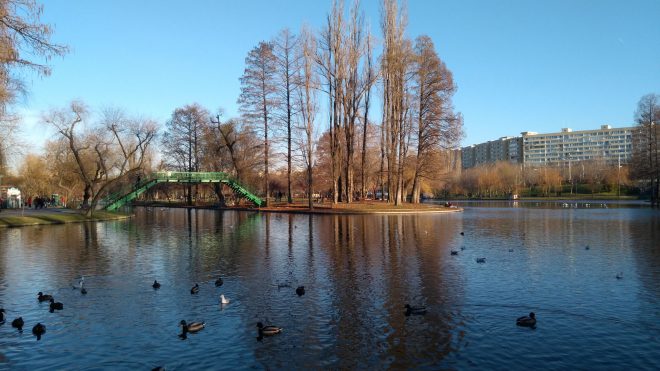 I noticed that the cam can't face strong sun head on and also when it's in the back of your shot, it may ruin the dynamic range. In the end Lenovo can't put out what Huawei is offering in the Honor range for example, or ASUS for that matter, but the K6 surpasses the Lenovo Phab Plus and quite a few sub $200 phones from China with 13 or 16 MP cameras.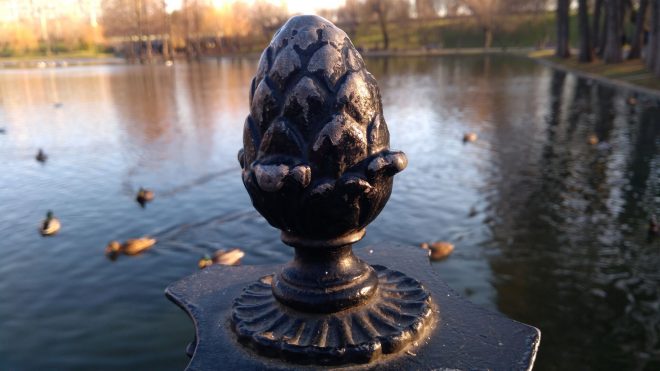 It's OK for the price, particularly the colors and selfies. Low light capture offered big street light halos, some blur, blue parts of the image (the sky which was also violet at times) and OK building texture. Colors are decent, the flash is pretty good and in the end the performance isn't memorable. Videos were shot in MP4 format, in Full HD, at 30 FPS and 20 Mbps.
They were a bit shaky, offered mid level colors and OK clarity and exposure change. The microphone was acceptable when it came to facing noise. Some focus loss bothered us, but went away in the end and the zoom didn't waste too many details. The background is burnt yet again, on account of the sun and some dynamic range problems were felt. Low light videos dropped to 14 FPS, but the light was OK and colors were nice. There was serious detail loss when zooming in, plus there were wind problems.
Street light halos were big and made the image yellow, plus there was the violet hue. Clarity was still reasonable and if you only film once a year when the fireworks are on, there shouldn't be any problem. You can forget about concerts though. The web browser of choice here is Chrome, with a mid level speed and modest benchmarks. We also have a comfy stock keyboard for input.
On the connectivity front, there's 4G LTE and dual SIM slots, with 1 slot being microSIM and the other nano SIM, or microSD, so it's a hybrid. There's also Bluetooth 4.0, WiFi b/g/n, GPS, Glonass and active noise cancelling, but there's no NFC. Calls include a Speed Dial feature and their volume was good, but not huge. At least the noise canceling as OK and clarity is also nice.
We proceeded to do a SpeedTest and achieved 91 Mbps in download on 4G and 45 Mbps in upload, both reasonable results, but we were let down by the WiFi's 49 Mbps in download and 25 Mbps in upload. Lenovo K6 runs Android 6.0.1 Marshmallow with tweaks and skeumorphic icons somehow. It's got a carousel for multitasking and a Clean All feature too.
The dropdown bit includes notifications and quick settings, plus a secure zone and a screenshot function. Keeping the homescreen pressed offers access to widgets (stock ones) and you can also choose your launcher. There's Vive UI with no app drawer and Android with an app drawer.
Transitions and layout are also tweakable. Settings let you modify the notification center and there's also something called Feature there. It lets you double press the volume button in standby to take a picture, double tap to light up the screen and then there's the Smart Scene function. Basically, you create a scene for each of your moments of the day.
There's a Scene for Home, Work or Out, with various settings related to GPS, brightness, Bluetooth or airplane mode. Finally Settings end with a Wide Touch floating widget, VR Mode and the fingerprint scanner. The scanner lets you take pictures by tapping it and it has a 12 step setup process for your print. It's accurate and unlocks the device with reasonable speed.
Now let's get to the apps. There are 32 of them preinstalled, which is rather OK let's say and you can uninstall many of them. You've got a search are and favourite apps at the top and the list includes Lenovo Companion, ShareIt, SyncIt and Theme Center for example. With the software done, it's time to dot the Ts and cross the Is and draw the verdict.
Here are the Pros:
comfy
OK display
no lag
decent performance
solid PCMark result
good charging time
loud and Dolby acoustics
great selfies
not much bloatware
And the Cons:
not future proof
GFX didn't run
video playback time could be better
vague camera options
the main camera isn't anything special
WiFi should be faster.
Lenovo K6 is a midrange phone good for selfies and listening to music, which makes it a youngsters' phone. It's got solid continuous usage and can handle the occasional game without overheating. The screen is bright, but those 2 GB of RAM won't keep you coming back to play games for long. The design is solid and comfy, which is another plus, but the camera felt average at best, during the day and especially the night.
In the end those who don't want a Huawei because it's too price, or a Xiaomi because they didn't have one before, could opt for a Lenovo K6. Its latest price is here.