I can't really remember when LG made such a good phone that it made all the headlines in the world. This is the case of the LG G2, that first took the world by surprise through its original format and then through its sheer quality. This device was tested by us at GSMDome.com and the following lines are its full review.
This smartphone goes for $649 on Amazon and it was launched this fall. It features an atypical diagonal of 5.2 inches and relies on what we could call an edge to edge screen. It's got a glossy and slippery case, that's plasticky but solid and also this model is discretely curved. It measures 8.9 mm in thickness and weighs 143 grams, but it feels much lighter.
LG G2 has a very thin bezel and its entire front is covered up with Gorilla Glass 3 protection. There's a dotted pattern at the back, under the plasticky layer used for protection. The design is original and we like it, although there are some people who simply can't get used to having an On/Off button and volume buttons at the back.
I got used fast to those buttons and probably you could as well. As far as the hardware goes, the LG G2 features a 5.2 inch True HD IPS Plus Full HD screen, a Qualcomm Snapdragon 800 quad core 2.26 GHz processor with Krait 400 cores and an Adreno 330 GPU. There's 2 GB of RAM on board, 32 or 16 GB of storage and no microSD card slot. By the way, the 16 GB version only offers 10 GB of actual storage.
On the connectivity side we've got LTE, quad band GSM/GPRS/EDGE, Bluetooth 4.0, NFC, WiFi, DLNA, WiFi Direct, GPS, Glonass and infrared. At the back we find a 13 megapixel camera with LED flash, while upfront there's a 2.1 megapixel shooter. We've got stereo FM radio here as well, plus an accelerometer, proximity sensor, active noise canceling and Dolby Audio tech.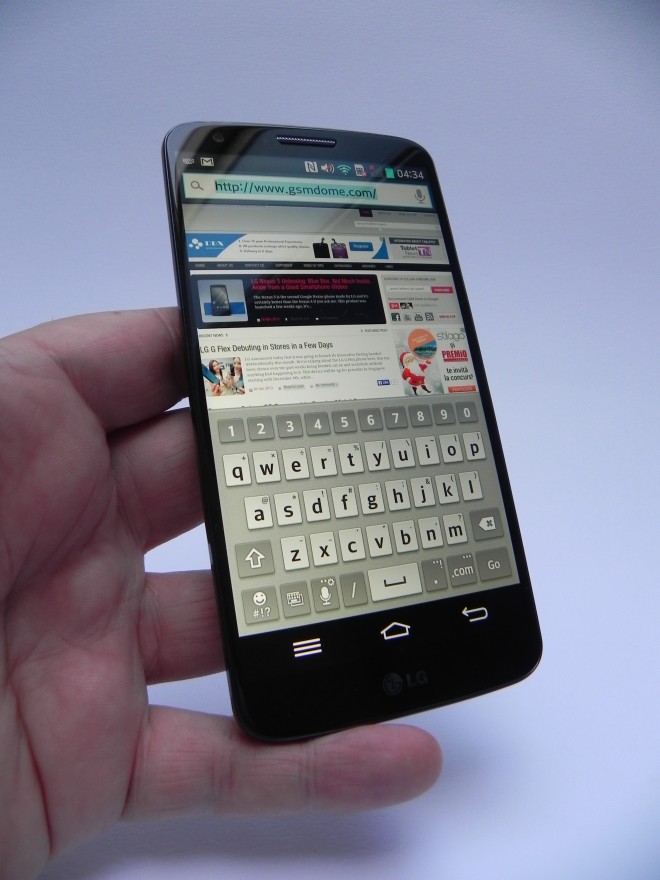 The battery inside this device is a Li Polymer unit, with a capacity of 3000 mAh. This battery offered us a staggering 9 hours and 15 minutes of HD video playback with brightness at 50% and WiFi on, which is pretty much the same behaviour as the Galaxy Note III. You'll easily get 2 days of moderate usage. As far as audio goes, the music player features a simple and minimalistic UI, with a nice and efficient EQ. The volume of the handset is reasonable and overall this is above the Nexus 5 in acoustics, but below the HTC One.
We've got good clarity, good bass, but also I must mention that sadly the speaker is easy to cover when you're gaming or watching video. I have to talk a bit about the headphones here. They're very comfortable to use and they're the loudest set of earbuds I've ever listened to. Overall, the audio is nice, being on par with the Galaxy S4 and Note III.
As far as video goes, LG G2 packs a 5.2 inch True HD IPS Plus Full HD screen and the video player on the device supports a wide variety of video formats, plus it has a pop up play style feature called Q Slide, that allows you to view the vids in a smaller external window on the screen. The player supports MKV and MOV files among others and also comes with AC3 codec support, which is rare for a default player.
The screen provides vivid colors, no oversaturation, great view angles, good contrast and good sunlight behaviour. LG G2 achieves 350 lux units on white and 3 on black, which is 50 lux less than the Nexus 5, but also not a very good performance on black, since it's not that deep. This is overall a very good screen, with well balanced colors and RGB Stripe pixels.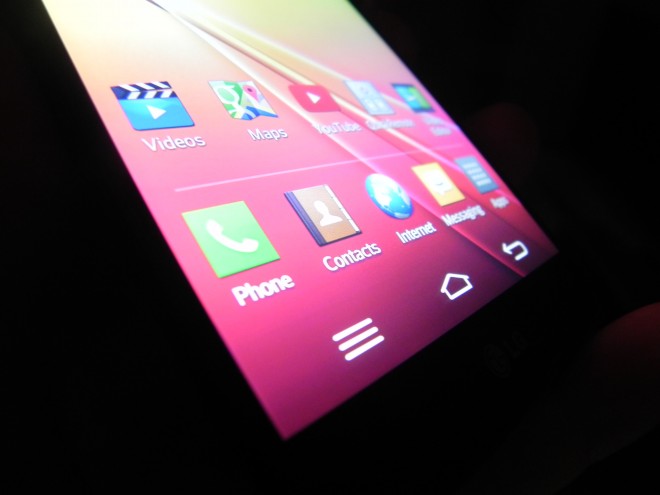 LG G2 is also supposedly the first handset with HiFi audio support, according to its maker, although we didn't exactly put that to the test. As far as the camera is concerned, we're dealing with a 13 megapixel shooter with OIS and a max photo resolution of 4160 x 3120 pixels. The cam supports 9 point autofocus and relies on a Sony sensor that measures 1/3.06 inches.
It has a F/2.4 aperture and 4 mm focal length, while the settings are reasonably varied, including brightness, focus, size, cheese shutter, ISO and white balance. There's also a color option and flash options, plus some modes that are supposed to rival those on the Galaxy Note III. They include a time catch shot that starts the capture seconds before you press the shutter button, as well as a 3D Panorama, normal panorama and beauty shot. The photo samples we caught offer realistic colors, good quality and clarity and overall the daylight shots are superior to the ones of the Galaxy S4 and HTC One.
Closeups and panoramas look nice and overall the samples are about the same quality as the Galaxy Note 3 cam. The 3D Panorama is not that good and time catch kind of misses moving objects. HDR works fine, as shown by the Batman picture you see in the video review below. As far as the low light shots are concerned, I can say they're so so, but also better than the ones of the iPhone 5s.
Overall, this is a very good day camera, but at night, well… not so much. On the video side of things we get 30 FPS 1080p capture in MP4 format or 60 FPS 1080p capture, the first at a 20 Mbps bitrate and the second at 30 Mbps. The audio capture is done in stereo at 156 Kbps. Sometimes the camera loses focus when you're filming, just like the Nexus 5. Then there's that video capture mode with a certain zoomed in square on the screen, as shown in the samples included here.
I like the fact that this device keeps the quality of the image untouched when zooming in a bit and the level of detail is quite good. On the software side, we've got Android 4.2.2 and a pretty fast web browser, I mean the standard one, not Chrome. However, scrolling could have been a little bit smoother, if you ask me.
As far as benchmarks go, the LG G2 beats the Nexus 5 in Quadrant, by 9000 points, in AnTutu by 11k points and in Vellamo by 1600 points. In 3DMark it gets beaten with 16k versus 15k, while in BrowserMark 2.0 we achieved a very good score of 2885. I also compared the LG G2 with the Galaxy Note 3, but to no avail, since the Note 3 totally beats it, in spite of that fact being irrelevant, since they messed with the benchmarks.
The LG G2 tends to get a bit overheated, at 42.1 degrees Celsius, after 15 minutes of playing Riptide GP2. I also feel that the notification area is very cramped up and it's hard to find the settings area shortcut in there. Speaking of which, from there you can access stuff like Quick Memo, that allows you to scribble stuff on the screen, or Q Slide, that allows you to trigger floating apps on the screen, as miniature versions of the main apps.
There's also Quick Remote, for a quick access at the features used to remote control a TV for example. In the settings area we find call enhancing features, gesture options, one hand usage options and battery saving features. One of the things I liked the most about the LG G2 was its cool multitasking. For example, you can "throw" an app within the multitasking tab system to the left with a 3 finger swipe and then trigger it with the same three finger move.
The Optimus UI covers the stock Android with custom icons, widgets, special themes and wallpapers, but in the end it's the same good old Android. We've got Q Pair to pair the device up with the LG G Pad 8.3 and let us know when we're getting texts or phone calls on the handset, with them being notified on the slate.
There's that feature called Clip Tray included here, that allows us to cut pics and links and save them into a clipboard for later use. The preinstalled app list on this device includes LG Backup, Life Square (collection of social networking and other daily actions), Memo, Notebook (S Note rival with very solid features) and Quick Remote. There's also Tasks, Video Editor, Dictionary, Polaris, Quick Translate and LG Smart World, which is the LG app store.
And now for the final Pros and Cons list related to the handset!
Here are the Pros:
original design, easy to get used to
excellent battery
good display
pretty good camera
high power hardware
nice extras (Q Slide, Memo, Q Pair, gestures)
nice custom UI
good headphones
And the Cons:
audio not so impressive
easy to muffle speaker
glossy and slippery body
storage only 10 GB for 16 GB phone
cluttered notification area
low light capture is not so good
video capture not impressive
Overall, we give the LG G2 a 9.3 out of 10 for design, a 9.5 out of 10 for hardware and a 9.5 out of 10 for OS and UI. The final grade is 9.43 out of 10, making this one of the best 3 handsets of 2013, if not the best one. This is a top 3 phone of the year for sure and it will be a very solid purchase for about half a year from now. It's better than the Galaxy S4 and in some departments better than the HTC One.