The LG G4 was announced on April 28th as part of two events in London and New York and we were lucky enough to score a pre release unit for a preview a day after. What followed can be seen below, in a short hands on video.
We were treated to several color versions of the device, in both leather finish and plastic. This model comes with a removable back plate covered with a plastic material or with leather. LG G4 is a Quad HD phone with a 5.5 inch diagonal and it relies on a Quantum LCD panel, that offers a contrast boost of 50% from the predecessor and 20% wider color range, as well as improved brightness.
The leather back features stitching in the middle and feels great to touch. It involves many weeks of manual labor and it uses the same type of leather as those expensive luxury bags do. The 2015 flagship that LG made measures 9.8 mm in thickness and has a removable back cover, under which there's a removable 3000 mAh battery, a microSD card slot and SIM slot.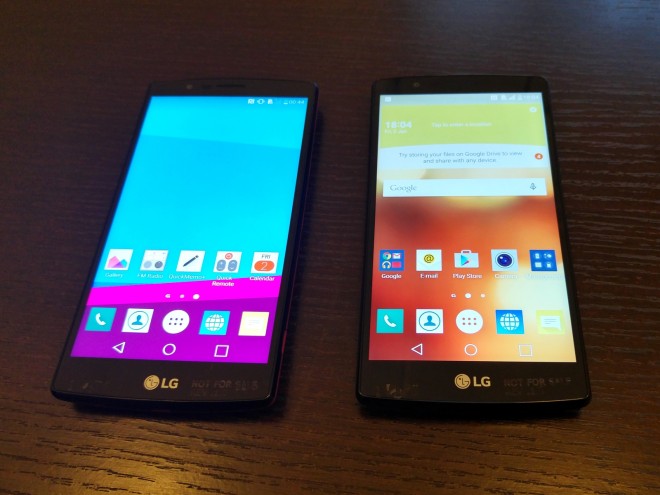 The smartphone features a hexa core Snapdragon 808 processor, as well as 3 GB of RAM, 32 GB of storage and a main 16 megapixel camera. The latter offers OIS with 3 axes, not 2 like the LG G3 and it also brings a Manual camera mode, that involves a ton of customizable options. Among them we find RAW capture, ISO, white balance, exposure, shutter speed, focus and there's even a histogram.
The camera lets you take 104 megapixel panoramic shots and offers F/1.8 aperture, capturing 11% more light than the Galaxy S6. It also films in 4K and can be activated very fast. The front shooter is an 8 MP unit with 2160p filming and a very crisp capture. LG G4 comes with Android 5.1 with LG UX 4.0 on top, that offers LG Health, Smart Notice and Smart Bulletin.
Smart Notice lets you know if it's time to change clothes because of the weather, if it's someone's birthday or you have to memorize a contact that called you often. The UI hasn't changed a lot from the one of the G Flex 2, but the Settings area is different now, with a new type of blue hue for the icons and a white background. The battery and power saving area now also features a gaming mode, by the way.
We benchmarked the device and got to 10k points in 3DMark, but this is a pre release version, so it's not very relevant. The thing that impressed me the most about the LG G4 was its colourful display and the incredible images of the video playback, with colors that just pop out of the screen, maybe even more than Super AMOLEDs. A good piece of news is that there's also no overheating when benchmarking or gaming.
We'll be back with more details when we get the final model.
LG G4 Preview