The LG G4 is the 2015 LG flagship phone, a device that was announced in April this year and we did a preview of it the day after the announcement. The product is priced at $600 in USA off contract, or $200 with a 2 year commitment. We have the marsalla leather version bundled with a gray diamond pattern cover and below you can check out the review.
There are 2 versions of the handset, one with a genuine leather back (black, marsalla or brown), or the plastic cover version, available in white, gray or gold. The thickness here is 9.8 mm for the LG G4, surpassing the 8.9 mm of the LG G3 and also the 9.4 mm of the LG G Flex 2. This handset is slightly curved, so it's actual thickness is somewhere between 6.3 mm and 9.4 mm.
It weighs 155 grams, which is more than the 149 grams of the G3 and also a bit more than the 152 grams of the G Flex 2. This is both a thicker and heavier model compared to the predecessor, but it feels reasonably light in the user's hand. It certainly feels lighter than the iPhone 6 Plus for example. The leather back has a nice feel to it and it offers excellent grip. My only worry here are the stains that may affect leather.
This cover requires 3 months of manufacturing processes and a special vegetable tan. It has a nice looking stitching applied to it and feels a bit similar to an American football ball. It's comfy and it sits well in the user's hand. LG G4 is 3 mm longer than the G3 and also 1.5 mm wider, in case you're wondering. The back is covered with cow leather, the top epiderma of that apparently. LG claims there are 0.001 micrometer pores here included in order for the leather to breathe.
At the front of the smartphone there's the selfie camera, then the notification LED, sensors and earpiece, as well as a dotted pattern. At the back we find the laser autofocus system, main camera, LED flash, RGB sensor and the volume buttons and On/Off button, with excellent feedback. Finally, also at the back there's the speaker. You can easily remove the back cover and below it rests the microSIM, microSD slots (overlapped) and removable battery).
We also got with our phone a gray case, made of plastic and with a texture that looks like metal, with a nice 3D effect. It catches light nicely, but it's also slightly slippery. There's a diamond shaped pattern at the back, looking nice here. At the top of the phone there's the microphone and infrared emitter, while at the bottom we find another microphone, audio jack and a microUSB port.
This handset is overall very comfy and elegant, certainly unique, but we can't say it's better than the Galaxy S6, but rather something else entirely. It's certainly better than the last iPhones in my book. As far as the hardware goes, LG G4 comes with a hexa core processor, a Qualcomm Snapdragon 808 unit, clocked at 1.8 GHz. It's a 64 bit CPU, with an Adreno 418 GPU and other specs include a 5.5 inch Quad HD screen, with an IPS Quantum panel.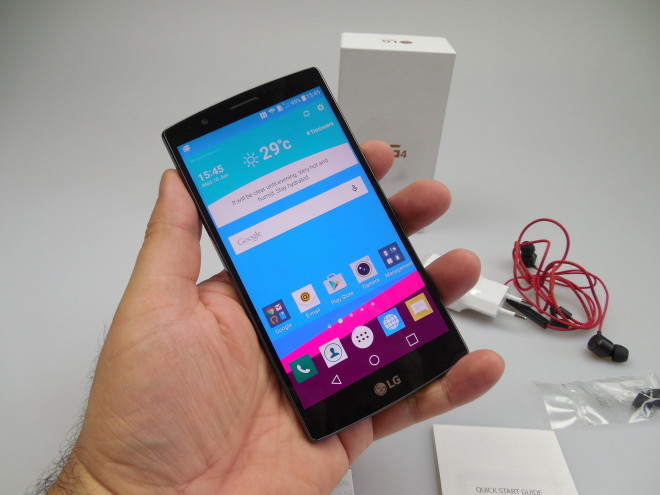 There's also 3 GB of RAM here, 32 GB of storage and a microSD card slot, that supports up to 2 TB in extra storage. We've got a 16 megapixel back camera, an 8 megapixel front shooter and on the connectivity side, we are fully covered, with WiFi 802.11 A/B/G/N/AC, Bluetooth 4.1, NFC, GPS, Glonass, microUSB 2.0, infrared, Slimport 4K, LTE Category 9 (up to 450 Mbps download speed).
In the Others section, we've got the following: Dolby acoustics, accelerometer, gyroscope, compass, barometer. The battery on the LG G4 is a 3000 mAh Li-Ion unit, which has the same capacity of the LG G3 battery. On paper this power unit offers 20 hours of talk time and 440 hours of standby. In our HD video playback loop test, with WiFi on and brightness at 50%, we achieved 8 hours and 55 minutes, which is certainly an upgrade from the LG G3's 5 hours and 6 minutes.
Still, we're below one of the rival flagships, Galaxy S6 Edge, that scores as  much as 10 hours and 47 minutes in a similar test. We also scored a bit below the Galaxy S6, with its 9 hours and 49 minutes. A good piece of news is that the LG G4 beats HTC One M9 and its 6 hours and 9 minutes and also the very underwhelming LG G Flex 2, with its 4 hours and 7 minutes.
The battery is good here, but not revolutionary. The PCMark continuous test gave us 5 hours and 19 minutes, once again below the Galaxy S6 and its 7 hours and 6 minutes, but also below the Galaxy S6 Edge and its 6 hours and 9 minutes. At least we beat the LG G flex 2, with its 5 hours and 7 minutes. Overall, this model scores below the big gun competition in the Android flagship area, but not by very much. At least it certainly upgrades the G3 performance.
Charging requires 1 hour and 43 minutes, which is OK, considering the G3 required 2 hours. Still, the S6 fares better, with 1 hour and 10 minutes, as does the S6 Edge, with 15 minutes more. HTC One M9 chargers slower, at 2 hours and 20 minutes. This device supports Quick Charge 2.0, but not with the stock charger. It also supports wireless charging, with a special extra case.
In the Settings area we find the Battery Saver functionality, that can be turned on at 5%, 15% or simply Now. It restricts background app functioning and then there's the Game Optimizer option, that adjusts image quality to save juice. These are certainly less impressive power saving features than what HTC and Samsung are offering. Now as far as audio goes, there's only a small back speaker here and the music player looks pretty much like the one of the LG G Flex 2, with slight modifications.
The experience is loud, the bass is very good and the sound is natural. We've got a clear audio, no distortion and no muffling here. The Settings offer Audio Effects, including an EQ with options like Normal, Pure Surround, Quad Beat, Bass Booster, Treble Booster, Vocal Booster and Custom (with 7 customizable channels). You can setup the pitch and speed of tunes and set the auto stop option as well.
The UI is clearly inspired by Material Design and the headphones have a long wire of the tangle free kind. Part of the wire feels like a boot's laces, which means rough and tough. Sadly, the remote is made of very cheap plastic and the buds are quite big. The acoustic experience in the buds is loud, an excellent bass is provided and a clear and natural sound.
This model plays HiFi tunes and also has FM radio. We did a decibelmeter test, achieving 87.8 dBA at the front and 88.1 dBA at the back. We beat the LG G3 narrowly, since that one score 87.4 dBA and we were also slightly below the Galaxy S6 and its 89 dBA, while the HTC One M9 was beaten, at 86.9 dBA. LG G4 is pretty clearly superior to the LG G Flex 2, that's only able to score 82.9 dBA. Overall acoustics are very good and we move on to display.
The screen is a 5.5 inch IPS Quantum unit, that according to LG offers 25% increased brightness and 50% extra contrast, plus 56% improved color accuracy, probably compared to the predecessor. The resolution is 2560 x 1440 pixels and the liquid crystals align vertically here, in order to get more light through. LG has calibrated the screen to DCI standards (Digital Camera Initiatives).
There's no video player, so we have to make use of the Gallery, which allows you to zoom in, shows a preview in the slider and supports Q Slide functionality. Screen ratio options are available, as well as subs and play speed settings. The visual experience involves accurate colors, wide view angles and a bright and very, very clear image. The black isn't as deep as on an AMOLED and the screen is not very reflective, which is a good thing.
Contrast isn't very impressive in sunlight, though. The brightness we measured with a luxmeter reached 432 LUX units, which beats the LG G3 and its 343 LUX and it's also reasonably close to the Galaxy S6 and its 475 LUX. We totally beat the HTC One M9 and its 362 LUX or the G Flex 2 and the 266 LUX. Still, the LG G4 is a long way from the Galaxy S6 Edge, that surpassed 900 LUX in a test in full sunlight with auto setup on.
The G4 is bright enough for our requirements and aside from contrast, it offers a very good experience. It's got RGB Stripe pixels and some of the most accurate colors we've ever seen. Settings for the Display include Home (Easy Home or Home), Smart Bulletin (choose to show LG Health, Calendar, Music, Quick Remote and Tips), Themes, Lockscreen (weather can show rain drops in the lockscreen), touch Buttons (hide in apps) and font (type/size).
The brightness can be set up via a slider and there's also a motion sensor calibration option. Now that the display is done and dusted, we're off to the camera. At the back of the phone there's a 16 megapixel shooter, with a sensor size of 1/2.6 inches and an F/1.8 lens, which is the biggest aperture on the market. This lets 80% more light be captured compared to the LG G3.
In the meantime the HTC One M9 offers F/2.2 aperture and the Galaxy S6 F/1.9 aperture. In the camera area there's also a color spectrum sensor, that detects ambient light for better white balance. Then there's the laser auto focus, that lets you focus faster, even in low light. If I remember well, this sends laser beams into the air and measures the results of the distance they travel to the subject.
Optical image stabilization has improved, being available in 3 axis form now (OIS 2). There's a single LED flash in the mix and the ISO goes from 50 to 2700. This is a 16:9 sensor by the way. The front camera is a 5 M P shooter, up from the 2.1 MP of the LG G3 and it comes with a gesture shutter and F/2.0 aperture, compared to the Galaxy S6 F/1.9 aperture of the front camera.
The UI is not hugely different from the one of the G Flex 2 and we've got a fast camera startup. There are 3 capture modes here: Simple, Auto and Manual. The Manual one was promised by LG to be the equivalent of a DSLR experience. The Simple mode involves only one tap to take a picture, while the Auto mode, lets you set up the flash, panorama option, dual camera and HDR (ON, OFF or Auto).
Then you can set the aspect (16:9, 4:3 or 1:1), or the video resolution (4K, FHD, slow motion filming) and other features, like voice command, timer and grille. The big prize here is the Manual mode, which is certainly a professional mode, allowing you to do JPG or RAW capture, with the latter being better for editing software, since it includes a lot of details within a 19 MB file.
We've also got a histogram here and an axis, to better plot our shots. There's a slider for each of the manual options that we can play with, including white balance, going from 2400 K to 7400K. Then there's manual focus, going from macro to landscape, exposure, from -2.0 to +2.0 and ISO, from 50 to 2700. The Shutter can also be set up from 1/6000 s to 30 seconds. There's an AEL option, that keeps everything on an improved auto mode, ideal for any situation.
Zoom goes up to 8X here and we've got a fast focus and fast picture taking. By the way, the zoom is quite fluid. The selfie camera UI includes HDR options, full video capture, a Beauty slider, time and voice command. The gallery of pics we've taken was done on a very sunny day, as shown here, but the food macros look very crisp. We've got good indoor colors, detailed landscape shots and even if we kept zooming in, there's still good quality in the mix.
Texture looks excellent and we've got a perfect green hue. The metal texture of that faucet looks stunning, especially up close and zoomed in. Speaking of zooming, we tried zooming in some swans and ducks, to most impressive results. The panorama resolution is huge: 21568 x 2816 pixels and it's very detailed and stitched fast. The selfie was a bit of a letdown on that sunny day, since it seems the camera can't handle the sun OK.
The subject looks good, maybe a bit too lit, but the background is seriously burnt. Meanwhile, the front camera, even with the sun ahead delivered good pictures, without a single burn. Macros look fantastic and this is a very pragmatic camera, with no extra non required gloss included. Samsung or Apple usually put an extra glossy touch on their pictures.
Focus is perfect, as are the white balance and exposure. LG G4 handles the shade and sun OK, as shown through the shots in that park and HDR of that yellow horse will highlight the shadow as well, not only the light. Reds are perfect here, in the flower closeups and there's some nice focus play to do, in order to create your own bokeh effects, so to say.
I'll clearly say this camera surpasses the LG G3, that wasn't a bad phone all optics-wise and it's also above the HTC One M9 and iPhone 6, even beating the Galaxy S6 here and there. At night (gallery here) the real LG G4 comes up to play. It offers a very bright capture and also clear, plus it delivers good colors. Halos of light sources are kept to a minimum, but there are some yellow and blurry shots occasionally.
If you put the shutter on 30 seconds and select the proper ISO, as well as use a tripod, you can turn night into day without a problem. We took a shot of that kind, in full pitch black, using ISO 800 and the shutter at 8 seconds and achieved a great result. Overall, the low light capture is perfect, with 10 to 20% better than any rival, so it's a landmark in the cameras of 2015.
As far as video goes, the device films in 4K, Full HD at 30  FPS, slow mo at 720p and 120 FPS and the 4K file has a 30 Mbps bitrate, although I've seen better on other phones (50 Mbps). Full HD filming has 17 Mbps bitrate. The first video we took was a Full HD one, with OK quality, some stabilization issues and a bit burnt. It had good colors and some detail loss at zoom.
The second video was the optical image stabilization test, which was not as steady as expected, especially when compared to the ultra steady iPhone 6 Plus. At least there was no focus loss when the camera was being jerked around. The third video was the 4K one, with a perfect exposure and colours, as well as details. When zooming in, details were excellent.
The fourth video was all about the slow mo and didn't quite get out of the norm. The fifth video had very good colors, OK acoustics, a crisp image and some focus loss. Video 6 offered good quality, while the seventh vid was taken in full sun and had some problems with focus loss and panning curved the image. The quality of these clips feels less impressive than the one of the LG G Flex 2 or the Galaxy S6 to be honest.
When filming at night, we registered good colors and clarity, but the clips felt like 720p, more than 1080p. That applies to the first video, while the second had good focus, realistic colors and good exposure and clarity. The image was still pretty shaky. I am overall underwhelmed by the video capture of this handset, compared to its brilliant pictures. LG G3 was a bit nicer in the video area, from what I remember from using it during a night concert last year.
Overall, the LG G4 is the go to smartphone, when it comes to realistic colors, RAW capture and low light capture, but video could have been better. Editing involves the usual stock options and now let's discuss performance. This handset reaches 39.8 degrees Celsius after playing 15 minutes of the game Riptide GP2, so it doesn't suffer from overheating.
Also, on a hot summer day, after taking over 100 pictures with its camera, we got to 44 degrees, which is reasonable. The web browser was fast and scrolling was smooth, plus the keyboard was comfy, offered a numeric row and an easily accessible clip tray. The phone calling area includes a Material Design dialer, with functions like Speed Dial, Q Slide, One Hand usage, noise suppression and enhance clarity.
Calls were loud and clear, signal was good and noise was canceled perfectly. And now let's see the benchmarks. This model was compared against the LG G3, Galaxy S6, HTC One M9 and LG G Flex 2. This is a battle of the Snapdragon 808, versus the Snapdragon 801, Exynos 7420 and Snapdragon 810. Here are the results:
LG G4 wins 2 out of the total 11 battles. It wins 10 in front of the LG G3, 6 in front of the HTC One M9 and G Flex 2 and 3 in front of the Galaxy S6. There's no lag here and Riptide GP2 works like a charm. The Snapdragon 808 may not be a high performer, but it's good enough to beat last year's models and fight with the current ones in a few departments.
The OS included here is Android 5.1 Lollipop with LG UX 4.0 on top, in an experience similar to the one of the LG G Flex 2, but with more Material Design. The hue of the UI is too funky and bright, at least for my taste. There's too much cyan and it hurts my eyes. Widgets are pretty much stock affair and the Recents button triggers a carousel for multitasking purposes.
There's also a Dual Window mode here, that lets you run two apps in a split screen view, with the option to move content and text between panes. The dropdown area includes the brightness and audio sliders, Quick Settings, QuickMemo+ shortcut and Q Slide, with its floating multitasking windows. The Settings area includes Sound, with vibration strength as an option.
In the General section, you can add more users, with separate Play accounts and separate homescreens. There are security features here and Smart Settings, which are basically automation options. For example when you're Home, the volume goes louder and Bluetooth turns on automatically. When you leave Home, WiFi will automatically go off and all of these change depending on location or action.
Another action is to automatically open the music app when connecting the earphones. Speaking of which, you can use both wired headphones and Bluetooth headphones at the same time, so two users can listen to music simultaneously. Other options include Quick Circle Case functionality, dual window and Smart Cleaning, that clears temporary files.
The leftmost homescreen of the UI hosts the Smart Bulletin, which is a collection of features and information. LG G3 also had it, but now it has evolved. This area includes LG Health, Calendar, Music, Smart Settings, Quick Remote and Smart Tips.
LG Health was on the LG G Flex 2 and it's certainly no S-Health. It shows steps, pace, distance, a map of your joging and speed, plus the kilograms and calories. Smart Notice is also here, providing useful advice on how to…. live better. It suggests telling people happy birth day on their birth days, suggests to delete files, call people who called you but didn't get answers, exercise more, reduce battery drain, look at pictures from one year ago and dress smartly.
You can double tap to activate the screen and rely on glance view, which means gently swipe from top to bottom in the lockscreen to view info. The preinstalled apps list doesn't include much bloatware, which is good news. We've got Google apps, Calendar, Chrome, File Manager, LG Backup, Maps, Tasks, Voice Rec, YouTube, calculator, remote call, LG SmartWorld, Quick Remote (TV remote functionality) and Quick Memo+.
This app includes pen tips, colors, insert pics, videos and audio, all integrated within a multimedia note. Finally other preinstalled apps include Weather, LG Health, Voice Mate (robotic voice sadly, but not very slow). And now let's see the verdict!
Here are the Pros:
leather back (premium and unique)
very good acoustics
good display
best low light camera tested so far
most realistic colors (screen and pictures)
no bloatware
nice manual camera mode
nice feeling in hand
more affordable than other flagships
And the Cons:
leather may stain
battery could be better
no extra power saving modes
video capture below picture capture
selfie not very impressive
UI hue bothersome
thicker and heavier than all rivals
We give this model a 9.2 out of 10 for design, a 9.3 out of 10 for hardware and a 9.5 out of 10 for OS and UI. The final grade is 9.33 out of 10 and this is a well balanced flagship, plus a big jump from the LG G3. This is a very good photographer's phone, with the most realistic colors on the screen and picture capture. It stands out through the leather back, plus it has excellent audio and screen. The downside is the filming and battery compared to rivals.
We're going to say it's about 5% or 7% less appealing than the Galaxy S6.