LG G7 ThinQ is finally official, after a long period of teasing, leaks and sightings, dating as far back as MWC 2018. The device is certainly a 2018 flagship, as shown by the notch upfront and it comes exactly with the features that were rumored, brand new M-LCD screen and all. Let's check them all out after the break.
The LG G7 ThinQ gets the new naming type, that was also applied to the LG V30S earlier this year. It means that there's a serious AI kick in the mix, together with Android 8.0 Oreo. The flagship is not modular like the LG G5 and it also makes some changes from the classic LG approach, like ditching the back Power button. Interestingly the notch is dubbed the "New Second Screen by LG".
Display & Design
The handset's most promoted asset is the new 6.1 inch M-LCD screen with a 3120 x 1440 pixel resolution and 19.5:9 aspect, for a 564 ppi density. It's an evolved version of the LCD, that features an improved RGBW pixel arrangement, which has enhanced contrast and a max brightness of 1000 nits. It also offers 100% coverage in the DCI-P3 space.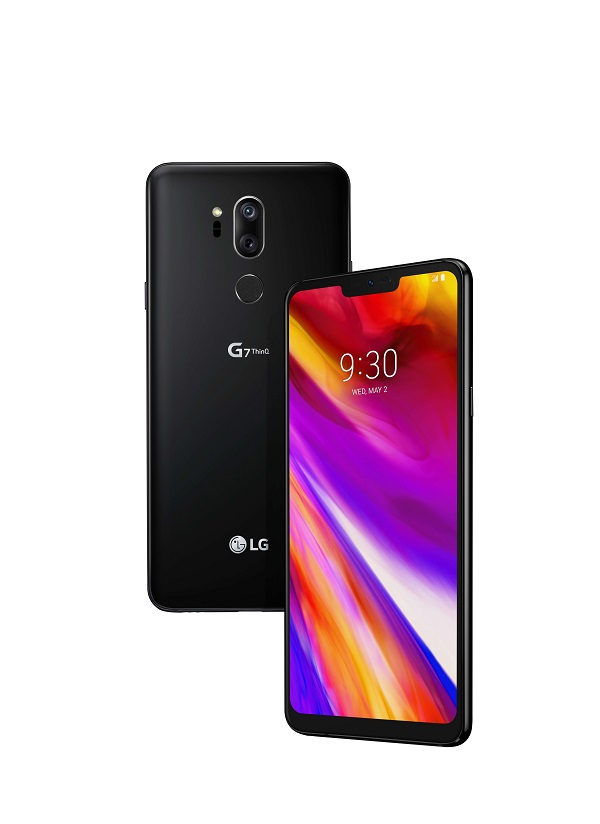 The screen is fully packed with features, like support for HDR10, Gorilla Glass 5 protection and of course, the upper front cutout. It's got narrow bezels and it adopts a glass and metal sandwich approach. Available in gray, black, blue and red, the phone seems to adopt more toned down colors.
The phone is IP68 certified, so it can take some dust and water. It's also military certified, within the MIL-STD-810G standard for resilience to extreme temperatures, dust or drops. Size is 7.9 mm in thickness and 162 grams in weight.
Hardware
This is probably the most predictable aspect of the device, but here it goes:
CPU: Qualcomm Snapdragon 845
RAM: 4 GB/ 6 GB
Storage: 64 GB/ 128 GB, microSD
Camera: Dual 16 MP back shooter; 8 MP front cam
Connectivity: Bluetooth 5.0, dual SIM, GPS, WiFi a/b/g/n/ac, LTE Category 16/13
Battery: 3000 mAh with latest Quick Charge, Qi wireless charging
Camera
Camera-wise, there aren't many surprises, as LG has come up with a dual back shooter. The main cam is a 16 MP one with OIS and F/1.6 aperture, accompanied by a 16 megapixel F/1.9 aperture sensor with 107 degree wide angle lens. There's also a dual tone flash and laser focus for uber fast focusing. The wide angle sensor now has less distortion and the selfies are also clearer now via the 8 MP camera.
Of course there are also AI features here, like the 19 photo modes courtesy of the AI CAM functionality. Low light performance has been promised, courtesy of new Super Bright Camera mode, with pics up to 4 times brighter than the other low light pictures. LG also added a Live Photo mode, facial recognition with Stickers and a Portrait Mode, a premiere for the LG G Series.
Google Lens is also here, with deep integration
Others
LG G7 ThinQ has a pretty high end set of acoustics, with the promise of ultra loud speaker, only one though, at the bottom. There's a huge resonance chamber on board and a single audio Quad DAC HiFi chip. Aside from putting the Power button on the side, there's an extra button on the other side, one used to activate Google Assistant. The audio jack and USB Type-C port are intact. There's also up to 7.1 surround via headphones.
Another novelty is the Super Far Field Voice Recognition Technology, thanks to an extremely sensitive microphone. Thanks to it Google Assistant can recognize voice commands at a distance of up to 5 meters.
Price and Availability
Sadly, no price has been unveiled for the LG G7 ThinQ, but I'm pretty sure it should be about $800. We know that there's an European launch coming on May 24th, so stay tuned for that.