The Big Red has just made available two interesting handsets, the LG Spectrum and BlackBerry Curve 9370, so you get a Gingerbread 720p offering and a business QWERTY handset. The LG Spectrum is also found on AT&T with different branding (Nitro HD), but this time it comes with a plastic coating and support for 4G connectivity.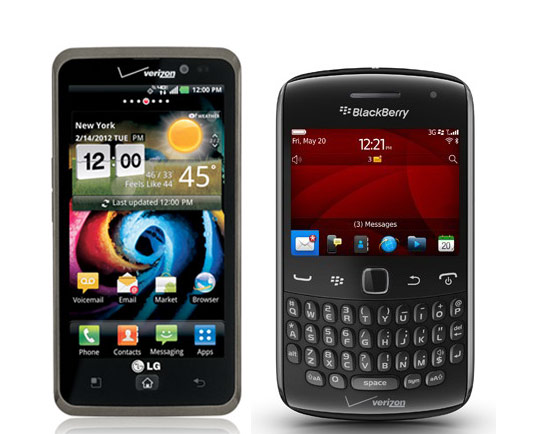 The BlackBerry Curve 9370 is a budget-friendly smartphone and both newcomers have hit the shelves today. The LG Spectrum is priced at $199 with a 2 year contract and you must know that it's a dual core affair with a 720p 4.5 inch display and LTE connectivity. Meanwhile, the QWERTY smartphone from RIM gets NFC, a 5MP camera and a $99 price tag on contract. This product also packs in quad band support with GSM, GPRS and EDGE available, a 2.44 inch display included in the mix, as well as Bluetooth 2.1 and WiFi b/g/n.
Owners of the LG Spectrum will get a True HD screen, an ESPN ScoreCenter application with exclusive HD video and a dual core 1.5GHz processor. You'll find both handsets online and in Verizon stores for the prices mentioned above. Add to all of the specs mentioned above for the LG smartphone an 8 megapixel camera with autofocus, 1080p video capture, mobile hotspot ability and a front 1.3MP camera.