Engadget managed to get some quality hands on time with Logitech's Google TV companion device, pictured and detailed below. We have to mention that this box complements the functionality of a Logitech Harmony remote and a WiFi access point, providing Google TV features and controlling an entire entertainment system… with the aid of smartphones.
Logitech's solution includes smartphone apps, that feature keyboards/touchpads on the iPhone and Android handsets, turning them into remotes. Engadget claims that the classic Logitech $400 Harmony 900 remote is now replaced by your Nexus One and iPhone running Logitech's companion apps, while working with the new companion box via WiFi.
Said box comes with an optional RF keyboard/touchpad, a couple of USB ports at the back and a free 720p video chat solution, known as Vid. The later requires a webcam, while the box's specs include an Intel CE4100 Sodaville Atom processor at 1.2 GHz, 4GB memory and 802.11n WiFi. As far as connectivity is concerned, you get twin USB sockets, wired LAN jack, two IR headers, two HDMI 1.3 ports and S/PDIF out.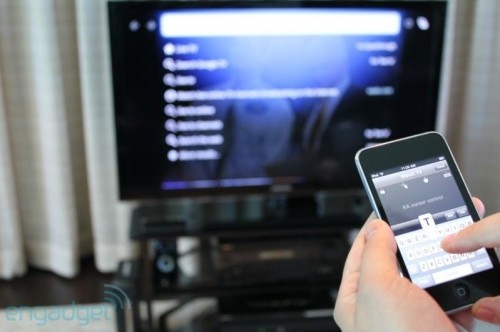 [via Engadget]