We have written a lot about the Meizu MX4 lately and every day there's a new piece of the puzzle unveiled. Today Meizu published on its Weibo page an official teaser for a September 2nd event, that is meant to unveil the Meizu MX4 flagship phone.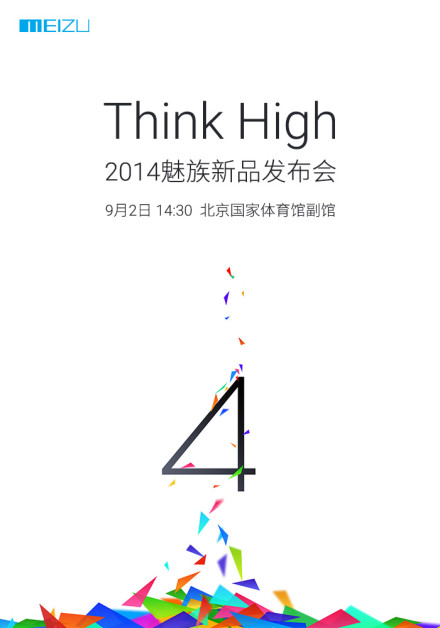 With the motto "Think High", this invite shows the figure 4, "peppered" with colourful confetti, probably a hint at the new Flyme 4.0 OS. You already know the drill: Meizu is set to unveil a flagship phone, with high end specs, that include a 20.7 megapixel camera with Sony sensor, a Quad HD 5.4 inch display and a body that features very narrow bezels. The facade of the phone has already drawn comparisons to the iPhone 6 design.
Meizu MX4 is said to come in 3 or even 4 versions, of which the Pro and Mini will certainly happen, plus there will be a standard one to purchase. Expected inside is an Exynos 5433 processor, 3 GB of RAM and the front camera is said to be a solid 8 MP unit. The phone is said to come in black or white and it adopts a discrete and circular Home button, as shown in the leaked pictures here.
Via Weibo