The big event from today came and New York hosted the launch of the long-awaited Windows Phone 7 platform. Steve Ballmer, Microsoft CEO and Joe Belfiore, corporate VP were the most important speakers on stage. Aside from announcing the new OS, Microsoft also introduced a ton of devices it'll run on, no less than 10 new handsets. Here they are: HTC 7 Surround, HTC HD7, HTC 7 Trophy, HTC 7 Mozart, Dell Venue Pro, Samsung Focus, Samsung Omnia 7, LG Optimus 7, LG Quantum and HTC 7 Pro.
Nine of these devices will hit Europe on October 21, while the US will receive them in mid or early November. The HTC 7 Pro model will be launched by Sprint in 2011 and we have to mention that among Microsoft's carrier partners we found big names like AT&T, T-Mobile, Vodafone, Telus, Movistar, O2, Orange, SFR, Telstra, but no trace of Verizon.
As far as the OS is concerned, we were already aware that Microsoft didn't quite finish it, so they'll be launching the copy/paste feature in 2011, for example. We were pretty impressed by the virtual keyboard on the device, specially as far as the autocorrect and accuracy are concerned. There's a nifty suggestion bar above the keys that will allow you to replace misspelled words with correct ones, but still Swype can take on this technology any day.
Bing's vocal recognition and search mechanism was another strong point, with Joe Belfiore having to face a bit of Bing fail, as the search didn't work, possibly because of the crowded network in the room. However, once he started looking for flights nearby, he just had to say the destination and airport, in order to get Bing going. The same can be done with restaurants and the Bing search engine has the ability to display what you're looking for, just as you type the first letter of the word or say the needed words.
Once again, Google has been doing that for a while. As far as entertainment is concerned, Zune was everything you expect, while the photo taking experience seemed pretty interesting to us: you can take photos just as you pull the handset out of the pocket and press the camera key, so you waste no more than a second. The result will instantly be taken to a cloud solution. Also, you can comment on the photos in your gallery and these comments will reach Facebook straight away.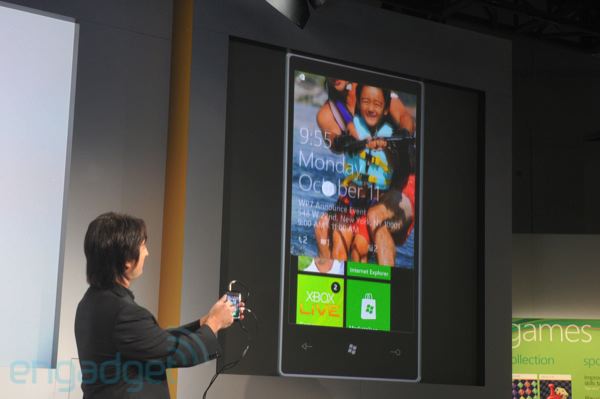 The Xbox Live demo showed a highly customizable avatar, able to do a victory dance once you check out achievements and a "very 3D" game called Ilo and Milo. The Sims also made its way to the MS platform somehow, and it looks promising. On the business side PowerPoint for Mobile is amazing in the new version and so is the entire Office package, specially with OneNote and support for syncing your notes and other vital content via SharePoint.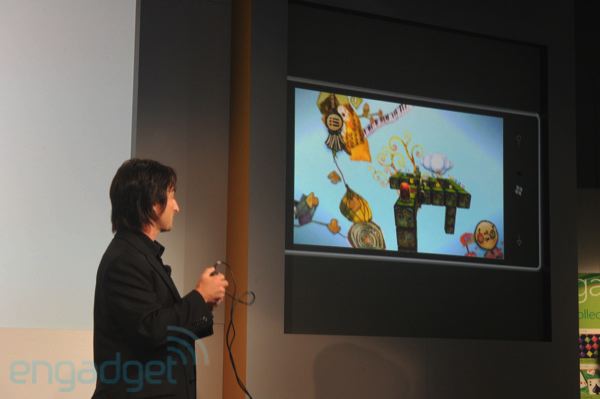 AT&T also played a part in today's launch by announcing U-verse Mobile will reach WP7 this fall and you won't need to be a U-verse customer to use it. Also, the carrier said that you can use your Xbox 360 as an U-verse receiver, but you'll have to be a customer for that. Back to WP7, the platform delivers everything that was already expected and demoed over the past months, although it doesn't yet convince us that it has what it takes to fight Android 3.0 and win the battle.
With a couple of improvements, copy/paste, a solid multitasking system it may rival the current Android version and iOS, but MeeGo and WebOS 2.0 will be tougher to crack… Not sure everyone will dig and get used to the Hub systems that fast.