In a bizarre venue today at MWC 2012, in Barcelona Nokia announced a bunch of new phones, all of them accounted for by rumors. The most stunning was the debut of the 41 megapixel Nokia 808 Pureview, that uses technologies borrowed from satellites. The thing I didn't like about the conference today was that it was actually a screen showing people on stage, instead of the real stage in front of us…
As far as handsets go, Nokia Lumia 610 is a low end Windows Phone device with a 800 MHz processor, 256 MB of RAM, an autofocus camera and availability in white, cyan, magenta and black for the mere price of 189 euros. The launch will take place some time in Q2. Nokia Lumia 900 is expected to debut globally this year, with the same 8 megapixel camera and a launch scheduled for Canada on Rogers with LTE. The rest of the world gets this phone in a HSPA+ version.
The global Lumia 900 comes in white, cyan, black and retails for 480 euros. Expect it from Q2. Nokia also announced updates for its Windows Phone apps, like Nokia Drive, with more maps and content, plus speed limits addition. Nokia Reading was also announced, as a personalized news feed app with local language content. Back to the Lumia 610, this one comes with a 3.7 inch WVGA TFT display, 256 MB RAM, 8 GB of storage, a 5MP camera, 1300 mAh battery and weighs 131 grams. It measures 11.95 mm in thickness and offers 10.5 hours of GSM talk time.
The Lumia 900 has a 4.23 inch WVGA AMOLED display, 512MB RAM, 16GB storage, 8MP camera with AF, a single core 1.4GHz Snapdragon CPU and a 1830 mAh battery. As far as the Ashas go, we have the Nokia Asha 302, 203 and 202 models, shown by Mary McDowell. The Asha 302 is a QWERTY handset, while the Asha 203 is the same with the 202, but with dual SIM. Nokia Asha 302 comes with Facebook, Twitter and Microsoft Exchange, great for a feature phone. Its specs include a 1GHz processor 14.4Mbps HSDPA, a 3.2MP camera, stereo FM radio, a microSD card slot, WiFi, 140MB of internal memory and weighs 106 grams.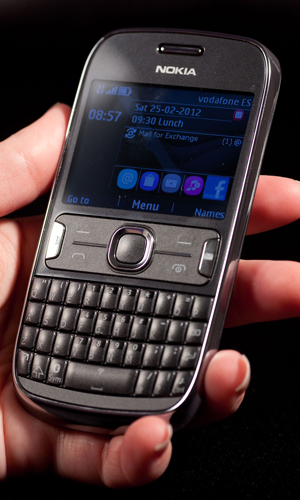 Nokia Asha 302 is shipping now for $130. Nokia Asha 202 and 203 feature a 2.4 inch touchscreen, the speedy Nokia Browser, 2Mp cameras, Bluetooth, microSD and FM Radio. These two come with a big pack of EA games, over 40 actually. They are available for free from Nokia Market for the first 60 days. Both models are priced at about $80 and will debut in the following weeks. The Nokia Asha 202 is an easy swap dual SIM phone, so you can swap SIMs when you want, without shutting down the handset.
The special guest of the morning was the Nokia 808 PureView, a revolutionary cameraphone with a 41 megapixel camera and great Carl Zeiss optics. The technology here is based on combining up to 7 pixels into a pure pixel, eliminating visual noise. You can zoom up to 3X without losing ANY detail in the shot and no artificial pixel will be created. Photos of up to 38 megapixel in resolution will be taken with the Creative Shooting mode. The oversampling technology will make the camera behave perfectly in low light performance and know that the PureView captures over 5 times more light.
In video mode you can capture at 1080p, 30 fps with 4X lossless zoom, thanks to a big sensor. This is a Nokia Belle phone with a 4 inch ClearBlack AMOLED display, Gorilla Glass, a 1.3GHz processor, 16GBB of internal memory, a microSD card slot and it's a bit larger than the N8. It offers 6.5 hours of talk time and weighs 169. That's all from Nokia, now we'll be back with hands on videos soon!