Samsung announced today its two flagships, the Samsung Galaxy S9 and Samsung Galaxy S9+. They debuted in Barcelona, at MWC 2018 and we got to handle the Galaxy S9 and then the Galaxy S9+ for a few minutes. Honestly I've handled It days ago, but you know NDA and all… Now the Galaxy S9+ is certainly the more interesting of the two, offering extra RAM, dual cameras and bigger screen and battery. Let's check it out.
Design:
Design-wise, the Samsung Galaxy S9+ is very similar to the Galaxy S8+ and also to the Galaxy S9 obviously. It's got a narrower top and bottom bezel compared to the predecessor and it's thicker and heavier than the Galaxy S8+. The handset is a 6.2 incher with an 8.5 mm waistline and 189 gram weight, which is actually not bad, considering the iPhone 8 Plus goes past 200 grams.
This phablet is made of glass and metal, with a curved glass panel at the back and one at the front. Right between them there's an aluminum frame, to keep things together. The handset is waterproofed and dust proofed within the IP68 standard and it's quite a long and narrow phone, as comfy to use as the Galaxy Note 8. The fingerprint scanner at the back has been moved below the camera and is comfier now.
Speaking of novelty, I'm loving the new Lilac hue, next to the Carbon Blue and Black
Display:
Samsung Galaxy S9+ has a 6.2 inch Super AMOLED screen, of the Infinity Display variety. It has a Quad HD+ resolution and the atypical 18.5:9 aspect. It also has those famous curved edges, showing shortcuts. I found it to be immersive, very bright, showing deep blacks and ultra vivid colors. As usual Samsung also offers a ton of tweaks, like blue light filters, AMOLED Cinema and even resolution tweaks.
Hardware:
Display: 6.2 inch, Quad HD+, Super AMOLED, 18.5:9
CPU: Snapdragon 845, Exynos 9810
RAM: 6 GB
Storage: 64/ 256 GB, microSD (up to 400 GB)
Battery: 3500 mAh
Camera: Dual back camera: 12 MP (F/1.5 up to F/2.4) Super Speed Dual Pixel + 12 MP F/2.4 camera (telephoto and wide angle)/ 8 MP front cam (F/1.7)
Connectivity: WiFi a/b/g/n/ac, LTE Gigabit, Bluetooth 5.0, GPS, Glonass, USB Type-C, Beidou, ANT+, Galileo, NFC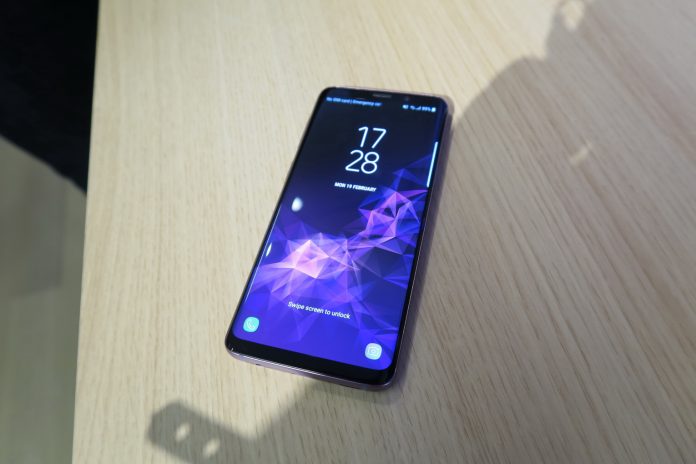 Camera:
To clear the air, let's make it simple: the Galaxy S9+ uses the same 12 MP camera with F/2.4 to F/1.5 variable aperture from the Galaxy S9, plus an extra 12 megapixel sensor with F/2.4 aperture. Both have optical image stabilization, one has a telephoto lens and the other a wide angle one. This time we can take actual Bokeh, not the Selective Focus software one.
Dual Pixel next gen tech aids with the low light capture and the ultra fast focus. The variable aperture is very fast to adapt to low light situations in Auto mode, I noticed. An interesting novelty is that HDR now uses 12 frames combined into one, in lieu of 3 like the Galaxy S8. You can also do Super Slow Motion video capture with this new phone, at 900 FPS and I found the result to be superior to the Sony Xperia XZ1 one.
It's crisper for one and brighter. You can also edit it with a soundtrack, make it a GIF and more. The camera UI has been tweaked, with all the main options placed in a scrollable list on the left, which I'm not a big fan of. I prefer to choose from a big full screen menu. Another new item is the AR Emoji, which lets you turn your selfies into 3D avatars, after a bit of scanning.
Mine actually looked like me, maybe a bit slimmer and hotter, but with the same traits. You can modify skin color, hair color, clothes, add glasses and much more, plus create emoji packs to share on social networks. Bixby Vision is still available here, with the ability to detect calories in food, read wine labels and detail landmarks in cities. I'm pretty sure we also have Selective Focus for the front camera like on the Note 8.
Acoustics, security, accessories:
Samsung finally integrated dual stereo speakers on a flagship, one at the top, one at the bottom. They've both been tuned by AKG, just like the bundled earphones. I loved the surround, which I actually felt when playing some movie trailers and music. The volume is impressive and bass is very deep. They also added Dolby Atmos tech, for an extra kick.
The equalizer is still one of the most complex on the market.
As far as security goes, there's Knox in a new version and an improved iris scanner and face scanner, deeply integrated with Knox. All of them are faster, more accurate and totally secured via hardware.
Accessories also get a new generation, including S View Cover, plus the DeX. Now we have a DeX Pad, which sits horizontally and lets you use the S9+ like a touchpad and keyboard. Hook it up to a monitor, keyboard and mouse and you've got a PC replacement, complete with multi windows, resizable windows and resolutions to change and set up. You can do gaming on the big screen, productivity and more.
The DeX Pad also brings HDMI and a cooling system.
Software:
Samsung Galaxy S9+ runs on Android 8.0 Oreo with a new Samsung Experience on top. It doesn't seem to have changed much from the Galaxy Note 8 and S8 to be honest, with the same borderless menus, icons and widgets, plus a lot of white and transparency. There's Bixby and its homescreen, which aggregates info and replies to querries (now in more languages and in more natural fashion).
You can also turn the homescreens in landscape, which is a novelty from the predecessors. Samsung also offers an Edge Light feature, which lets you reply to notifications from the curved edges when watching a movie. Samsung showcased a new bundled solution which uses the phone to hook up to smart home products and IoT environments.
Price, availability and conclusions:
Priced at around $1200, the Samsung Galaxy S9+ is going on preorder today and it sells in stores from March 16th. As far as conclusions go, unlike the S8+ which was JUST a bigger S8, this is truly a different phone. It has more RAM, one extra back camera and it's obviously bigger. It can clearly be marketed as a different device, one for Bokeh nuts and one for specs junkies. Snapdragon 845 and Exynos 9810 are excellent CPUS, no matter the S9 flavour you choose.
I like the AR Emoji, but I feel it can get old fast, while the variable aperture is a true evolution. It's a huge achievement for smartphones, managing to get moving camera parts in an 8.5 mm thick package. For that alone, the Galaxy S9+ may be worth your time the next time you want to buy a phone.