The latest news in town is that Samsung is patenting a technology that makes all the smartphone's facade one giant screen. That panel will have holes drilled through it, for the sensors, selfie camera, speaker and fingerprint scanner, apparently.
Notches are the way to go for some companies, but Samsung wants to disguise components within the screen panel. Strangely enough the front placed fingerprint scanner makes a comeback, with Home button included, although it's probably replaced by an in display sensor in reality. The patent goes really in depth, including the placement of the earpiece, proximity and ambient light sensors, with dedicated holes.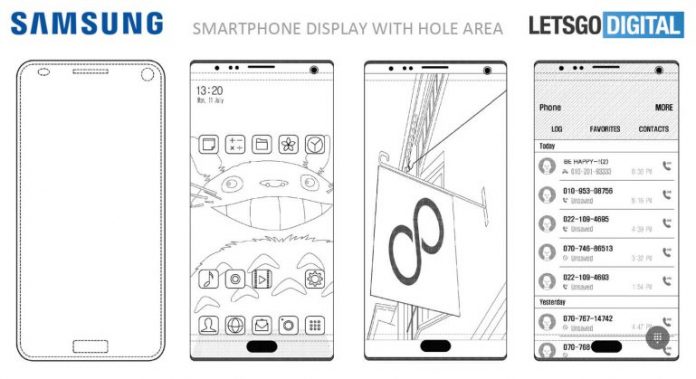 We've seen earpieces replaced before and the result didn't sound fine on the Xiaomi Mi MIX for example. Also, some companies placed their selfie cameras at the bottom, not the best idea either. There were patents regarding transparent OLED screens, which seems to be the way to go, if you hide the camera behind the screen, but nobody has ACTUALLY built such a thing.
If all these technologies from the patent (iris scanner and more behind the display) come to fruition, that may only happen with the Galaxy Note 9, since the S9 is pretty much set in stone feature-wise. Rumors also talk about a mega display with a 21:9 aspect and a 3360 x 1440 pixel resolution. A notch may also happen, but Samsung patents show more Essential Phone and less iPhone X.
In the end these are just patents, so we take nothing for granted.